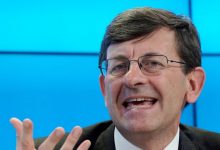 Vittorio Colao to Step Down as Vodafone CEO
After a decade of being in charge of the world second largest mobile operator, Vittorio Colao will finally step down as CEO of Vodafone
Since Vittorio took over the management reins at Vodafone, only the Chinese mobile industry has seen more customers than the telecommunications company. He ensured that the previous number of Vodafone subscribers double to 500 million users. Also, BBC reports that the mobile company has witnessed some level of dramatic transformation from a consumer mobile operator to a world leading communications company. 
Vittorio has been described as strategic visionary and exemplary leader whose business acumen has brought a whole lot of changes to the running of communications company and its effectiveness in competing with other mobile operators. As such, his step down seems to be coming as a slight shock because it's happening a week after he agreed to spend £16.1 bn to acquire Liberty Global Cable TV  a mouth-watering European asset in Germany. The announcement was made during Vodafone's annual report for fiscal'18.
Phillip Carse a Financial Analyst at Megabuyte observed that the overall improvement of Vodafone's fortune in the UK is less evident in the last 10 years under Vittorio. Despite this, Vittorio has chosen the best time to retire because not only as he reported a relatively decent year till March 2018 but has also struck a strategic beneficial deal with Liberty global. This lucrative deal will see the England based telecommunications company dominate the European mobile media space. Another noteworthy achievement of Vittorio was pulling Vodafone out of the US after abandoning a joint venture with Verizon, one of America's largest telecommunications organisation.
Vittorio has been in the telecommunications sector since 1986 when he was with McKinsey & Co. For Vittorio, what life after Vodafone will turn out to be hasn't been decided yet but according to Joe Mayes, Bloomberg LP, Vittorio is quite optimistic.
I'd be working flat out until October and then I will start thinking and evaluating options and alternatives" he says
At 56 the CEO has set his departure date for October when he will be replaced by Nick Read, 53, the current Finance Director who joined Vodafone in 2001. Vodafone has its presence in 25 countries and boasts of 20 million broadband customers.