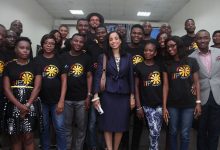 LEAP Africa Opens Social Innovators Programme for Young Nigerian Entrepreneurs
LEAP Africa Social Innovators Programme (SIP) is calling on young Nigerian entrepreneurs whose ideas and initiatives offer solutions to challenges in local communities across the country.
Eligibility
Youth between the ages of 18-35 years, whose ideas and initiatives offer effective solutions to challenges in local communities across Nigeria
Initiatives and co-founders of social-focused projects, venture and enterprise, must have their location in Nigeria
Applicants who have been involved in operating their project/ enterprise beyond 12 months prior the commencement of the programme
Selection criteria
Level of creativity and innovation applied in their entrepreneurial approach towards social change
Experience in mobilising people and resources to achieve set goals
Demonstrate a passion for social change and active participation in community building
Give compelling reasons they would like to participate in the fellowship programmes and also show a strong desire to increase the impact of their change initiative
Shortlisted applicants for Leap Africa social Innovators Programme are required to provide the following  to make the final list:
Valid Government issued identification
Evidence of past projects implemented by the organisation
Benefits of the programme
LEAP Africa will assist successful applicants through;
Creating local partners through recommendation
Publicity for through its various online media platforms
Provision of local and international opportunities
How to apply
If you meet up with all the specification above by Leap Africa social Innovators, then apply through this link. Deadline for submission of applications is Tuesday, July 31, 2018.
---
Featured image: Opportunitydesk.org