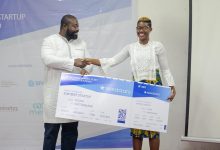 Cowtribe Technology Wins Best Startup at Seedstars World Summit, Ghana
On Monday, July 16, 2018, Seedstars World brought its Ghana round to a remarkable end during Seedstars Accra. The event took place at the University of Professional Studies where 10 selected startups were invited to present their companies before a local jury.
Cowtribe Technology bagged the "Best Startup in Ghana" for its innovative sustainable solution. The startup is an animal vaccine delivery platform founded in 2016 to deliver safe vaccines to farmers in the vicinity not easily accessed.
With this win, Cowtribe Technology will participate at the Seedstars Summit in Switzerland slated for  April 2019. The event is a weeklong training program which will afford participants opportunity to meet the more than sixty-five winners from other fast-growing economies, investors and mentors from around the world.
Pitching by the startups will be the grand finale of the summit before an audience of more than 1000 attendees, with the possibility of winning up to $ 1 million in equity investment and other prizes.
RedBird Health Tech which applies rapid diagnostic test technology to create a network of convenient health monitoring point came as first runner-up while AgroInnova which helps poultry farms manage their businesses effectively and have access to an on-demand guaranteed market of wholesalers and retailers grabbed the third position.
The other startups present at the Ghana Seedstars pitch were:
Food for All Africa Mobile:  leverages technology to create efficient and sustainable means of nutrition for low-income communities through a mobile application.
Bit Sika Ghana: lets you buy, transfer or store the cheapest Bitcoins in Ghana instantly via the web or USSD.
Eazyloop Express: an automated shipping service that helps businesses and individuals' ship packages from the USA to Ghana.
Jaarno Limited: a foodstuff marketing and distribution business that source foodstuff from farms and markets and resell through digital platforms.
BloomImpact: a digital marketplace empowering underserved, African small businesses by providing convenient, affordable access to financial services.
CodeIn: a testing platform that verifies the coding skills of programmers enabling companies to recruit the best,  saving time, cost and risk.
KudiGo Inc:  is redefining retail business in Africa by empowering the informal sector & micro-SMEs with oversight & financial inclusion tools.
Seedstars World's next stop is Kigali at Westerwelle Startup Haus, to select the best startup in Kigali. Seedstars World is looking for smart startups that solve regional issues and/or develop profitable products for the global market. Startups are invited to apply via the link.
---
Featured image: Seedstars