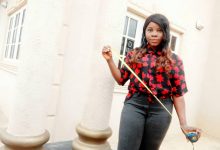 "No Make-Up, No Job!" The Story of Nigeria's First Female Modern Railings Engr. Will Amaze You
Opening the diary of an average Nigerian graduate, the common narratives you'd find include; just graduated, seeking a job, awaiting NYSC, totally broke, etc. The story gets more critical if it's a female graduate.
Naturally, a woman's femininity gives her an edge over many things, but on the flip side, it could also spell doom for her — she stands at a risk of attracting unfriendly gestures when dealing with male superiors.
The situation gets worse for female job seekers who find themselves at the mercy of male employers trying so hard to take advantage of them. Unfortunately, not many women are able to triumph over fierce and unfavourable gestures from their male counterparts. Many have succumbed to critical situations and pressures, thereby compromising their dignity.
Titilade Adeniran appears to be one of the uncompromising ones. Being a long-term job seeker as a young Nigerian graduate, Titilade's experience is nothing short of astonishing.
From fighting her way through Nigeria's unpromising educational system and facing painful rejections from potential employers to successfully establishing an enviable career in a male-dominated construction industry (Railings), this animated lady seems to have defied all odds on her journey to building Titilade Railings — her multi-million naira-worth construction firm.
The Smepeaks team caught up with her on a sunny Wednesday and she laid bare the A-Z of her ongoing awe-inspiring story.
Titilade Railings: How the journey began
After graduating from the Polytechnic of Ibadan in August 2013, Titilade Adeniran, an HND holder of Business Administration had the aspiration of becoming a Music Director. Of course, her admiration for Puffy T, Don Jazzy, and Trakgirll, contributed to her musical ambition. However,  this didn't work out as she lacked financial requirements to delve into the music industry.
Since the music dream appeared to be dashed, Titi opted for the next available alternative for livelihood's sake — job hunting. But, things didn't turn out in her favour, as well.
Her misery began when her first shot at securing a front desk officer role in a hotel failed. According to Titi, she lost the job opportunity simply because she wasn't wearing makeup — a very unfortunate incident that left her in great shock!
I still can't believe I couldn't secure that job, all because I didn't wear a makeup! Imagine, it's very odd and I was so disappointed," Titi remarks.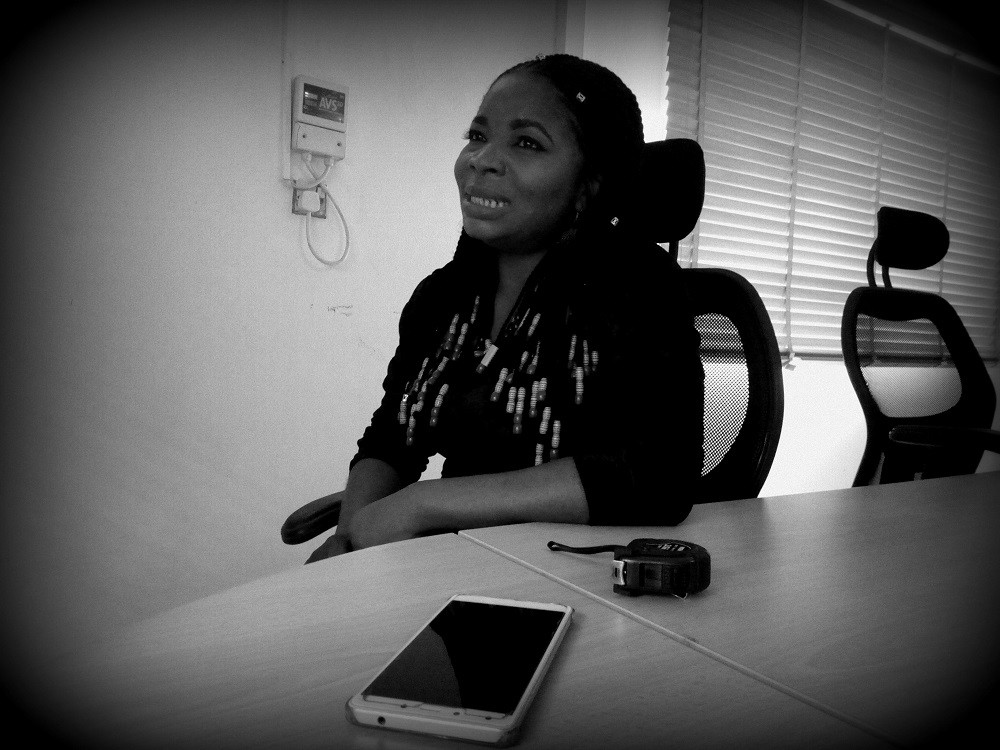 Amid this, she had to devise another means to make ends meet.

I had a friend who deals in some aspects of building construction, I'd always take pictures of the work and post on an e-commerce platform. I once posted his works on OLX and placed my number there. Coincidentally we secured a deal!"
This breakthrough opened Titi to a new world that She needed no conviction to intensify her energy in the new path she's found. As fate will have it, a new opportunity emerged.
In 2015, she met a man in the railings business who admired and appreciated her zeal — especially on how she went about the marketing process that secured the contract for her friend. He then offered Titi a marketing role with a monthly stipend, plus commission of 10% based on every successful deal she secures.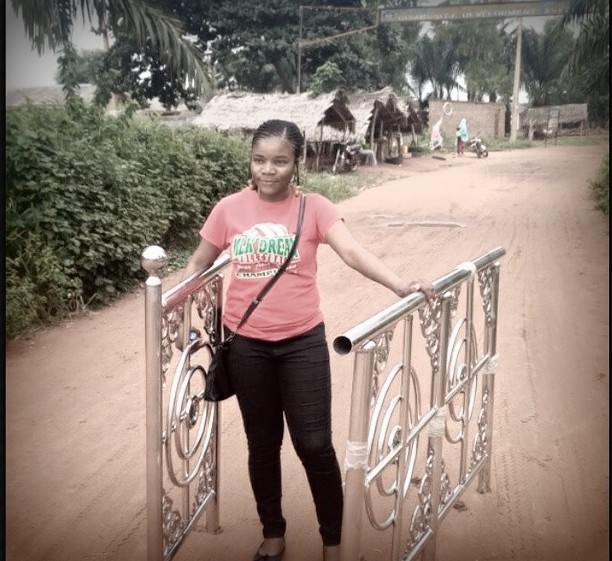 Not a bad deal for the poor lady, who has been struggling to get fixed at a job for a long time, Titi thought. Moreover, this is not an offer she gets thrown at every day. She took the deal and her journey into the railings business officially commenced.
Keeping an eye out… Just in case
Despite the "not-so-encouraging" pay, Titilade kept at her job as a Railings Marketer more than ever. With the knowledge that job security in a private establishment is a far-fetched idea, she began extending her interest beyond the marketing aspect of railings to learning the core of the job.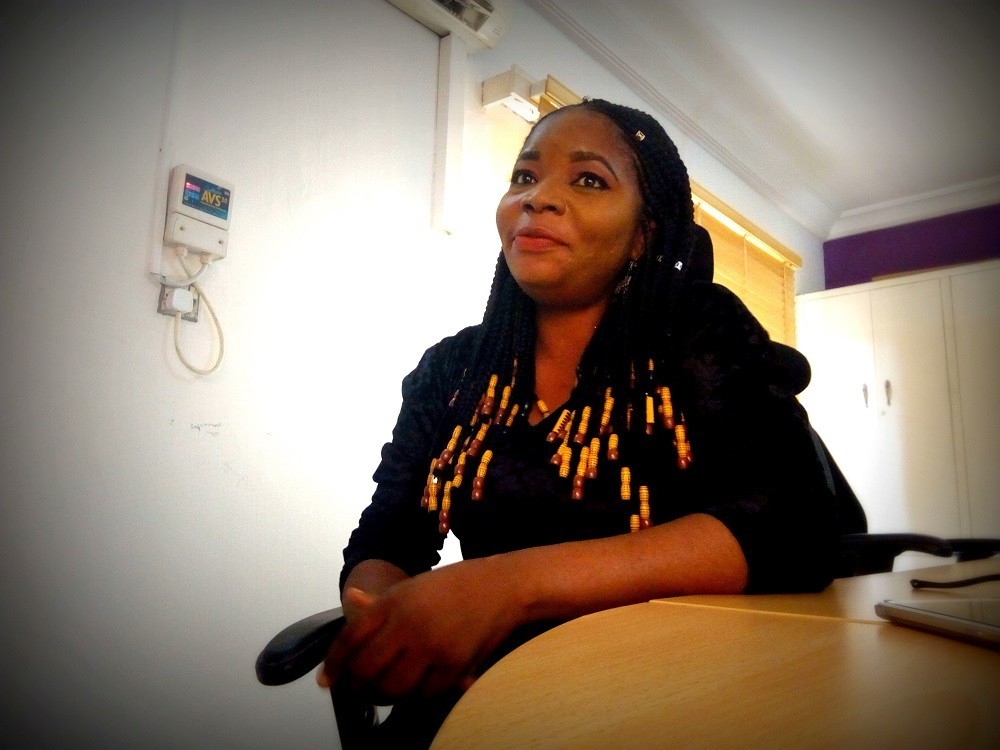 On days I go out to supervise field works based on my boss' instruction, I'd watch closely as the railings construction are made. So, I learn on site and resort to watching YouTube videos to gain more knowledge about the business. Combining these with my job as a marketer wasn't easy, but patience and determination kept me going, otherwise, I would have quit long before now"
As she speculated, it was only a matter of time before she began getting signals of eviction from her marketing job. Titi couldn't fathom an explanation for her boss' sudden insecurity about her, working for him.
Perhaps, he wasn't cool with the way customers got so comfortable relating with me, often made a request to deal directly with me in the business rather than directly him"
Sensing that odds could be against her in any moment, Titilade became more deliberate in mapping out her course to the entrepreneurial journey while serving as a marketer. Transitioning from a marketer into a real-time female apprentice would have appeared rather difficult to accomplish for many, but not Titilade, who was more focused than ever at learning the job — at the building site to supervise and on her own via online videos and whatever resources should lay her hands on.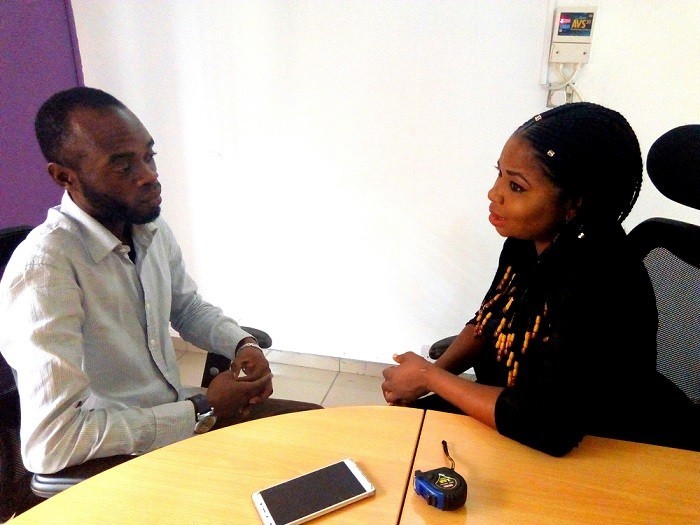 Also, the fact that she would have paid a huge amount — which apparently she couldn't afford at that time — to learn from the ground up is another motivation point for Titi.
As such, it would take more than her boss, shortchanging her for her to lose focus.
Titilade's transitioning process and understudy culminated into a  6-months of hard work. But that was the start of a new lucrative path she's found; a no so female-friendly path she wouldn't back out of any time soon. Titilade Railings was established.
Titilade Adeniran and her Railings Business work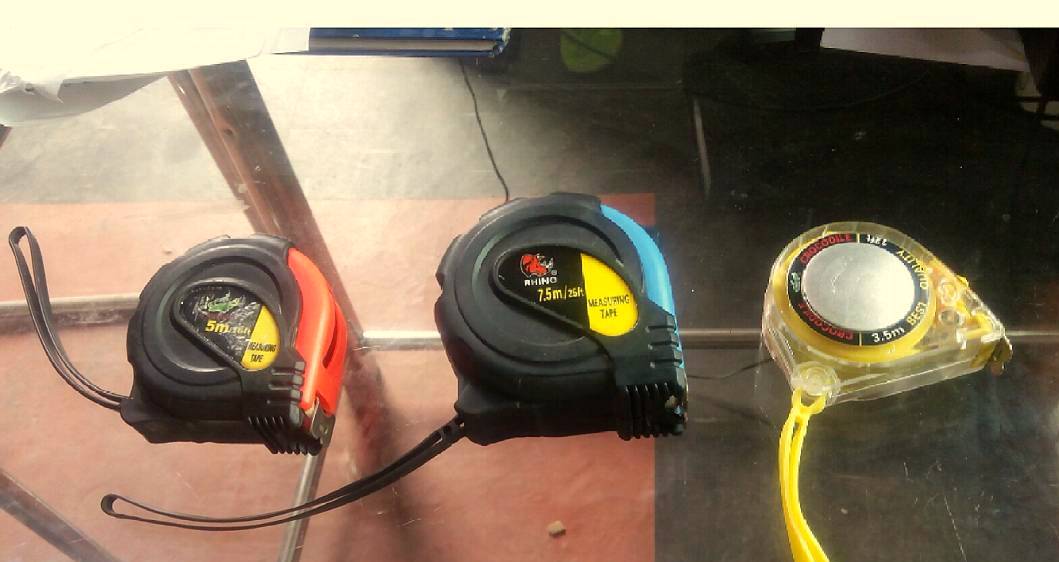 All entrepreneurs have their reasons for going into businesses. Freedom, the crave to effect change, passion, and many more are often what entrepreneurs claim to be their inspiration. But there's a common aspect of the business that connects them all — the money, of course.
Going by the initial life travails of Titilade, we were curious to know how well the railings business is treating her from the point she signed off as a marketer to jump full force into the field.
Discussing how lucrative the work is, she gave team Smepeaks some amazing insight into the railings business.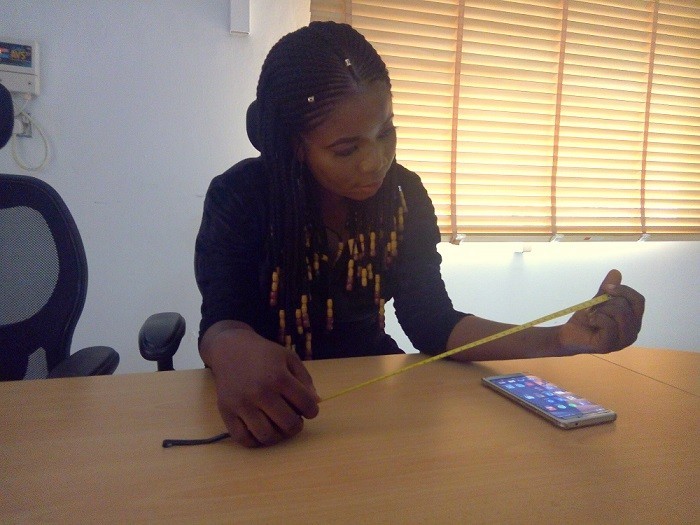 Our business is very dynamic. The job's quotation is based per meter using a measuring tape. Railings come in various sizes and designs. You have the vertical, horizontal, round, square, and rectangular form — the horizontal design as the cheapest. For instance,  if a flight of staircase is 15 – 100 metres long, the cheapest amount of railings per meter is ₦25,000. If you do the maths, that'd be over ₦300,000 – ₦3 million naira. An average railing contract takes like a day or two and you can make as much ₦1 million in 3 hours.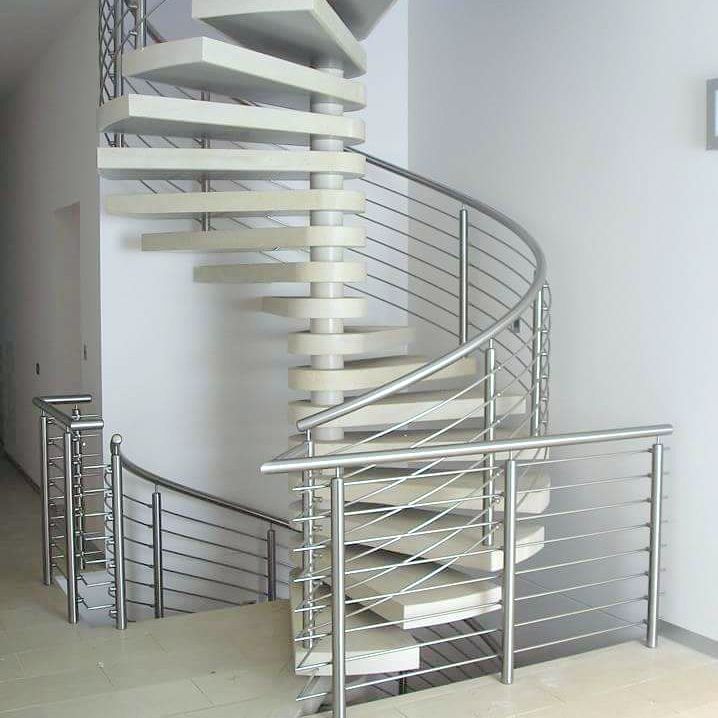 At a point, Titi came out blunt.
If it wasn't lucrative I would have left. Nobody wants to do a business that has no prospect. In railings, the market is big enough and there are very few people in it"
Showcase of Titilade Railings' Masterpiece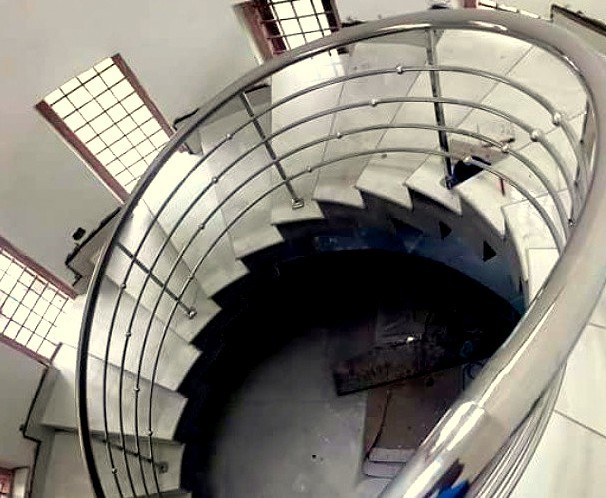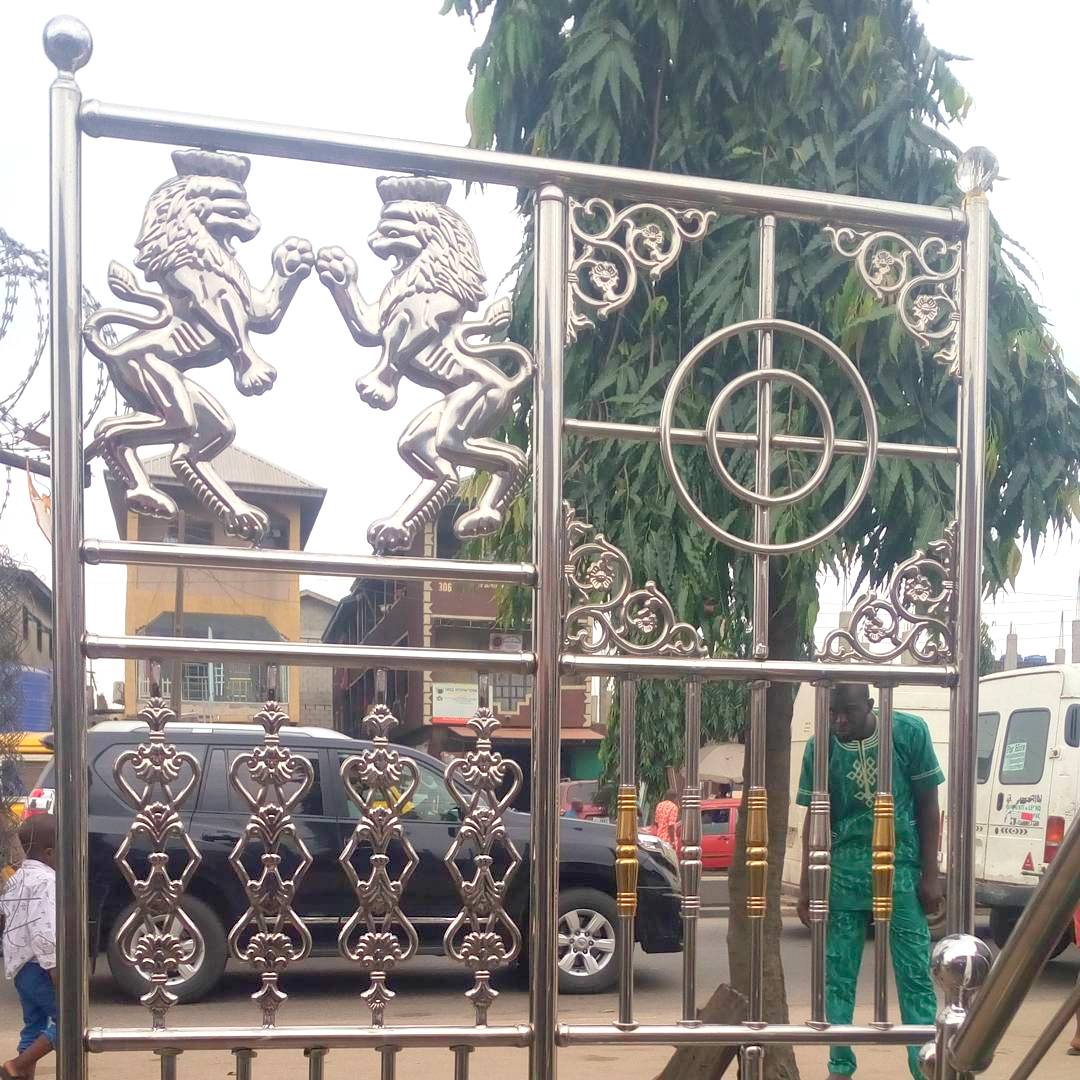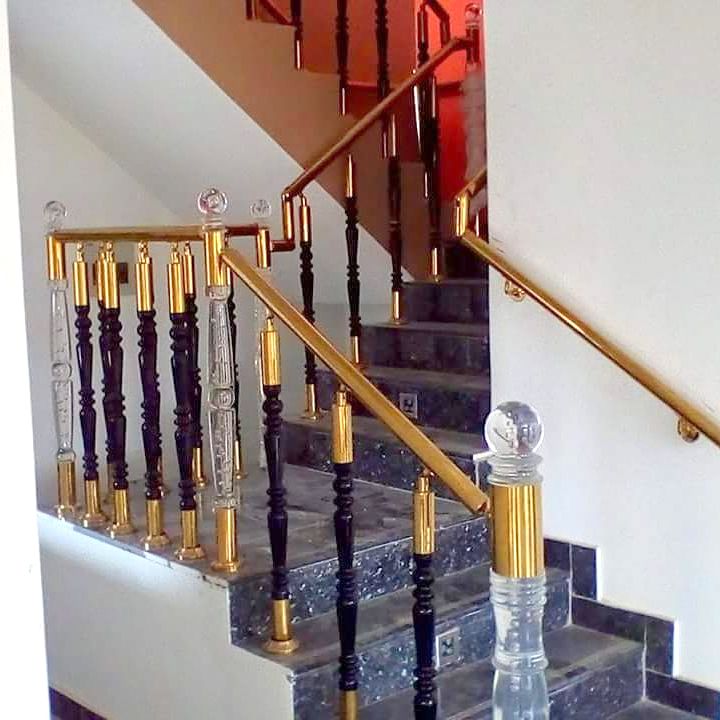 Obviously, the works of Titilade railings are as beautiful as they are glamorous.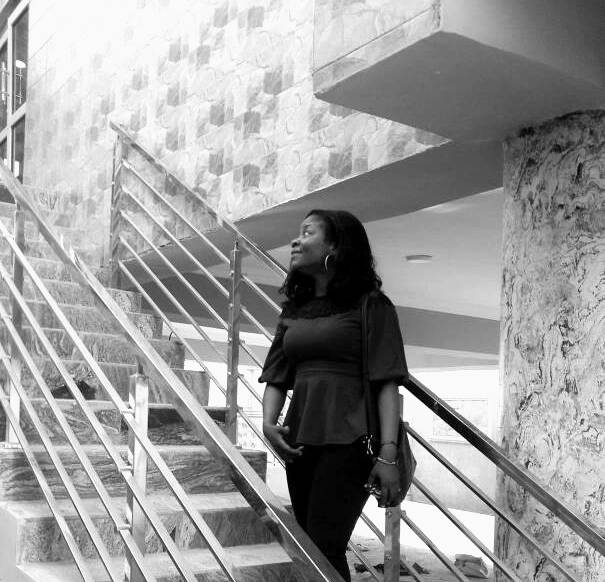 And they've gotten her international recognition as the "First female modern Railings Engr. in Nigeria" from Spain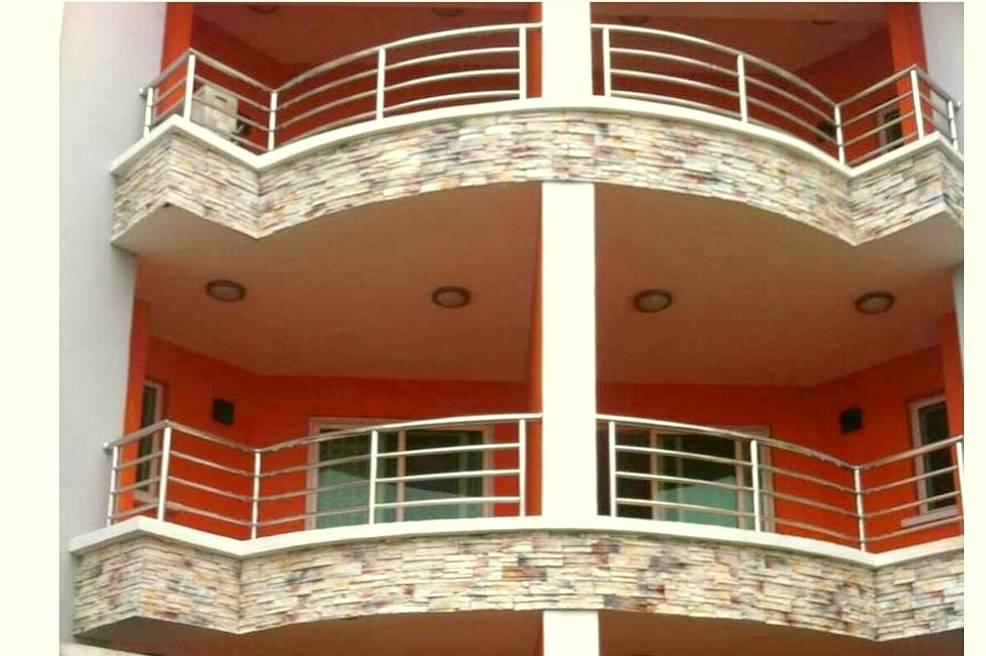 But her journey hasn't been without hitches.
Challenges so far
Women-owned business faces many challenges in Nigeria ranging from limited access to funding, societal discrimination, limited mentorship, just name it.
Being a female entrepreneur herself, Titilade has had her fair share of such challenges. Firstly, having to tussle with male counterparts in the same industry wouldn't come off as a surprise. But there's another level of the hustle, which is quite unusual. —  securing deals from married couples. According to Titilade, the wives of potential male clients often build restrictions around the notion of a woman dealing with their husbands, when she meets them at their home.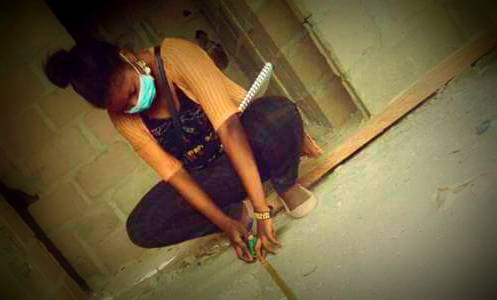 This is a big challenge. Married women are ordinarily very protective of their husbands. As a female engineer, one needs to really be very careful, if at all one successfully seals the deal, more attention is focused on the wives — or mummies, as I call them. Since I have observed that, you'd see me saying Oh, mummy, this is the amount, this is how we would go about the construction — even though I know it's the husbands that'd be paying."
Despite these challenges, Titi admits that her femininity sometimes paves way for her in the business, but this hasn't come without ridiculous demands from some of her male clients.
I have had to turn down clients who will only give me deals if I go to bed with them. As a female entrepreneur seeking prospects, you tend to get such advances from men. Although, refusal to dance to their tunes has cost me to lose a considerable amount of cash at several points, but eventually, it's totally worth it. You even get more respect when you maintain decency."
In an instant, she narrated her ordeal with a male client who already paid into her account but when he demanded the unthinkable, she turned down the request and, she was asked to return the money with immediate effect.
According to Titilade, this is an edge her male counterparts have in the profession. However, she admitted the intervention of divinity coupled with her level of discipline keeps her from losing her dignity.
As if these aren't enough, there also exists the problem of a Railing Engineer not owning a car and in such instance it always appear difficult to secure a deal especially if you are working with a very rich client, as they might not take you seriously and the very unfortunate thing is that even if you are not really good at the job, once you appear in your car, you have secured the deal by 80%.
And then, there's the physical risks and rigours that come with railings works. While working on the site, you could get injured by pipes used for the railings. Injuries that amounts to very deep cuts.
I have had several cuts while on the job, especially when working at heights. But then, it's all part of the experience. It's fun as well"
Unique points and Milestones
Since leaving her former boss in October 2016, Titilade's driving force in the business has been persistence which obviously paid off.
In 2017, she was given an outstanding achievement award from Spain as the first lady in Nigeria on modern railings Installation.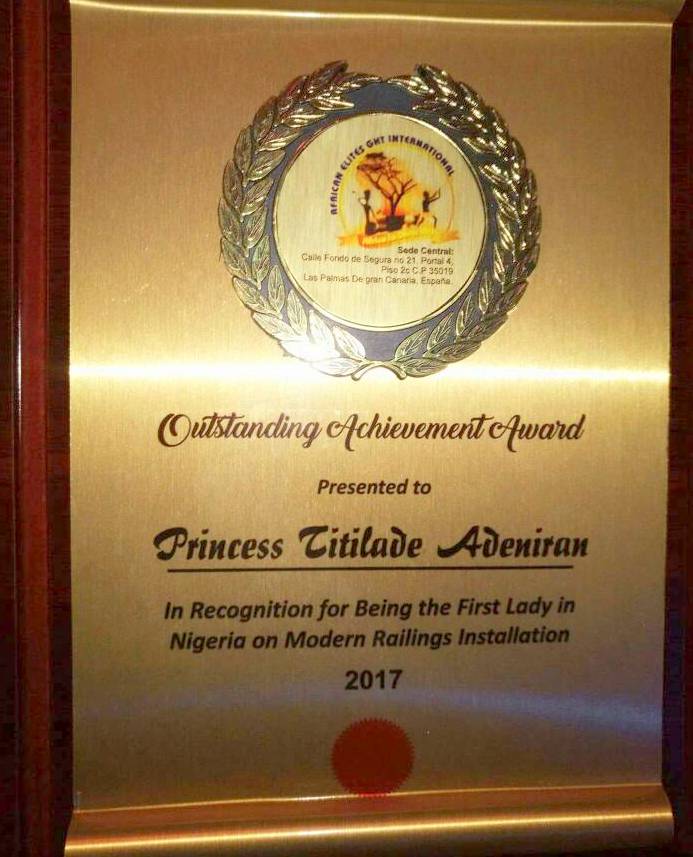 Beyond the charisma and hard work, Titilade Railings leverages social media to promote her works which have gone across states in the Southwestern Nigeria, Port Harcourt, and Cotonou.
Future of Titilade railings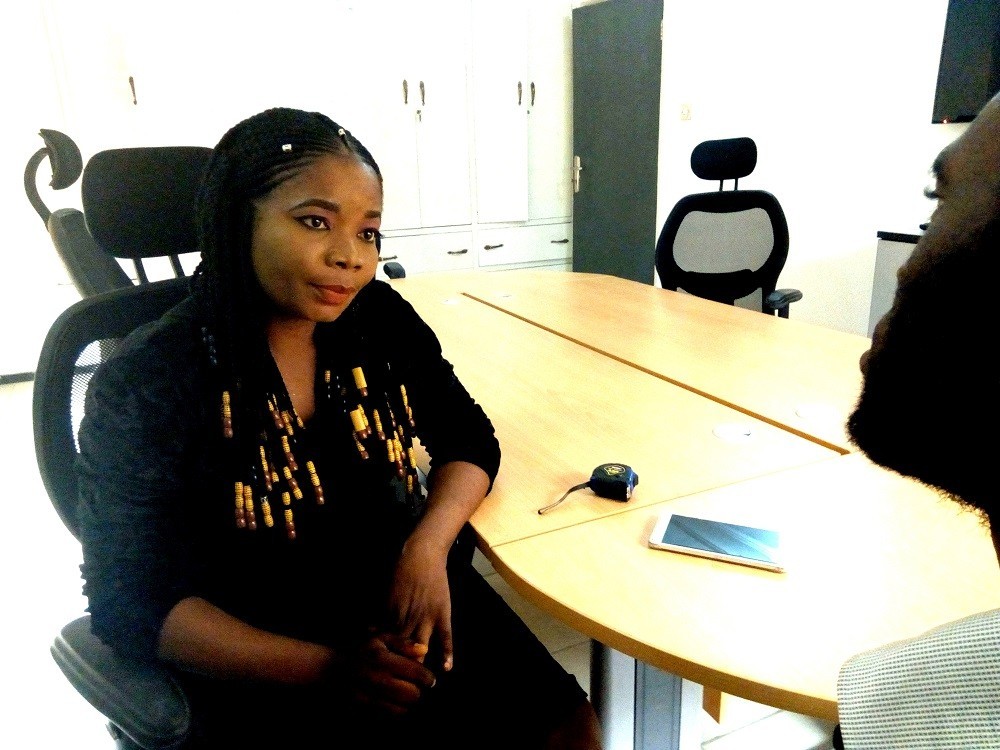 Obviously, the young Railings Engr. has achieved incredible milestones since she began in 2016. But Titi believes she's barely scratched the surface. Besides, a lot of people have to know the opportunities Africa's easily-overlooked construction industry presents. Titi hopes to evangelise that and be the  front-runner in the railing business in Nigeria by creating more jobs
Currently, Titilade Railings has a team of 5 on its roll pay, with the founder working to double that number in no distant time.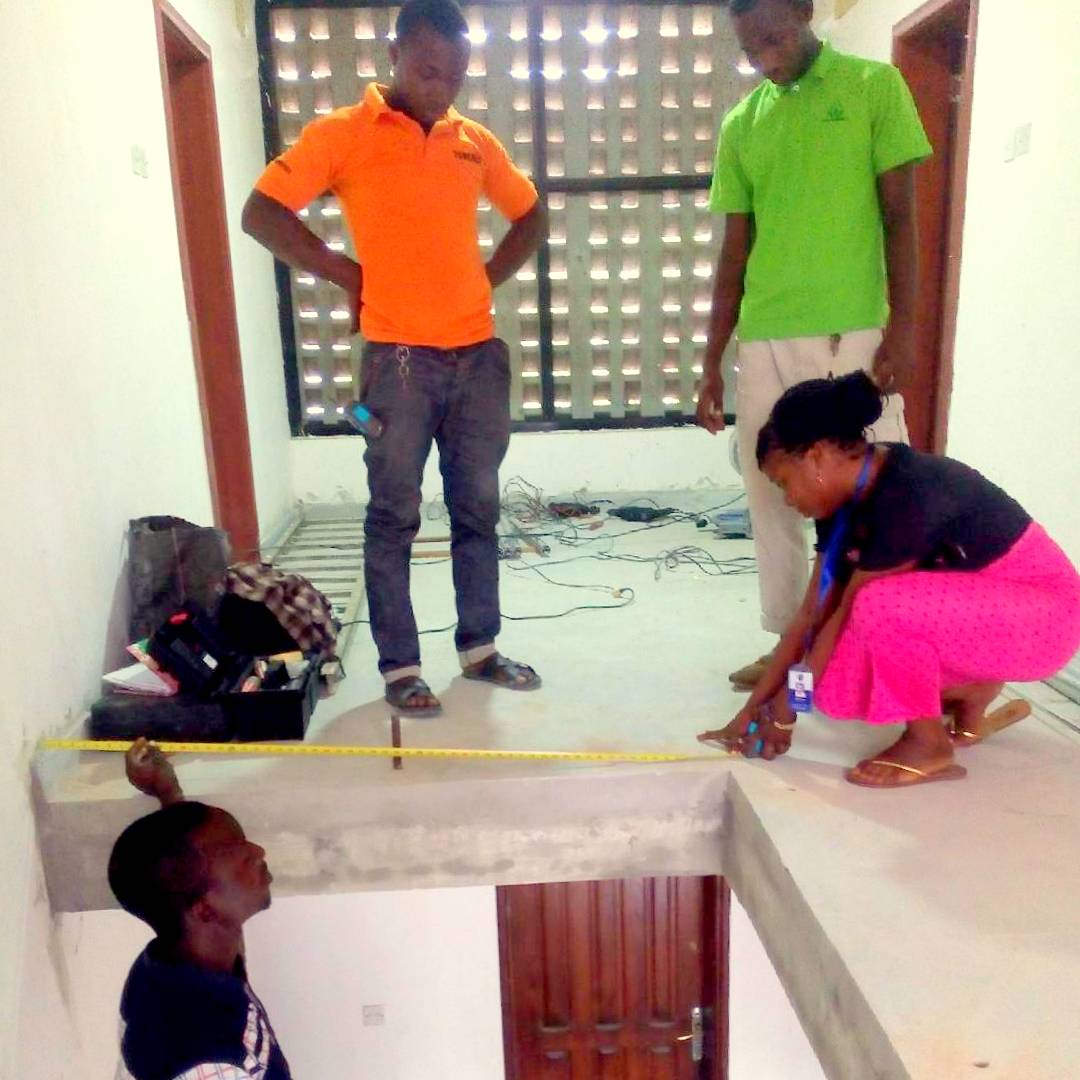 I intend setting up a school basically for young ladies to be equipped in the craft of the business and also obtaining financial freedom"
Also, having grown up from a humble background with years of hardship, Titilade Adeniran understands what it feels like to live without any form of financial support. That's why she intends setting up a school for the art of modern day railings mainly for female beneficiaries who struggle to make ends meet. According to a report by the British Broadcasting Corporation (BBC), Nigeria has the highest number of female entrepreneurs with the figure up to 40%. But as it appears,  the number f women in the Nigerian railings and construction business is not up to 5% of the estimated figure. Titilade Railings looks forward to getting more women involved in the art so they can be more financially empowered.
---
You can check out more of Titilade Railings' works or connect with Titilade Adeniran herself on Instagram.