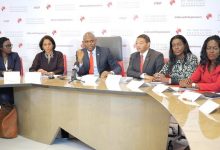 If You Applied for #TEF2018 and Wasn't Selected, Here's a Second Chance
Earlier this year, the Tony Elumelu Foundation Entrepreneurship Program (TEFEP) opened up its portal for the 4th consecutive year, to receive applications from African entrepreneurs, for a chance to win $5,000 grant for their businesses.
TEFEP announced that 1,000 entrepreneurs made its 2018 list to be empowered. It even got better in the year as another 200 were selected due to the partnership TEF had with France Development Bank On Entrepreneurship
And if you were among those that applied for the grant this year, there's even a better news. On Monday, August, 20th, The Tony Elumelu Foundation (TEF) announced that it has recently signed an MOU with German Developmental Organisation, Deutsche Gesellschaft für Internationale Zusammenarbeit (GIZ), to empower an additional 210 #AfricaEntrepreneurs from the 150,000+ of previously unselected applicants.
This is in line with TEF's commitment to improve access to opportunity for young Africans and increase chances for success.
According to the TEF, the partnership offers a new window for unselected entrepreneurs to achieve their dreams and fulfil their life goals of owning their own businesses.
Obviously, this year's applicants are beyond lucky. Unfortunately, the re-application is closing today.  Hence, entrepreneurs who applied and did not get selected for this year's #TEF2018, are invited to apply again. Unfortunately, deadline's is today by  12:00 pm WAT.
Do well to take advantage of the next 3 hours. Goodluck!
---
Smepeaks is hosting Africa's first platform to share and learn from founders' failure stories. Reserve a seat immediately!