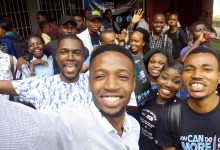 What Happened at July's Edition of the Ingressive Monthly Ecosystem Hangout (It's All About Design)
Design thinking to solve problems was the focus of the July's edition of the Ingressive Monthly Ecosystem Hangout held on Friday, July 27, 2018, at the IBM Innovation Center.
Design thinking, a method for practical and creative resolution of problems, used by designers during the designing process has also been adopted as an approach to resolve issues outside of professional design practice, such as business and social contexts.
The aim of the event was to "bridge the gap" between Entrepreneurs, Developers and Designers. Given the fact that miscommunication leads to a gross misunderstanding –which rarely results in anything good — it is important for entrepreneurs to understand how to communicate in effective ways that help a developer or designer to create good and accurate products.
Oluwatoyin Da-Costa, Manager of the IBM Innovation Center, and a verified Enterprise Design Thinking Co-creator, championed the event alongside Henry Ikoh of Think.Senpai and Rahmat of DexterityLogics.
The COO of Ingressive, Sean Burrowes kicked off the event with a brief introduction of himself and the agenda of the day. A few minutes later, he gave the floor to Oluwatoyin Da-Costa of IBM, who explained what design thinking is.
Design thinking is all about forming an intent, she said"
While making attendees listen with rapt attention to her calm and highly engaging delivery, she discussed the basics of design thinking and led a practical session.
The session, which lasted a couple of minutes, focused on defining, explaining and experiencing how each and everyone thinks in their respective positions. In the end, it helped every entrepreneur, designer and developer at the Ingressive Ecosystem Hangout realise that miscommunication is the number one problem when giving or receiving a job.
Miscommunication leads to complications when making a product, it is the number one cause of all problems, communication is our bridge to other people. Without it, we won't be able to achieve what we really want. So when it is damaged we have to solve all these problems it creates.
Before it ended, Rahmat of DexterityLogics gave the developers a notable reminder:
"If we can all look inward and see problems, we'll have better apps",
Henry Ikoh of Think.senpai reaffirmed what she said. Being an Entrepreneur, Developer and Designer himself, he believes everyone needs to look forward.
"The skills we learnt in the past wouldn't take us into the future"
These discussions are of vital importance to the future of Africa's tech ecosystem. To create internationally competitive products, good communication is paramount.
The Ingressive Monthly Ecosystem Hangout holds every month. Reach out to Ingressive if you want to be a part of this development.