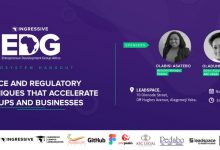 Register Yet? Learn Corporate Business Structure, Equity Funding, More at Ingressive Ecosystem Hangout, November Edition
The Ecosystem hangout, a monthly event held by Ingressive is back again this November for an engaging, immersive and comprehensive edition of Finance and Regulatory Techniques that Accelerate Startups and Businesses. With previous editions in July and August, the Ingressive Ecosystem hangout brings together entrepreneurs, designers and developers to discuss issues concerning the tech ecosystem, share ideas, learn and network.
This time is no different, only better. The two-part event will enable techies, entrepreneurs, startups, and investors to connect with one another to share ideas, resources, innovate, build strong business foundations and create value that is exponentially changing the Future of Africa. There will be two sessions focusing on the basics of creating a solid Corporate Business Structure. Proven industry professionals will give advice to entrepreneurs on the right corporate structure their business needs to scale.
What you will learn:
Licensing and Regulation
The types of corporate structures available under Nigerian law
Advise entrepreneurs on the corporate structure best suited to their businesses
Advise on regulatory agencies that require licensing, registration and compliance
Advice on post incorporation/registration
Accounting, Taxes, and Financial Structure
Equity Funding as a Technique of raising Finance for your Business.
The appropriate shareholding structure for a business
Valuation of shares (par value/market value)
Equity investment and share allotment
Shareholders Agreement/Resolving shareholder disputes
Who should attend:
Key stakeholders in the startup ecosystem, looking to expand their knowledge base with best practices and insights from the EDG Africa and Ingressive Community
Angels currently investing in early-stage startups
An entrepreneur seeking insight into the process behind landing investment
Event Details
Date: Friday, November 30, 2018
Venue: Leadspace, 70 Olonode Street, Off Hughes Avenue Alagomeji, Yaba.
Time: 5:00 PM – 8:00 PM WAT
How to Participate
This month's edition of the Ingressive Ecosystem Hangout will be led by Oladunni Babalola of AEC Legal and Olabisi Asatebo of Pedabo. To participate in Ecosystem Hangout this month, reserve your seat immediately.
The Ecosystem Hangout is being sponsored by Github (the world-leading software development platform that is actively supporting Africa's major tech ecosystems), Figma, SMEPeaks, ICA, Rising Tides Africa, AEC Legal, Pedabo, Leadspace and Fempower Africa.
As part of its mission to drive innovation across the African entrepreneurship scene, Ingressive leverages EDG Africa, its flagship community as an online channel to store content, deliver webinars and organise a fast-growing community of entrepreneurs across Africa. You may join the Ingressive Community Slack Channel to access a tech-enabled network and previous course materials.