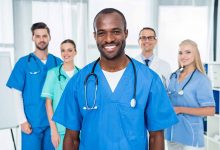 Johnson and Johnson Invites You for Africa Innovation Challenge (Fully Funded with $50,000)
Johnson and Johnson launch the Africa Innovation Challenge, designed to find and support Africa-based entrepreneurs who are developing creative healthcare products and services.
"Less than 50% of Africans have access to modern healthcare facilities, along with the fact that there's a shortage of trained healthcare professionals, the challenge will centre on identifying scalable and sustainable solutions to six major health and environmental problems for Africa's population
The challenge helps to ensure that more of Africa's bright minds have an opportunity to contribute to the continent's future success, it also encourage and support STEM (science, technology, engineering and math) education and career development for girls and women through a partnership with the Alliance for Accelerating Excellence in Science in Africa (AESA).
Criteria
The challenge's six solution categories aim to address significant threats to Africa's health care systems and environment:
Botanical Solutions: Sixty to eighty per cent of households in Africa still rely on traditional medicine to care for themselves and loved ones: Do you have naturally-derived, plant-based solutions that tap into traditional knowledge and deliver consumer health and wellness benefits through the topical application?
Packaging Innovations: Managing packaging waste from the increasing consumption in Africa is a challenge for many communities. Do you have sustainable innovations for packaging of single-dose units and other affordable product sizes that will reduce or eliminate waste, while protecting the product?
Mental Health: Caring for someone with mental illness, especially the youth, can be very challenging for rural communities. As a result, 75-85% of persons living with mental illness in Africa may not have access to mental health care. The challenge is looking for innovations that can create awareness for mental illness as a public health problem and offer solutions for patients, caregivers, and their communities to address these issues.
Health Worker Support: African frontline health workers experience high rates of stress and burnout due to the heavy burden of disease and marked health system challenges. Do your innovations support the wellbeing and resilience of nurses, midwives and community health workers at the heart of delivering care?
Digital Health Tools: The African continent has the world's poorest health outcomes, with HIV, TB, Mental Health, Maternal Health, and Ebola having especially large impact particularly on women. The challenge is seeking digital tools (including apps and other mobile/web/data enabled tech) for these important health care areas that can inform, educate, communicate and connect people to treatment, support and care through their reach and information and improve health outcomes especially for women

Essential Surgical Care:

A significant portion of the burden of disease in Africa can be treated with surgery. However, many health facilities in certain areas do not have the capacity to deliver even basic surgical services. The challenge is seeking innovations that promote access to timely, safe, and skilled surgical care
Evaluation Criteria
Idea submission addresses at least one of the six challenge categories
Idea submission is innovative and creative
Idea submission is scalable
Idea submission outlines how the award would help the applicant(s) reach a critical
Milestone within the timeframe of a single year and provides a full commercialization plan
Benefit
The winners would receive $50,000 in funding and technical mentoring of some at the brightest minds at Johnson and Johnson to help them bring their idea to life and create meaningful change in their community and country
Eligibility
The challenge is open to citizens and permanent resident of african country
Applicant must submit innovative and creative idea in at least one of the six challenge categories
How to Apply
If you have meet the following criteria, apply for the challenge by visiting the Africa innovation challenge website. Deadline for application is  Wednesday, January 16, 2019.