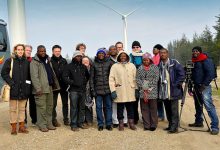 Mombassa TechBridge Challenge 2019 is Out for Young Kenyan Entrepreneurs (Over $9,000 Cash Prize)
In 2016, TechBridge Invest launched the first TechBridge challenge at a one-week workshop, hosted by the Technical University of Mombasa (TUM).
TechBridge Invest once again entreats young venture creators to participate in its fourth TechBridge Challenge that will be held in Mombasa from January to March 2019.
Here's how it works. Selected applicants will participate in various workshops where they will work on their innovative ideas, utilising the devices learnt before pitching in front of a jury.
Focus areas
This year TechBridge Challenge will focus on the following areas:
The digitalisation of business:
How can mobile phones and digital tools generate more value, both 'business to business' and 'business to consumer'?
Innovative business ideas for coastal resources:
Can the natural resources in the Coastal region generate more income through a more efficient value chain using tech?
New electronic and IT technology in a Kenyan setting

:
How can new technology, such as drones, 3D printing and virtual reality (and others), be used in an innovative way to create business opportunities?
How can businesses in waste management, recycling and sustainable food supply be part of the thriving economy?
Every idea given in these areas will get a preference in the selection, however, all business ideas will be considered.
Benefits
Prizes for the winners have a total value of $9,762.
Winner: Cash Prize of $292  seed money of $683, 9 months incubation, international mentoring and access to further investment
1st Runner's Up: Cash Prize of $175 seed money of $488, 9 months incubation, international mentoring and access to further investment
2nd Runner's Up: Cash prize of $97, seed money of $292, 9 months incubation, international mentoring and access to further investment
Potentially, 7 other winners awarded seed money, 9 months incubation program, international mentoring and access to further investment
Eligibility
Participation is free
The participation is open for current and recently graduated students and other young entrepreneurs with startups within Mombasa, Kilifi, Lamu, Taita-Taveta, Tana River and Kwale.
All information given will be kept confidential, and participants must sign a confidentiality agreement.
A team with a business idea (maximum 4 people)
Ideas must be new, not having received any seed-funding or won competitions anywhere else, and should be a product or service using technology
How to Apply
Apply for Mombassa TechBridge Challenge 2019 by grabbing an online form. Deadline for Application is Thursday, December 13, 2018.