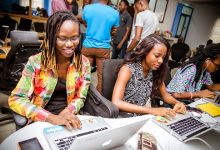 Social innovators are invited to apply for Lagos Immersion Hackathon 2019
The UK Government's Department for International Trade (DIT) in partnership with Innovation corner is calling on applicants for the 2019 Lagos Immersion Hackathon.
The new challenge is launching to illuminate the strengths of the African technology scene and encourage greater investment; especially those which address some of the macroeconomic and development challenges of the continent.
Lagos Immersion Hackathon Challenge Areas
How will you harness tech to support Nigerian companies to do more business internationally?
How would you use tech to increase gender equality?
How will you use tech to fill the skill/knowledge gap existing in the economy; putting into consideration the digitally excluded percentage of the population?
How will you harness tech to reduce the unemployment rate in Nigeria?
How would you leverage technology to reduce greenhouse gas emissions?
What's involved?
Successful applicants will receive an invitation to the Lagos Immersion hackathon on July 10, 2019, and winners will receive the following:
Winners will be paired with mentors with investment background and access to a wider network for 4 months.
Winners will be invited to the Beyond Nigeria networking session with the Deputy High commissioner of the UK High Commission in August 2019 and subsequent sessions.
The opportunity to pitch your ideas to potential investors and partners in Nigeria and the UK
Winners will receive support from the Department for International Trade and Innovation Corner
Access to local and foreign Immersion corporate partners and much more
How to apply
To participate in Lagos Immersion, please go to the website and submit your application. Deadline is on Sunday, July 7, 2019 at 12 pm. Call ups will be done the following day,  in preparation for hackathon taking place on Wednesday, July 10, 2019.
---
Never miss an important story during the week. Subscribe to smepeaks weekly newsletter now.
---
Got a story worth telling? Shoot us an email via [email protected]