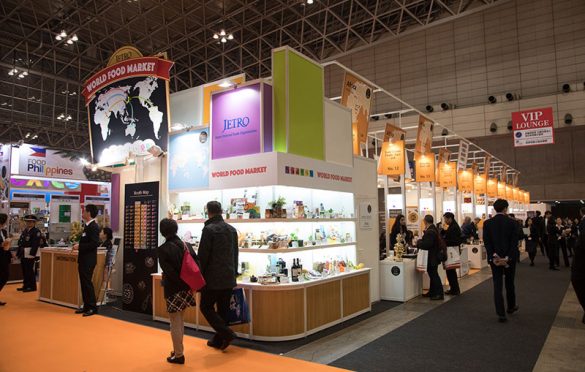 Finally, a chance for your "made-in-Nigeria" products to hit the Asian Market
JETRO (Japan External Trade Organisation) is inviting reputable Nigerian SMEs to launch their products in the Japanese and Asian market via participation at Foodex, Japan, in 2020.
Setup by JETRO Zone, "FOODEX JAPAN 2020" seeks to provide emerging countries the opportunity to introduce to Japan, promising foods from their countries and enter the  Japanese market, with the aim of stimulating the food industry of those countries.
Exhibitors will not only have an invaluable opportunity to get their products to the Japanese market but also connect with prospective business partners.
JETRO noted that in the 2019 edition, over 80, 000 visitors participated and witnessed numerous foods and beverage exhibitions.
A glimpse of JETRO Zone at Foodex Japan 2019:
46 companies from 28 countries exhibited
About 1,500 business talks
About 1,100 secured contracts (including prospective deals)
96% exhibitors' satisfaction
This time, FOODEX JAPAN 2020 will be the 45th International Food and Beverage Exhibition by the JETRO Zone and about 85,000 participants  are expected to convene.
To qualify for JETRO Zone 2020, exhibitors must:
Be a food/beverage manufacture or exporter (governments, associations, industrial organisations, etc.  shall NOT be accepted as exhibitors)
Be from (i.e., have headquarters in) an emerging country listed in the latest DAC List*
Be from a country which is not organising a national pavilion* in FOODEX 2020
Not have participated in FOODEX JETRO Zone three times or more prior to FOODEX 2020
Be prepared for international business and seeking business opportunities in the Japanese market
Be capable of making the documentation necessary for export/import and customs clearance;
Not have any exclusive agent(s) in Japan or continuous business deals with Japanese companies, as of the application date*
Not raise a complaint regarding acceptance or rejection in any matter. We at JETRO Headquarters have sole discretion in terms of making decisions on the balance of exhibits, the number of countries, potential for Japanese market and so on.
Pay all exhibition fees by the date (on "date of transfer" basis) designated by JETRO;
Have one or more staff member(s) attend the booth until the show close who can perform professional business communications with visitors on behalf of the exhibitor in either English, French, Spanish or Russian (in principle)
Refrain from selling any exhibits or products during FOODEX 2020
Report business results in detail to JETRO and cooperate in JETRO's questionnaire surveys
Comply with these Rules and Regulations, Japanese laws as well as regulations and other rules stipulated by the FOODEX 2020 organiser.
Categories of food items
Beverages (not fresh )
Spread confectionary
Seasonings, cooking oils, spicies
Nuts, grains
Seafood
Event Details
Organised by Japan Management Association and four other associations, JETRO 2020 is scheduled to hold on:
Date: Tuesday, March 10 to Friday, March 13, 2020.
Time: 10:00-17:00 (10:00-16:30 on last day)
Venue: Makuhari Messe (Nippon Convention Center), 2-1, Nakase, Mihama-ku, Chiba City, Chiba Prefecture 261-0023, Japan
How to participate
To seize this opportunity, be sure to complete and submit your application via the website. Note: Deadline has ONLY been extended for few more days, hence exhibitors are encouraged to be swift with their applications. The transportation fee for exhibits by exhibitors from Africa and LDC countries, participating for the first time is borne by JETRO.