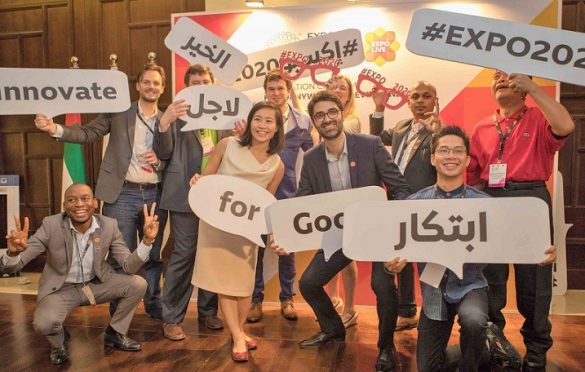 At Expo 2020 Dubai, you get up to $100,000 grant per innovative solution. Apply now
In the build-up to Expo 2020 Dubai, an innovation and partnership programme has been launched by Expo 2020 Dubai Expo Live funds to accelerate and promote creative solutions that improve lives while preserving our world.
Expo Live will deploy a combination of grants, challenge prizes and knowledge-sharing events focused on the universal drivers of progress: Opportunity, Mobility and Sustainability.
With an allocation of $100 million, Expo Live will harness the convening power of a World Expo to demonstrate how innovations coming from all places and people can advance the pace of progress and inspire a more inclusive and prosperous future.
Since inception, the innovation fund has received applications of over 6,900, from 174 countries across the world, and has had 120Global innovators from  65 countries. The 2020 edition will be its 5th cycle.
Objectives of Expo 2020 Dubai
Innovation: make Expo 2020 Dubai an engine of global innovation that both inspires and acts as a catalyst for creative and scalable solutions.
Partnerships: establish a network for collaboration between nations, organisations and innovators via shared global challenges.
Impact: create tangible and quantifiable impact to improve the lives of people around the world by supporting the development and transfer of new solutions.
Engagement: engage participants and stakeholders by 'Connecting Minds' to support solutions across Expo's subthemes.
Eligibility criteria for Expo Live
Startups, entrepreneurs, SMEs, NGOs, government entities
Innovations must be at the prototype level or beyond
Benefits society, environment, or is for a humanitarian cause
Any sector, any country
Legally registered entities
Get involved
If you wish to get participate and earn your innovative idea(s) the chance to win $100,000 in grant or become part of the Expo Live Global Innovators Community, begin your application process online.
Prior to application, you may download the FAQs, Grant Manual and Terms $ Conditions.
All applications for the 5th cycle of this programme will close on Sunday, September 15, 2019.
---
Featured image credit: Expo Live Dubai, 2020
---
Never miss an important story during the week. Subscribe to smepeaks weekly newsletter now.
---
Got a story worth telling? Shoot us an email via [email protected]