RootHub unveils line-up of speakers for StartConFest 2019
RootHub, Uyo's leading innovation hub, and the creator of StartConFest 2019 is thrilled to unveil its line-up of speakers for the 5th edition of the event.
StartConFest 2019 kicks off from Thursday 26th – Saturday 28th September 2019 at the Ibom hall/grounds in the city of Uyo. This year's edition will have guests and attendees access a three (3) days full programme of diverse sessions, workshops, talks, festival, exhibitions, boot-camps, trainings, innovation zones, game zones, experiential zone, performances, plus an opportunity to network with thought leaders of our community all focused on connecting the present, the past and the future of technology.
"We must all become innovators, testing solutions on a regular basis as we build on learnings from our past and present to create the future we want" Dave Best, Lead Communications, RootHub Accelerator Systems.
#StartConFest19 features 50+ different tracks that prove the most unexpected discoveries happen when diverse (but interlinked) topics and people come together.
Tony Onuk, Cofounder/Convener of StartConFest 2019 noted that "Attendees will have the opportunity to network with some of the most successful thought leaders, both women and men, from different industries. Various artists and small businesses have donated their time and talents by volunteering their efforts to make this happen."
Below are the confirmed speakers across tech, entertainment, creativity and innovation backgrounds for StartConFest 2019.
Chinonso Ogbogu, Founder, Sabiwriters

Chinonso Ogbogu is the founder of Sabi Writers, a ghostwriting agency for entrepreneurs, professionals, leaders, celebrities, who want to tell their stories or create great content but lack the know-how. He also launched the Incubator Africa, an academy for young entrepreneurs and Venture Incubation Programmer (VIP), an investment-incubation approach where investments are made in various lean startups over a period of 5 years.  In 2018, Chinonso invested in a travel getaway experience and leisure solution startup for entrepreneurs to balance work-life, known as Unwind.
Eno Umoh, Co-Founder, Global Air Media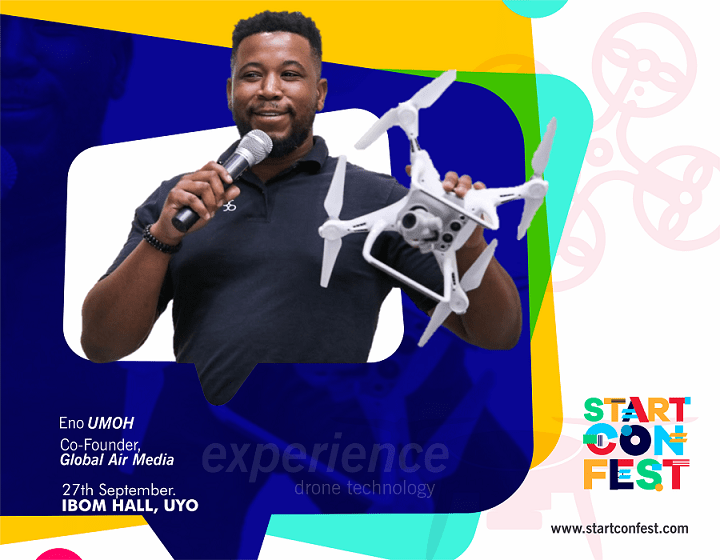 Eno Umoh is the co-founder of Global Air Media (GAM), and Global Air Academy. GAM a drone mapping and company located in Baltimore, USA, offering drone aerial photography, mapping, disaster aid and STEM programming for youth.
GAM's drone academy was created to promote STEM initiatives and drone safety for children in the US, UK, Nigeria, and the UAE. As a member of the US State Department's 'US Speakers Program', Umoh always looks to promote a culture of entrepreneurship and safety in this ever-emerging industry.
Namnso Ukpanah, Product Designer, Flutterwave
Namnso Ukpanah is the Product Designer of Flutterwave, Africa's leading payments gateway company. He also serves as a designer advocate for Figma Africa, a platform that makes technological designs accessible to African designers through a strong foundation in design education and also building a design community connecting designers in Africa. His goal is to train and mentor the next generation of product designers.
---
Read Also: Redefining Design on the African Landscape with Figma Africa 
---
Joey Akan, Entertainment Journalist/New York Times Contributor
Joey Akan is an entertainment journalist. Over time, his works have been featured on local news platforms like Pulse Nigeria international news outlets like the New York Times.
Adereni Abiodun, Founder, HelpMum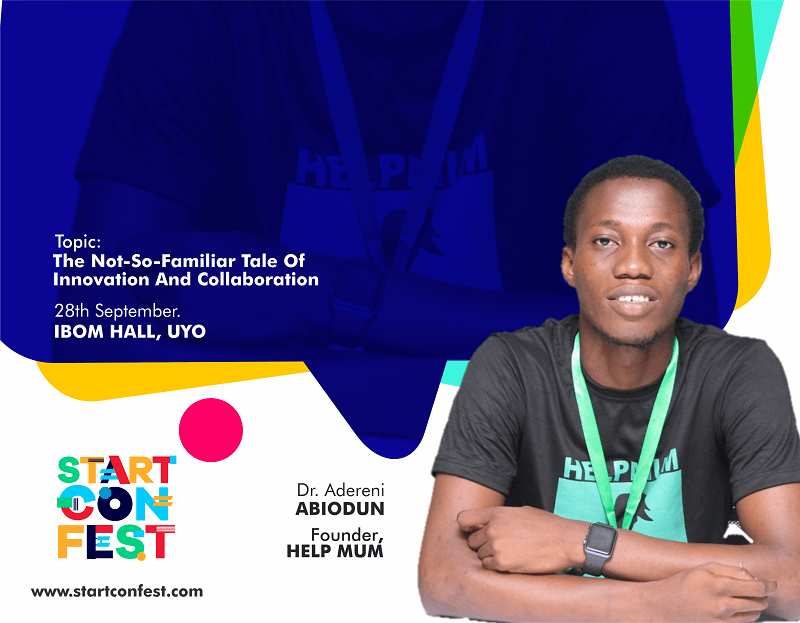 Dr Adereni Abiodun is the Founder/Ceo, HelpMum. He is also the Google Impact Challenge Africa Winner, a United Nations Geneva Youth Pitching Competition Winner and a TEF Fellow. His startup, HelpMum has featured in several international programmes such as the Go Global Africa and emerged one of the winners of $250,000 grant at the first Google Impact Challenge in 2018.
---
Read Also: InnovationCorner, HelpMum, PiggyBank, more African ventures, in London for Go Global Africa Programme 
---
Abiodun has a certificate in Entrepreneurship Management Enterprise at the Lagos Business School.
Allen Effeh, Lead Consultant, Ibom Tourism
Allen Effeh is the Principal Consultant at Ibom Tourism, a company managing market-destination tours for corporate organisations and individuals. Over the course of his career, Allen has garnered an extensive insight into relevant information, brochures and publications (guides, local customs, maps, regulations, events etc.) required by travellers locally and internationally. He'd be happy to share from his wealth of knowledge at StartConFest.
Ibukun Oshilagun, UI/UX Design Expert, AppZone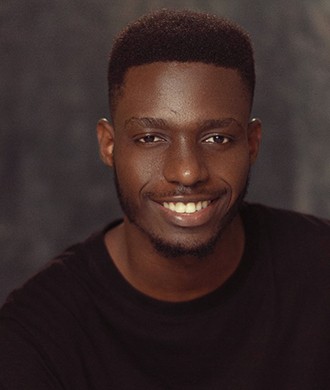 Ibukun Oshilagun is the Lead UX designer at AppZone Group, also a web developer at Roothub. In the past, he participated in the software developer internship with swap space systems Ltd. Currently, has owns a membership certificate from the Interaction Design Foundation (IDF).
Michael Soetan, Nestle Regional Manager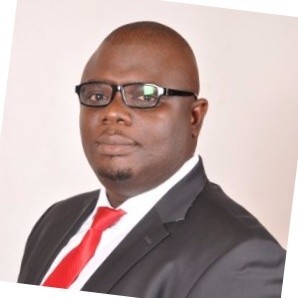 Michael is a life coach and an experienced business leader with over 10 years of experience in healthcare, pharmaceuticals and FMCG. He holds a first degree in Biochemistry, a PDG in Management Science and an MBA in Marketing from LAUTECH, Oyo state, Nigeria and an alumnus of the Lagos Business School; Pan Atlantic University.
He is currently the Regional Sales Manager, Nestle Nigeria Plc. South-South and based in Akwa Ibom State, Nigeria. Some of his specialities include FMCG Sales and Marketing, Business Development and Route to Market Modeling.
Unwana Umana, Founder, Puff-puff Festival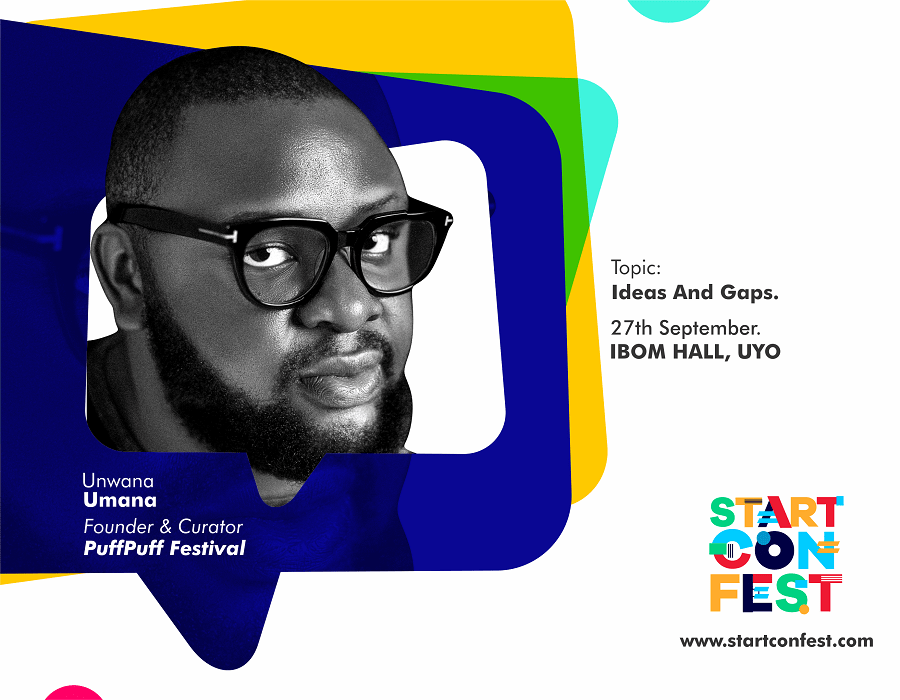 Unwana founded 'Puff Puff' Festival, one of Africa's biggest street food festivals. For the uninitiated, puff-puff is one of, (if not the most) popular finger foods across West Africa, eaten on streets, and recently packaged alongside other finger foods as "small chops" at corporate events.
Interestingly,  Unwana never studied anything related to making or eating puff-puff.  Rather, he's a law degree holder and a certified Nonviolence activist from the MLK centre, University of Rhode Island.  His appearance on this list confirms his readiness to engage at StartConFest where, alongside other speakers, he'd be sharing valuable insights with attendees. And who knows? He might just share some puff-puff too. 
Fela Olagunju, CEO, Meter.ng
Fela Olagunju is founder /CEO of MeterNG, an online platform enabling Nigerians to make payments for electricity consumption directly from the comfort of their homes. Fela also leads the team at Precre8, a company building web solutions for businesses.
Beyond entrepreneurship, Fela loves to write and share leadership thoughts about technology, self-improvement, productivity and life lessons. Currently, he contributes to both renowned local and international publishing media outlets as well as on smepeaks.
Gideon Ekanem, Founder, CASSE Africa
Beyond being a certified United Nations Enterprise Development Partner and public speaker, Gideon is the founder of Casse Africa, a social organisation based in Nigeria.
During StartConFest, he'd be sharing invaluable insights with 5,000+ participants alongside other bright entrepreneurial minds.
Godwin Tom, CEO, iManage Africa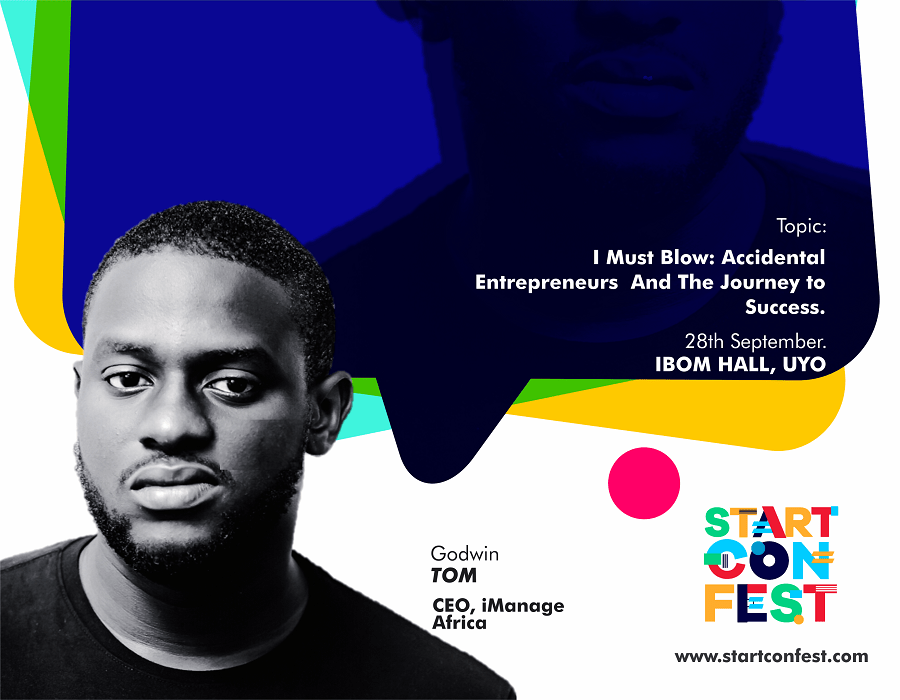 Godwin is the founder of iManage Africa, a talent management and events company that has collaborated with many organisations to drive several initiatives, one of with is the AcadaFest, in partnership with ScholarX.
---
Read Also: ScholarX and iManage Africa team-up to raise ₦10m for Nigerian Students  at AcadaFest
---
Being a talent manager, a business person and public speaker himself, he believes in changing mindsets to create change.
Ben Inyang, Co-Founder, SpeakIt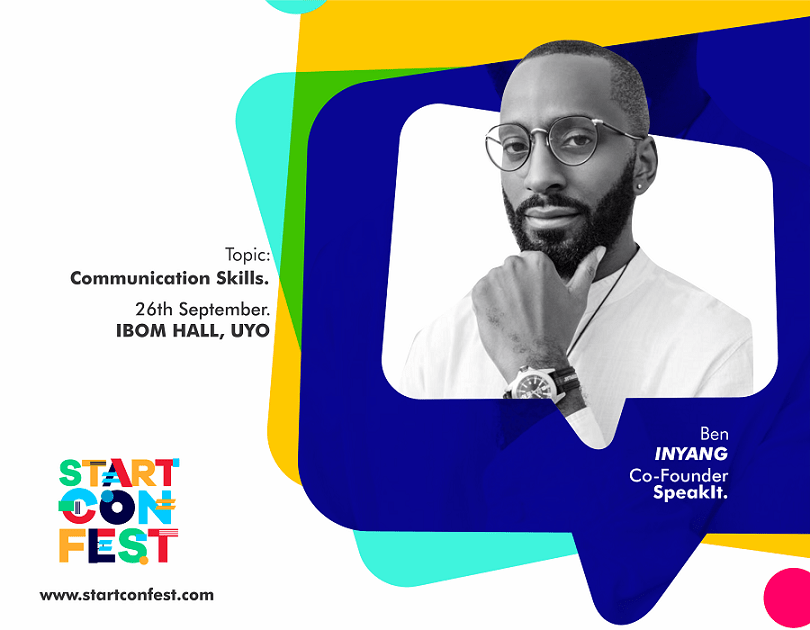 Ben Inyang, Cofounder of SpeakIt, and a tech enthusiast will be championing conversations on communications skills as it applies to making professional waves in the 21st century.
Fyede-Carson Umoh, Lead fashion Illustrator, FYKAU
Fyede is a fashion entrepreneur. She heads the team at FYKAU as the Lead Fashion Illustrator and Deviser. She'd be doing justice to a range of interesting topics, alongside other seasoned StartConFest 2019 speakers at this year's edition.
Gideon Thompson, Brand strategist/Co-Founder, Eikron Grae
Gideon has his speciality in developing brand strategies for business improvements and corporate objectives actualisation through his brainchild, Eikron Grae. He's among the StartupConFest speakers this year.
Utonne Ekefre, Creative Director, Latonne Signatures
Utonne Ekefre serves as the Creative Director at Latonne Signatures, a leading fashion retailing outlet based in Uyo. She has her core in male and female shoe designs. You may catch up with her at the event on Saturday,  September 28, 2019. Utonne will be sharing her experience, taking listeners through a 'walk in her shoes'.
Emeka Obia, Lead Strategy and Innovation, Leo Burnett Lagos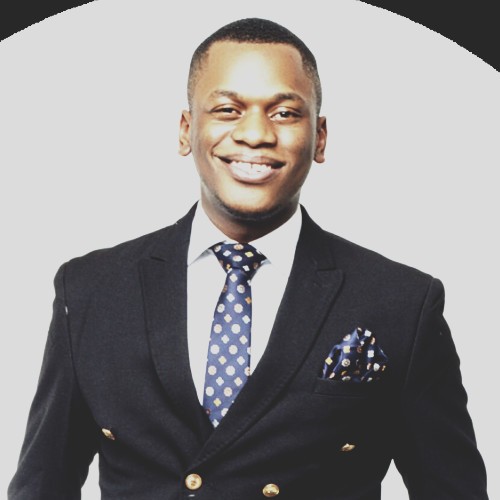 Emeka Obia leads strategy and Innovation at Leo Burnett Lagos, the extension of a marketing and advertising company, based in Chicago, USA.
He's had a successful track record of managing 'game-changing' projects and is passionate about helping brands develop superior strategies to thrive in highly competitive markets.
Having consulted and worked on projects for several leading organisations including World bank IFC, MTN Nigeria, Aiico Group, CRC Credit Bureau, Workforce Group, TAT, FIRS, Emeka prides himself as a dedicated and goal-driven resource who deeply believes in continuous learning, self-improvement as core ingredients of success.
Utibe Ukim, Managing Director, XL FM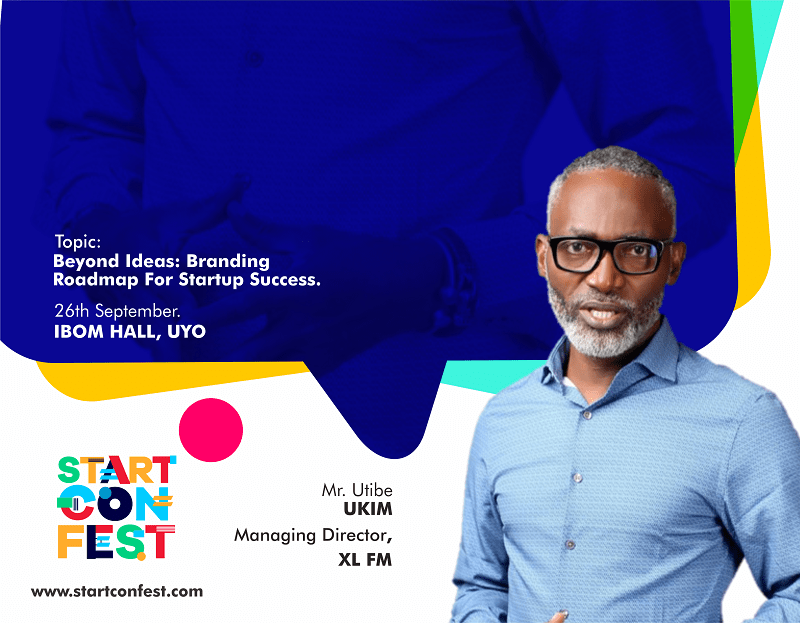 Utibe Ukim is an entrepreneur, business leader and an award-winning Journalist. He's the founder and CEO of WorkStation Limited, a brand communication agency. He also heads content and strategy at XL106.9FM, based in Uyo.
As a creative thinker and strategic communication executive, Utibe is constantly looking out for new opportunities to make technology work for people especially in an emerging economy such as Nigeria.
Nsikan Abasiekong

Nsikan Abasiekong is the founder of The Nsikan Abasiekong company and a serial entrepreneur. At StartConFest, he'd be sharing his experience running businesses around the topic "What Life Has Taught Me (Lessons and Potentials)".  Reserve a seat to hear from him.
Edidiong Etuk, Data Analysis Expert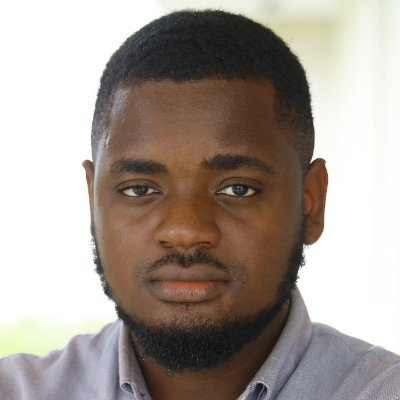 Edidiong Etukn is a self-taught Data Scientist, Natural Language Processing and Deep Learning enthusiast. His experience spans across implementing research papers, Kaggle competitions, leading computer science study groups and mentoring young data science enthusiasts.
Edidiong believes teamwork and collaboration are the bedrocks of every key competency. He's vast in data science, data engineering, data analysis, machine learning, deep learning and Python.
Other seasoned StartConFest 2019 speakers include:
Mbiata-abasi Inyang, CEO, Crystal Drones
Sampson Malachy, Co-Founder of Maxtreme Inc.
Udeme Lucie Ekong, Founder, Smart Biz Nation
Edemanwan Ibiok, a general health practitioner
Francis Onuk, Co-Founder, The Roothub
Francis Onuk, the cofounder /Chief Operating Officer of Roothub, as well as will also be taking the speaking stage at the StartConFest 2019.
While co-running the RootHub, alongside Tony Onuk, Francis brings his artistry dynamics to the business accelerator,  often placing himself as a visual communicator, rather than just "an artist".
Francis is passionate about brand experience and the desire to nurture ideas to life leveraging the use of technology. He's had over 10 years of experience in the design field and is happy to impart knowledge in design thinking and principles to accelerate efficiency.
Together, these speakers will lead interactive and inspiring sessions around this year's theme, "Create the Future". The festival's headline partners include Akwa-Ibom Employment and Enterprise Scheme (AKEES), Nectaryn Studio, YNaija, TraxNG, AirtelNG, XL106.9FM, Indomie and TheRra hub and yours truly, smepeaks.
Tickets for StartConFest 2019 are still available at the event's official website.
---
Never miss an important story during the week. Subscribe to smepeaks weekly newsletter now.
---
Got a story worth telling? Shoot us an email via [email protected]