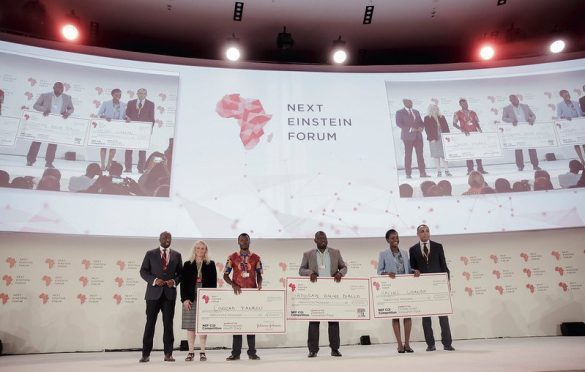 Attend the Next Einstein Forum Investors Meetup for a chance to win $25,000
Are you a young Science and Technology driven entrepreneur? Don't miss out on the Next Einstein Forum 2020.
Next Einstein Forum (NES) is a platform that connects science, society and policy in Africa and the rest of the world.
In collaboration with CcHUB  the meetup is scheduled to hold in Nairobi in 2020. This opportunity is open to all science-driven entrepreneur whose aim is to get funding from investors for their enormous ideas to become major market targets.
This is the third edition of The Next Einstein Forum 2020 and it promises to be for the most innovative minds.
Entrepreneurs who fall under the following categories in line with the AfDB High 5s —
Integrate Africa,
Light up and power Africa,
Feed Africa,
Industralise Africa and
Integrate and improve the quality of lives for the people of Africa , are invited to attend the forum.
Why Apply?
Scientists will gain knowledge and understanding of how to transition from lab to market
Be prepped on pitch preparation and  investment readiness
Have an understanding of funding options and valuations
Be connected to investors at the NEF 2020 Global Gatherings in Nairobi, Kenya
Pitch your idea for a chance to win $25,000 per category [AfDB High 5s]
Startups will also be matched with investors for a chance to raise funding
Free ticket and accommodation to attend the NEF 2020 Global Gatherings in Nairobi Kenya in March 2020; the largest science and innovation gatherings on the African continent according to the NEF website
Eligibility
Are you a Passport holder from an African country?
Do you live on the continent?
Are you 42 years of age or less as of 31 December 2019?
Are you very passionate about raising Africa's profile in Science,Technology,Engineering and Mathematics (STEM) globally?
Do you have a Bsc/MBA/ PhD in a field of science, Technology, Engineering, Mathematics or the Social Sciences?
Would you be available to travel from March 5 to March 13, 2020?
Are you multi-lingual  or would be able to communicate with an  audience in French and/or English?
Do you have an active profile in your community, either work, study or online?
How to Apply
Applicants that meets the criteria above can apply on the website. Deadline for application is Friday, December 20, 2019.
---
Never miss an important story during the week. Subscribe to smepeaks weekly newsletter now.
---
Got a story worth telling? Shoot us an email via [email protected].