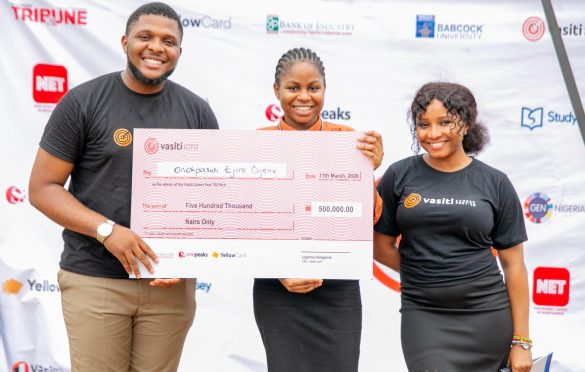 The ₦500,000 grant and all that happened at Vasiti Career Fest'20 — Babcock Edition
Vasiti in partnership with the management of Babcock University recently held the first edition of Vasiti Career Fest'20 with over one thousand students in attendance.
The highly interactive event took place on Wednesday, March 11, 2020, at Babcock University Stadium, Ogun, Nigeria. It was an integral part of the 2020 Job Fair organised by Babcock University, as well as Vasiti's move to support student entrepreneurs and empower students in their career paths. 
During his opening speech, Ugonna Ginigeme, CEO of Vasiti.com, urged the students to open up their minds and learn as much as possible from the real-life experiences of the leading industry experts invited to speak at the event. This, according to Ugonna, will prevent them from a lot of mistakes when they begin their various careers as entrepreneurs or employees.
He further explained the reason behind the initiative, "Vasiti Career Fest was borne out of the need to help students attain clarity of focus on their career, and also guide student entrepreneurs to ensure they build sustainable and profitable businesses"
The keynote speaker, Dr Olawale Anifowose, MD, Global Entrepreneurship Network (GEN), represented by Gbugbemi Atimomo, Managing Consultant Business, at Tandem Limited, spoke on Self-Education and Leadership; Fundamental Elements of Career Success.  In the course of his speech, he encouraged students to not restrict themselves to what they are studying but maximise the privileges attached to being a university student such as access and connections.
The event was graced by notable industry experts, such as Dr Abiodun Adereni, founder HelpMum, Michael Nwoseh, Head of Strategy and Growth, Data Science Nigeria, and Ezinne Ikejiani, Co-founder, Zichiteff, who formed a panel to discuss "Classroom to Real World; Avoiding Likely Pitfalls and Building a Successful Career" with Tochi Ginigeme, High-end Sales Manager, Anheuser-Busch InBev as Moderator.
Vasiti Career Fest'20 Winners
In line with Vasiti's goals to support entrepreneurial minds, students were given the opportunity to pitch their businesses and ideas to a panel of judges and stand the chance to win ₦500,000 grant in cash and bitcoin rewards from the Bank of Industry (BOI) and Yellowcard Financial. Additionally, winners get support services from smepeaks and Vasiti itself.
Onokpasah Ejiro Ogene, a 400level student of Political Science and Administration emerged winner of the Studentpreneur Pitch Competition. Ejiro, owns Ònòh Naturals, a natural skincare business and currently has three products available which are; the plain bentonite clay, Bentonite clay and turmeric mix and the zobo scrub.
The 1st and 2nd runners up were Eze Chibuike Daniel and Kupoluyi Olamoju respectively. Both, fashion designers.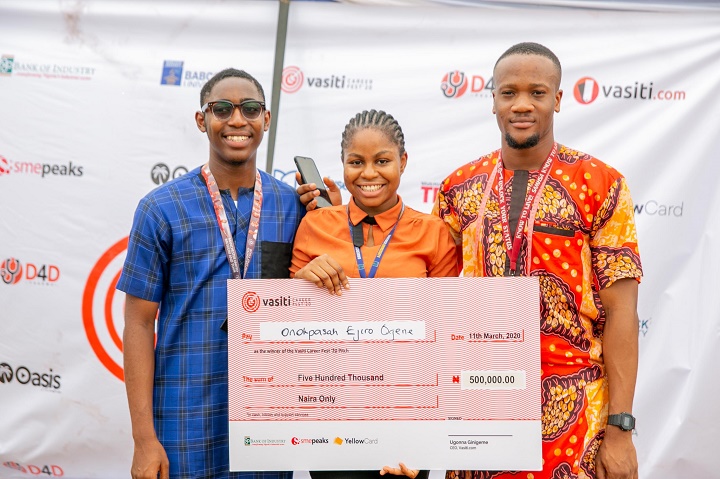 The Sponsors
Vasiti Career Fest'20, Babcock University edition was proudly supported by Bank of Industry, smepeaks, YellowCard, TheNetNg, Studysey, GEN Nigeria, Oasis Media and Nigerian Tribune.
As the year comes along, the event will be taking place in five other universities and it promises to be better each time.
---
Got a story worth telling? Shoot us an email with SUBJECT — "Story Worth Telling" — to [email protected].