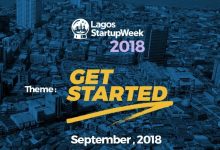 Lagos Startup Week Begins on Monday, September 24
The 4th annual Lagos Startup Week will begin on Monday, September 24. This event showcases the city's growing startup community and brings together entrepreneurs, innovators and investors from all work of life for a full week of learning and networking.
The aim of the event is to provide entrepreneurs with insight on raising capital, marketing, sales, bank loans, exit strategies and more.
This year, Lagos Startup Week goes by the theme;  "Getting Started", and a broad range of sessions and activities have been curated for growth and early-stage startups.
"It's going to be a busy week, so make sure you plan your schedule in advance. Our goal from the first Lagos Startup Week has been to create a platform where entrepreneurs, founders and investors learn, network, find customers and get answers. Every year, we keep getting better at this and encourage new companies to participate" said Olumide Olayinka, the event's chief organiser.
Over the years, Lagos Startup Week has featured prominent Lagos based entrepreneurs such as Oluyomi Ojo of Printivo, Shola Akinlade from Paystack and Toyin Oshinowo from Delivery Science, as well as investors from companies such as Accion, Y Combinator, the Case Foundation, Techstars, Seedstars, Village Capital and the IFC. and definitely, this year's won't be an exception!
According to the organisers' website; "Technology is no longer an industry, but rather the underlying driver of change and innovation for every business everywhere. Since 2015, Lagos Startup Week has brought together the ecosystem of technology agents driving business innovation. Now in 2018, we're expanding into 12 carefully curated tracks to shape a much deeper conversation on how technologies such as blockchain and AI will directly affect industries, professions and the way we innovate. Join us and 5,000+ attendees on Sep 24  -30th 2018."
It is also imperative to mention that the event will create an avenue for startups to exhibit some of their products. Interested startups that want to exhibit can apply through the website.
Register to attend  Lagos Startup Week through the website.
---
Smepeaks is hosting Africa's first platform to share and learn from founders' failure stories. Reserve a seat immediately!