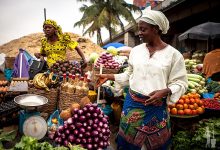 Happening Now in Lagos: CBN's Newly Launched 'Funding Nigeria Small and Medium Enterprises' Initiative
Editorial Note: The article has been updated to reflect the correct time of event in Lagos (Today, Thursday 26, 2018 —  10:00 am). We apologise for previous miscommunication on the time for Lagos edition. 
---
The Central Bank of Nigeria (CBN) has through its bankers' committee recently launched the Funding Nigeria Small and Medium Enterprises Initiative in Lagos, Aba, and Kano. According to CBN, this Initiative is in line with the Federal Government's commitment to grow the SME sector.
It also aims to provide an avenue for SMEs in the three states to get the required grants, loans, and funds to scale their businesses. It is also an opportunity for SMEs to grow and contribute their quota to the growth of the economy.
Sensitisation workshops have been scheduled across the selected states with the first taking place in Lagos on Thursday, July 26, 2018 at The Zone Tech Park, by UPS, Gbagada, 10:00 am prompt. 
The second event holds in Kano on Thursday, August 2, 2018, at Meena Events Centre while the Aba workshop will take place on Thursday, August 9, 2018, at Binez hotels.
The one day public enlightenment workshops will be facilitated by experts from CBN, Deposit Money Banks, Bank of Agriculture (BOA), Bank of Industry (BOI), Ease of doing Business Team and the Small and Medium Enterprise Development Agency of Nigeria (SMEDAN) with the aim of creating awareness on how SMEs can access funds, grants and loans under the Funding Nigeria SMEs Initiative.
Entrepreneurs at the workshop will have the opportunity to access funds as this is the first step towards being beneficiaries of the Funding Nigeria SMEs Initiative.
If you are interested in participating, be available at any of the three venues at the scheduled periods.