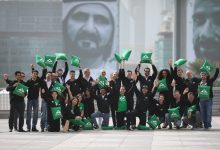 Tech Entrepreneur? Apply for Techstars Dubai Accelerator (Fully funded)
In partnership with GINCO, Techstars Dubai is accepting entries for its second class accelerator program. The program is open to entrepreneurs from all over the world as the organisation is expanding its presence in the Middle East.
Techstars Dubai Accelerator will continue to focus on businesses which can leverage Dubai's unique business and regulatory environment for exponential growth.
The program will take place in a  new facility at the centre of Area 2071, Dubai Future Foundation initiative which represents the nexus of entrepreneurship, corporate innovation and the public sector
Dubai, renowned for its technological innovation in solving challenges is giving opportunities to tech-driven startups to showcase their innovation, therefore with this development Techstar is poised to assist entrepreneurs with leading innovative ideas to succeed.
Chairman of GINCO Group of Companies, Gheyath Mohammed Gheyath stated,
"We are proud to continue to support entrepreneurs around the world and contribute to Dubai's vision to become the best international hub for founders. We look forward to welcoming entrepreneurs to our city and cannot wait to help them launch the upcoming generation of businesses."
Each startup admitted into the second class will get relocated to Dubai where they will participate in an intensive 13-week program commencing January, Sunday 20, 2019.
Benefits
Participants at The Techstars Dubai accelerator program will get the following;
Successful entries into Techstars Accelerator get a $100,000 in guaranteed seed funding
Techstars contribute $20,000  as a stipend to support living expenses during the 13-week program, and in return receives 6% common stock from each startup
Access to Techstars resources for life
Access to Techstars worldwide network of entrepreneurs including mentors, investors, alumni companies and staff members
Eligibility
Open to entrepreneurs across the world
Participating startups must be technology oriented, web-based or software applications
How to apply
interested applicants who have satisfied all the necessary requirements for the Dubai Techstars Accelerator program can go ahead to apply through the website. Deadline for applications is October, Sunday 14, 2018.
---
Featured image: menabytes