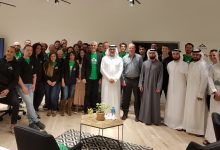 Get Funding up to $120K at Techstars Dubai Accelerator in partnership with GINCO
Techstars has been in the forefront of assisting entrepreneurs around the world to succeed through its formidable network. Founder and their team can connect with expert, mentors, alumni,  investors and even other entrepreneurs who will be interested in helping their young ventures grow.
The Techstars Dubai Accelerator in partnership with GINCO, a leading full service general contracting firm, which offers services in full cycle construction process from concept to execution and supervision, is seeking to expand Techstars' presence in the Middle East.
Benefits
The Accelerator provides selected companies with access to financial, human and intellectual capital to grow their enterprise.
Selected companies are offered up to $120,00 funding and every company gets a $100,000 convertible note upon acceptance into the accelerator.
Selected companies are provided with $20,000 for logistics which is to support living expenses during the program, but takes a 6% stack from each company.
Selected entrepreneurs will have live access to Techstars resources for life and a 90-day.
Selected companies will be admitted into their mentorship programme and provided with a working space.
Eligibility
This opportunity is opened to pioneering entrepreneurs leading innovative companies solving challenges in transportation, construction, wellness, IoT, robotics, & beyond around the world, no matter your location.
How To Apply
Applications for the Techstars Dubai Accelerators should be submitted on website. Deadline for applications is October 14, 2018 while the programme commences on January 20, 2019.