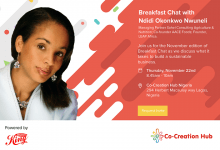 Attend CcHub Breakfast Chat With Ndidi Nweneli, Tomorrow
CcHUB is hosting another edition of its monthly Breakfast Chat series tomorrow. Just as the name hints, the Breakfast Chat series is a chat over breakfast, that gives tech founders a chance to interact with accomplished entrepreneurs across various fields of business.
Previous editions have featured successful entrepreneurs like Demola Eleso, Iyin Aboyeji and others. As is its purpose, the CcHub Breakfast chat allows a small group of distinguished entrepreneurs to share knowledge on what it takes to build and run a globally sustainable business aiming to reach a billion users/customer. This month's conversation will be focused on "Building a globally sustainable business" with Ndidi Nwuneli as the Guest Speaker.
Ndidi Nwuneli is the Managing Partner of Sahel Consulting Agriculture & Nutrition Ltd. which works across West Africa, unlocking the agriculture and nutrition potential in the region, Founder of LEAP Africa, which inspires, empowers and equips a new cadre of principled, disciplined and dynamic young leaders in Africa. and Co-founder of AACE Foods Processing & Distribution, which was established in 2009 to fight malnutrition, reduce post-harvest losses among smallholder farmers and displace imports.
Ndidi was recognized as a Young Global Leader by the World Economic Forum and received a National Honor from the Nigerian Government. Ndidi serves on the boards of Nestle Nigeria Plc., Nigerian Breweries Plc., Globethics.net Switzerland, Godrej Consumer Products Ltd. India, Fairfax Africa Holdings Canada, Royal DSM Sustainability Board, Netherlands and the African Philanthropy Forum.
She is the author of "Social Innovation in Africa: A Practical Guide for Scaling Impact," published by Routledge in 2016. Her work has been featured on CNN and BBC and she served as a TED Global speaker in 2017.
Event Details
Time: 8.45am – 10am
Date: Thursday, 22nd of November, 2018
Venue: CcHUB, 294 Herbert Macaulay Way, Sabo, Yaba
If you are willing to participate, request your invite immediately. Kindly note that selected applicants for the chat will be notified via Email.