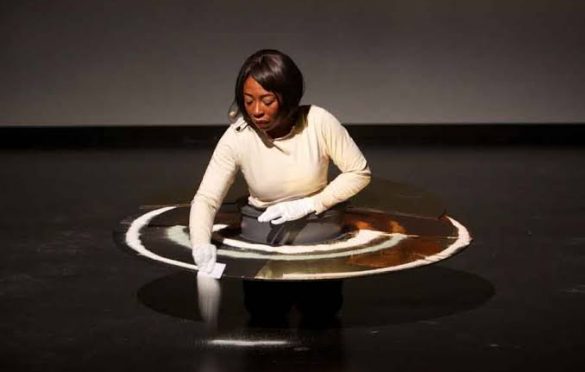 Meet 7 Nigerian female painters rocking a male-dominated space in style 
From time immemorial, painters are known to create representations of the world around them. Often, their works will ride on a blend of watercolour, acrylic or oil paints, while some may combine different types of paint materials such as sand or grit to complete their work.
Paintings are often done on surfaces (walls or doors) or on canvas. While it's been a male-dominated industry, females are also gaining grounds in the space. However, only a handful of female painters have become famous enough to be penned down on history books globally.
We can nail this down to the continuous trail of stereotype women face in schools and in society.  More so, lack of awareness of what is acceptable in trades and the physical work involved in the painting are contributing factors that hinder a lot of women from exploring this profession. However, with civilisation comes a change of this mindset.  More females are becoming renowned in the painting industry globally.
In Nigeria, the story is no different. Meet some Nigerian female painters  who regardless of challenges encountered pursued their passion, Art.
Sarah Adenike Sanni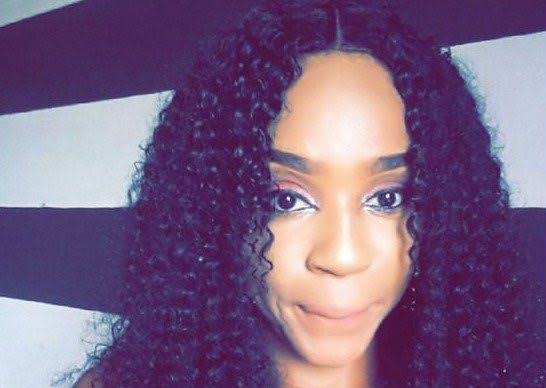 Sarah  also known as 'Ceracerni' studied computer science at the University of Benin, Uniben after failing to make the cut-off point for studying Architecture. Her paths crossed with that of Manny, a fine artist who tutored her in the advanced techniques of wall painting and designs.
Despite becoming a Software developer in an IT firm, she desired to pursue her passion in Art. Her inspiration came from the swirl designs made on the hands and feet of brides in the northern part of Nigeria called 'Laali'. Like other Nigerian female painters, Sarah acquired books on art that helped upgrade her skills.
" I hope that all the walls in Nigeria would be awash with my paintings and designs.. prodigies and geniuses were born with talent from birth. However, some never attained their full potential because they were not nurtured or encouraged…". In explaining her dreams, she said, "At a later time in future, I intend to establish a school of arts where kids who show interest in art can be trained and developed so that their skills can be sharpened", Sarah concludes.
Her work includes designing bathrooms, salons, hotels, living rooms, dining rooms, kitchen, bedrooms, studios, dance house clubs, churches among others. She has worked with brands like The Icecream Factory, Molfix, Heineken, Mai Atafo, LittleBigKid among others.
Explore some sample works of Ceracerni



Udoka Uju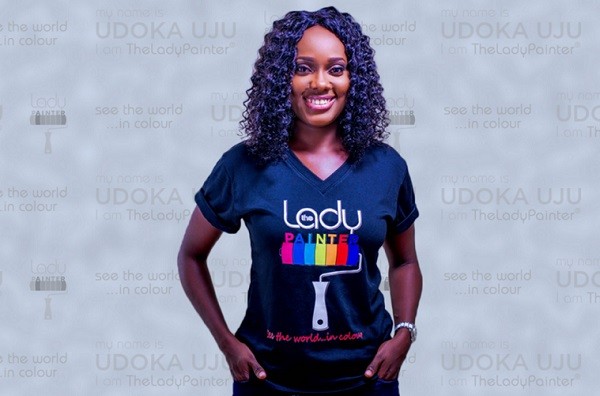 Udoka is the founder and CEO of the Lady Painter, majored in Economics and worked for one of the prestigious banks in Nigeria. This "First Lady Painter" as she fondly calls herself specialises in interior and exterior painting.
In an interview with SheleadsAfrica, Udoka said, "knowing that I am the first woman in Nigeria to come out boldly as a creative painter, with a totally different painting concept and a solution does feel good. The idea of it being a male-dominated field is because we allowed it so in this part of the world. I am glad I am an influence on all other creative women out there. Now a lot of women are coming out as painters, even those who only called themselves Artists are now adding Painter to their profile".
Udoka Uju left a high paying job to pursue one that is dominated by the male folks. If you feel stuck in your present job, remember these words from Udoka, "start by taking a small step which is understanding that your life is purposeful."
Uju is also the founder of 'Grab a brush, colour a life' initiative. She cares about arts and culture, children and economic empowerment.
Here are some of her handworks:

Otobong Nkanga
Otobong Nkanga is a Nigerian born visual and performance artist based in Antwerp; began her studies at the Obafemi Awolowo University in IIe-Ife, Nigeria and later continued in Paris at the École Nationale Supérieure Des Beaux-Arts.
Otobong Nkanga is a multidisciplinary artist that considers the relationship between humankind, land and its resources. Her interest in minerals led this Artist to study the intense mining of the world's natural resources. To her, the body is composed of minerals and elements that we see in the landscape, just that it's in a different form.
Otobong yearns for her work to affect people's lives and as well help another breed of artists to build from. This means that every artist is a stepping stone for other Nigerian female painters to follow.
Find below some of her paintings:
Desrey Hope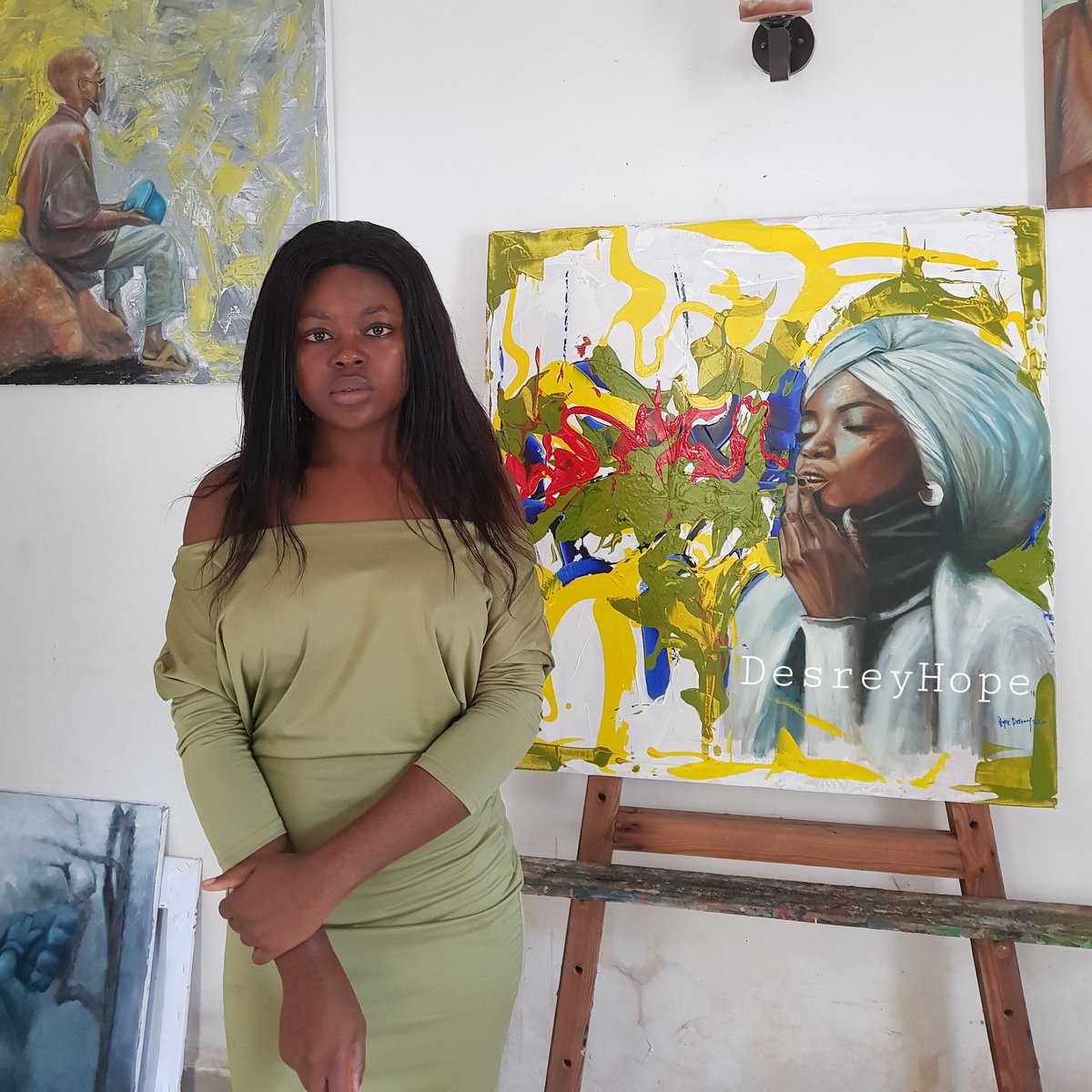 Hope Desrey is a Nigerian female painter who participates in group exhibitions locally and internationally. To her, painting is something which should be done from the soul in order to inspire others. Passion and determination along with a curious mind led this young lady into painting.
She is a graduate of the University of Maiduguri and studied Sociology and Anthropology. Rather than pursue the course she studied, Hope pursued her first love, Art. Aside from being a Painter, she plays with words as seen in the form of a poem.
In her works, she displays the appreciation of women in the struggle they face, their hard work and survival.
See some of her paintings:
Juliet Ezenwa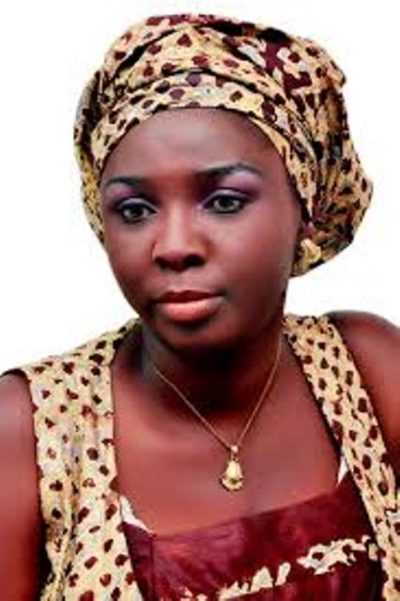 Just like Hope Desrey, Juliet Ezenwa's pieces are meant to recognise a woman's place in society. She specialises in watercolour, oils on canvas, acrylic, pastels and mixed media paintings. Juliet produces ceramic and experimental sculptures in alternative materials. She runs the Yemaja gallery, a workshop for young people. Her awards: 
Caterina De Medeci International painting award for participating 2009 – Florence, Italy
Sheriff Adetoro, the prize for industrial design (ceramics), August 2009 (Society of Nigerian Artists, Lagos State chapter)
See some productions of this Nigerian female painter:

Solarin Yetunde
Yetunde is from Ogun State, studied Business Administration with a second class degree from Olabisi Onabanjo University. Her passion for art started during NYSC. Whenever she felt bored, she decorated the four walls of her room, to the amazement of her roommates.
Presently, Yetunde is the CEO of Yetoonz Touch Paintings. They paint houses, design schools, children rooms, studios, hotels, shops as well as wall canvas designs. In an interview with Guardian, she expresses her views on gender inequality in the men-denominated workforce she plays."I believe Nigerians are growing and showing compassion to women in men-dominated works. Apart from the quality of my job which speaks volume, I get a lot of patronage because of the fact that I am a woman thriving in the job designed for men..my words to women are that, in this present age, women have a lot of scripts to write. Therefore, don't fold your arms", she concludes.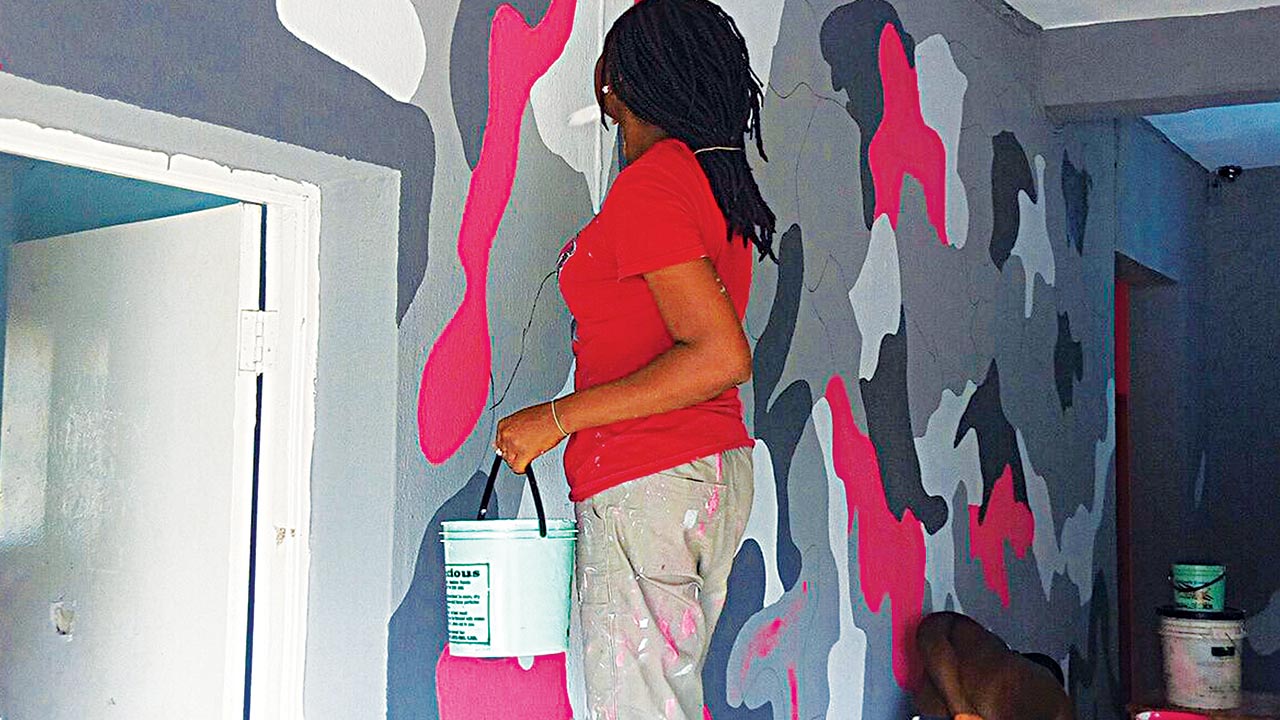 Chidinma Nwafor Stella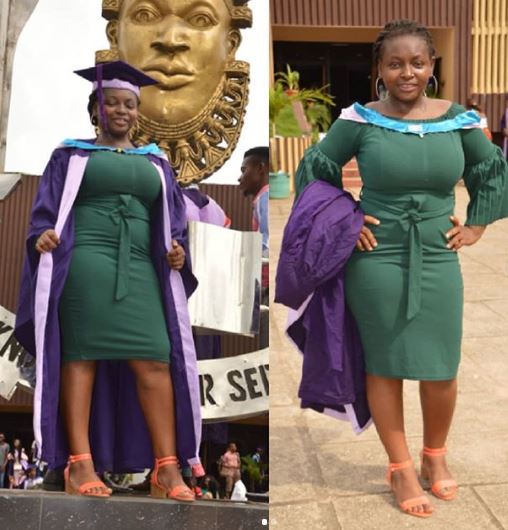 Stella is a painter based in Portharcourt. Emotions trigger her creativity, the desire to be heard, felt and understood. Not much of a talker, she expresses herself through her paintings. Painting with strokes and different colour reflections of the background on the image is her forte which she terms "impressions – realism".
On one of her paintings, she said this, "It was as if all those emotions were back at once, …many have successfully eradicated such subjugation while some have drastically been enslaved by such thoughts. I have stumbled upon some set of people that feel it's irrelevant to discuss the issue of mental health of which I see as being inhuman. Nevertheless, I feel mental health is just as important as physical health."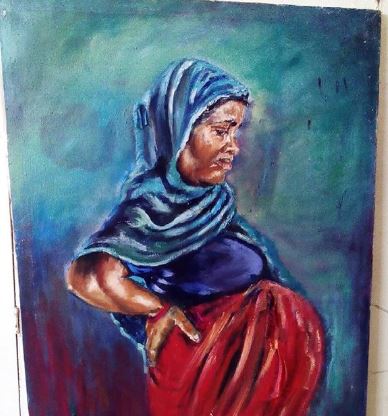 The above list is in no way exhaustive because there are other Nigerian female painters yet to be unveiled along with their creative works. With time, we might discover their paintings or catch a glimpse in Art showrooms or a museum. Like Otobong Nkanga said, "A museum show is a place to really try out work. People enter into a focused space, relaxed but excited".
One trait these Nigerian female painters have in common is that they all pursued their passion, painting. They proved that anyone can achieve anything in life regardless of gender. What matters is that one finds joy and fulfilment in one's endeavours.
---
We've partnered with Sidebrief, a Legal compliance company to help as many as possible businesses access and get the necessary document for the FG N50bn Covid-19 credit facility. Interested? Get started for free. 
---
Got a story worth telling? Shoot us an email with SUBJECT — "Story Worth Telling" — to [email protected].