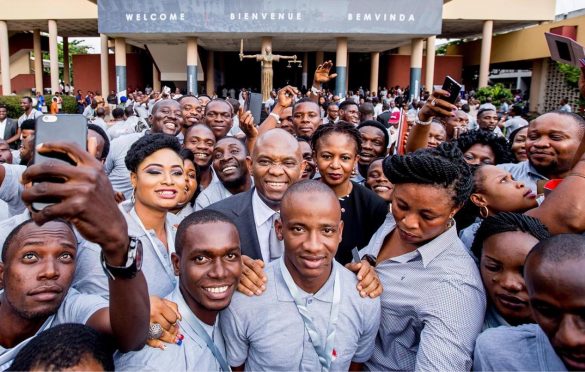 TEF List 2019: After rigorous screening processes, 3,050 TEF entrepreneurs emerge the 2019 victors
The Tony Elumelu Foundation Entrepreneurship Programme(TEFEP), has released the list of 3,050 entrepreneurs who made its 5th cohort today, March 22, 2019. TEFEP, a leading African-funded and founded philanthropy committed to empowering African entrepreneurs opened up applications for the 5th consecutive year on Tuesday, January 1, 2019.
Launched in 2015 by the renowned philanthropist and Chairman of UBA, Tony Elumelu, TEF Entrepreneurship Programme has become the largest African philanthropic initiative with the mandate to invest $100 million in 10,000 African entrepreneurs over a period of 10 years while contributing immensely to the economic growth of the continent.
The TEF Entrepreneurship Programme has empowered over 4,000 entrepreneurs, using a selection, training and implementation process to create visible and sustainable impact across all 54 African countries.
According to the foundation,  out of the 216,000 entrepreneurs across Africa who submitted applications, only  3,050 emerged victorious, after passing through a series of screening phases. The emerging entrepreneurs were judged based on certain criteria including feasibility, scalability, and potential for growth of the product/service; market opportunity for the idea/business; financial understanding, leadership potential, and entrepreneurial skills.
In addition to the initial $5,000 grant, selected entrepreneurs will have access business development training, one-on-one mentoring, access to TEFConnect, pan-African meetups, TEF network membership, and participation at the annual TEF Entrepreneurship Forum, which is the largest convening of the African entrepreneurship ecosystem.
Since inception, the foundation has witnessed a continuous increase in the number of applicants throughout the continent. 20,000 applied in 2015, the number doubled in 2016 as 40,000 applied, while 90,000 applied in 2017.  In 2018, the number quadruple to over 156,000 applicants, and 216,000 this year. 
Last year, the foundation founded 1,470 entrepreneurs. This time, it's scaling to 3,050. This, according to the foundation has only been made possible by its partners such as the African Development Bank (ADB), United Nations Development Programme (UNDP), International Committee for the Red Cross (ICRC), including several other African and state governments.
Since inception, the TEF has seen over 600,000 in number of applicants.
Here's the full TEF 2019 list of selected entrepreneurs. Our hearty congratulations.
---
Never miss an important story during the week. Subscribe to smepeaks weekly newsletter now.