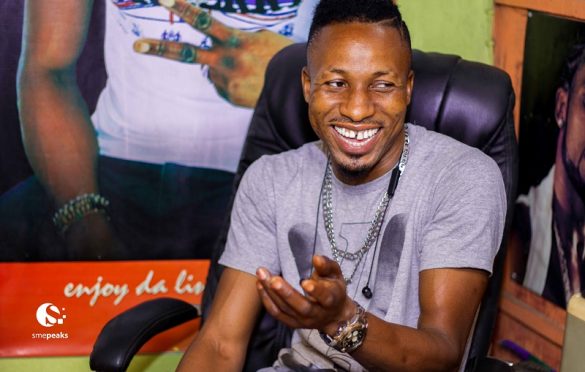 From an insurance company driver to a DJ, Olufemi Adigun is defying odds to share in the Nigerian entertainment space
There's barely an event today that isn't spiced up with elements of music. From festive events (weddings, housewarming, birthday anniversaries) to formal occasions (conferences, seminars, or symposia), the soothing effect of musical entertainment is enough to relieve the mind after long boring conversation rounds. Little wonder the Nigerian  entertainment industry market revenue is expected to shoot up to $6.4 billion in 2021, according to PWC.
In September 2018, we held the maiden edition of our event "MessedUp Conference" and DJ Linkz was the man behind the console.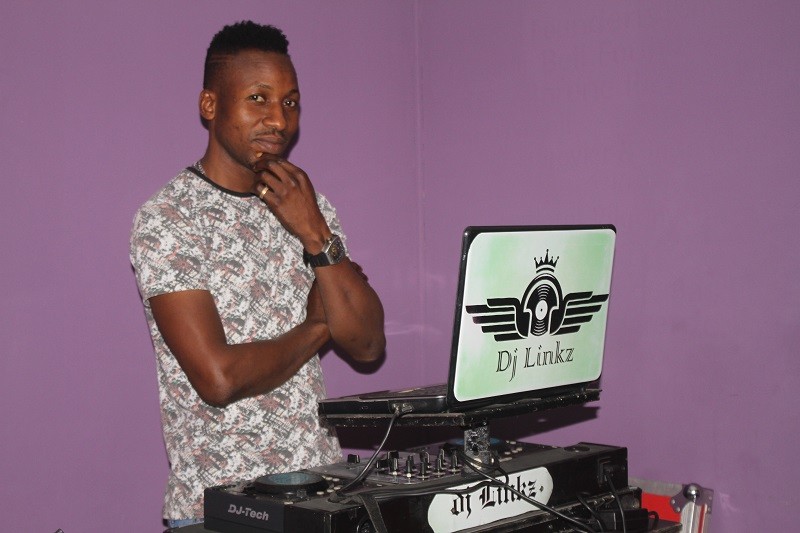 An animated Disk Jockey (DJ) he is that you can't but notice his style of manning the stereos. His aura and zeal would almost convince you to deviate from your course and join him in the musical world.
---
Also Read: MessedUp! Conference 2018: Here's a Sneak Peak of Moments You Should Catch
---
After engaging him in a long warm chat during the event, I wasn't only awestruck by his fascinating story, but intrigued that he has a Brand Manager, who directs the business of his profession!
The idea of a Disc Jockey (DJ) having a Brand Manager gave a mix of perplexing and interesting feeling. Why would a DJ need one?
This question and a host of others running through my mind couldn't keep the smepeaks team from making it an official date with Oluwafemi Akinola Adigun aka DJ Linkz, to enjoy the delicacy of his adventure into the entertainment industry.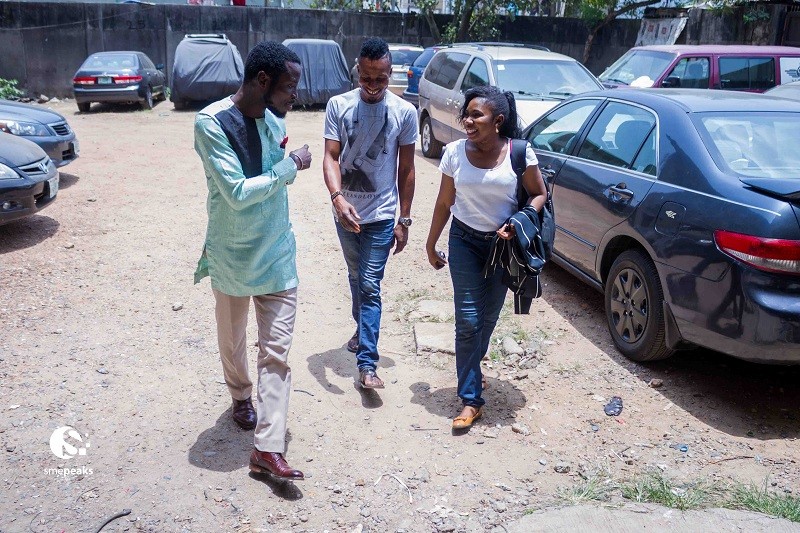 Happy to share, DJ Linkz takes us from the very beginning of his journey.
"I never thought I would become a DJ", Femi began his narration.
The year was 1999. Femi Adigun, a young secondary school leaver who needed to get preoccupied decided to help his cousin in the business of musical records sales somewhere at Oyingbo Bus Stop, Lagos. Fortunately, his cousin welcomed the idea, and the duo went about their business.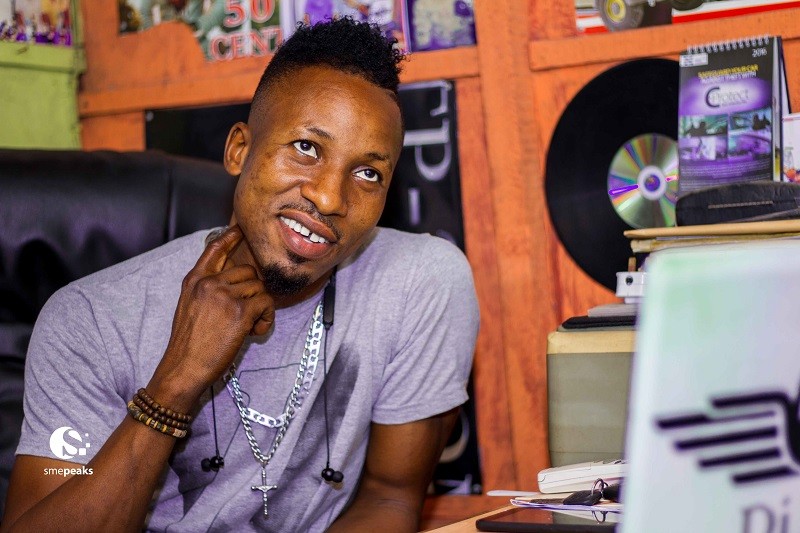 Apparently, the Oluwafemi so enjoyed his new business so well that he found himself relishing various musical albums, listening to and mastering different beats, especially the classical Yoruba genres, which contributed to his musical cravings upliftment.
On getting home, I'd usually try listening to the songs again, but somehow,  my mind became more centered around the underlying the beats.
This went on for a while until  Oluwafemi had to leave his cousin to search for "greener pastures" in the corporate world. Fortunately, he got placement as a Driver in an insurance company where he spent three years. Even at his job, his passion for music remained unshaken. Few months into working, he purchased speakers and a laptop to start practicing music.
Although this was a feat for him, it was more or less a waste in the sight of his wife (then fiancée), who opined that Olufemi's "meagre salary" could be channeled towards something much better for the family rather than musical equipment that may not fly. But his wife's disapproval only made him push on. Not that he had a choice anyway — the purchase had already been made.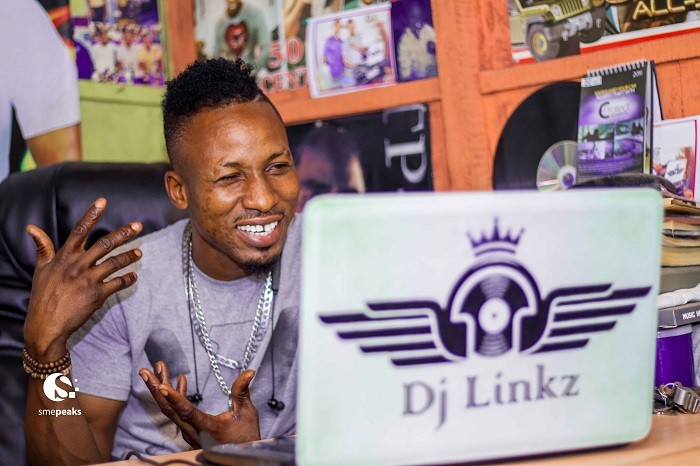 However, there was an ironical spin of events. Oluwafemi's brother-in-law, also a DJ — who, contrary to his disapproving wife and luckily for him — encouraged and introduced him to the musical ranks.
"He gave me so much attention, probably due to our relationship" recalled Oluwafemi "and I had to compliment his unending effort through acquiring more musical equipment and engaging in self-practice after returning from shows."
Juggling his day job with a part-time career as a DJ — Femi mainly went for night shows — wasn't as easy as he envisaged. Soon enough, the new found path began to get serious that he knew it was time he went all in or nothing. He opted for the former and decided to pick a business name.
Why DJ Linkz?
In the musical realms all over the world, stage names are usually as important as the songs themselves. Speaking to with the smepeaks team, Femi hinted on how he obtained stage name. After initially adopting the name "DJ Famous", he came across the word "Link" while conducting some online searches. Then he thought "Why can't I become a link?" while ruminating over the newly found word.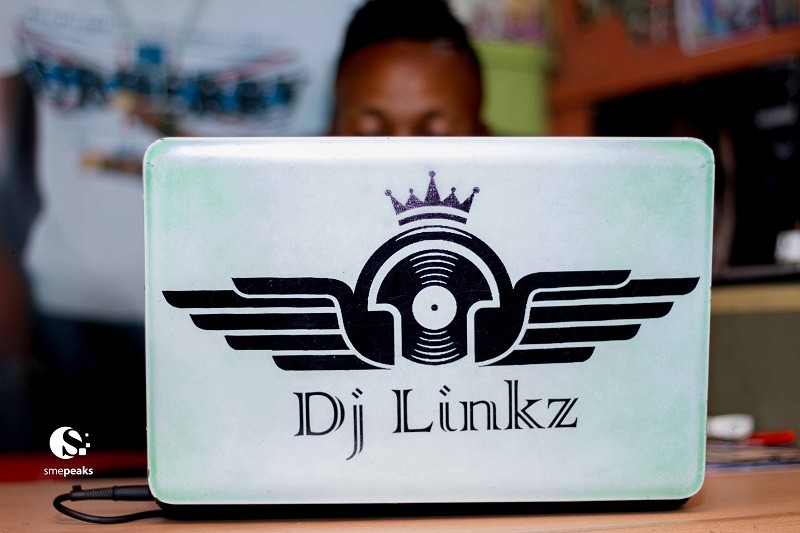 Linkz settled so well with Femi that he proceeded with incorporating Linkz Friend Entertainment as a record label and DJ Linkz, as his stage name.
Journey so far
It's every entrepreneur's dream to gain from their ventures after investing so much.  But eight years post-employment for DJ Linkz wasn't a roller coaster ride. Despite having a registered entity, he had to wait a year before securing his first musical show, which according to him, was far less rewarding than anticipated.
"The show came around December, a festive period when entertainment entrepreneurs usually smile to the bank because you'd see parties springing everywhere. But unfortunately, it went the other way round for me.  I was offered ₦8,000 from which I had to pay an MC and two Mascots, as well as cover our operational costs and logistics. Small as it was, I just couldn't turn down the money"
Perhaps Olufemi had a Guardian Angel or strong instinct that protects him from making grievous mistakes. The birthday party that paid him a "meagre sum" turned out to be a blessing in disguise. According to him, he became renowned and started securing more rewarding shows after that party.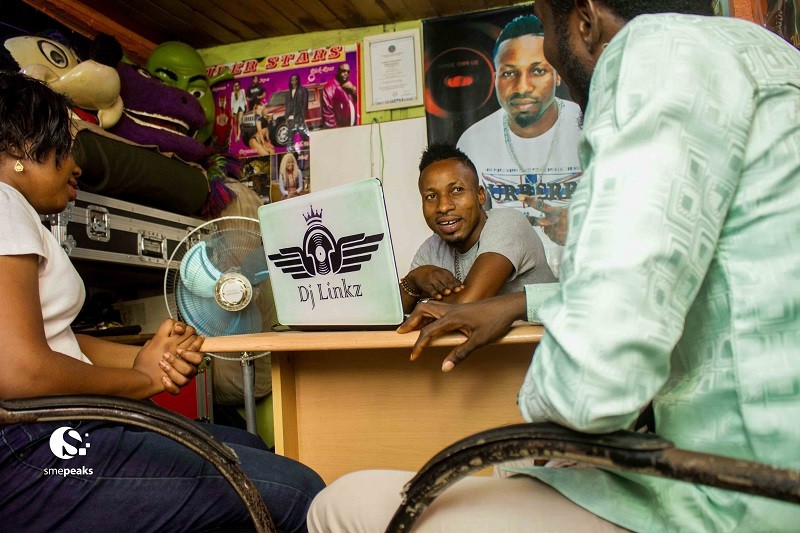 Beginning from his neighbourhood in Oyingbo, DJ Linkz became the favorite of many party outlets, till he was introduced by a friend and started playing for Four Points by Sheraton a very a prominent hotel, where he earned his first 5-figure sum.
Despite the pay raise, Olufemi had to battle other challenges like tax clearance, but he remained optimistic and was certain that it could only get better.
My new payments were in cheques which I had to obtain a tax clearance certificate for. Getting this certificate was another kettle of fish. I went through several rigorous methods of getting cleared and while this was going on, my cheques were pilling. By the time I finalised the process, the total amount after tax deductions was  ₦450,000, which I invested immediately in my business by expending ₦350,000 on upgraded on equipment, procured company bus, got an assistant and required the services Adewunmi Rotimi Newton who came in the business as a Brand Manager. We were now becoming more structured"
Beyond the Stereos
Being in the entertainment industry means you have to be as flexible and as dynamic as possible. DJ Linkz, understands such dynamism, and is ready to play an entertainer when the need for it arises.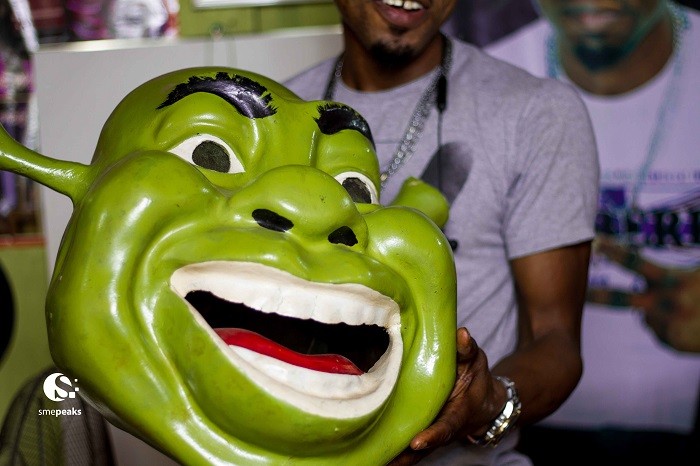 Linkz and his crew also tend to play their hands on video content. According to him, they  have long delved into shooting short films that resonate well with the Nigerian entertainment scene and audience, using Instagram as their major deployment platform.
DJ Linkz' Manager
Recall my astonishment at the start of my conversation with DJ Linkz when he made mention of his Manager? Well, we gladly caught up with Adewunmi Rotimi Newton, the man behind the brand DJ Linkz.
Rotimi, a secondary school mate of DJ Linkz and a Movie Director does diverse responsibilities at Linkz Friends Entertainment. They span across scheduling meetings with clients, interfacing with companies needing entertainment services and closing deals.
During our conversation, he revealed that the brand has grown to a level where it now charges per hour rather than the usual per-day rates. You could say Rotimi's role in  DJ Link and Friends Entertainment, is akin to that of Jared Dunn, the fictitious character of the popular Silicon Valley series.
He came when Linkz Entertainment was spreading its tentacles and needed to get a more structured process in the profession.
As such, duties like the handling of corporate clients, structuring delivering charges, resolution of conflicts, tax clearance and every other paperwork necessary rests on Rotimi's shoulders.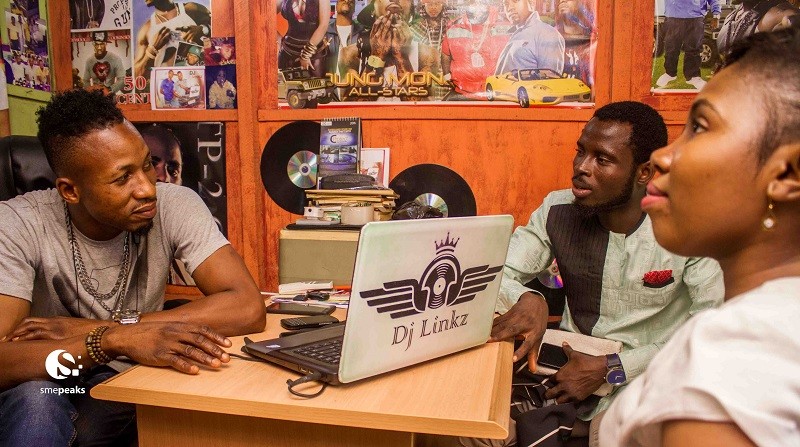 In a nutshell, he takes part in every other aspect of the business while Olufemi focuses on improving the brand's quality and value offerings to stay relevant in an ever-changing industry.
Challenges
The work,  like every other, has its own peculiar challenges. In a situation where your audience demand songs that are not available in your archive, you have no option than to explore the internet. The clause was, when DJ Linkz started, the internet was not readily available. As a result, songs were downloaded from cybercafés on empty compact discs which are highly prone to 'Disc Rot'.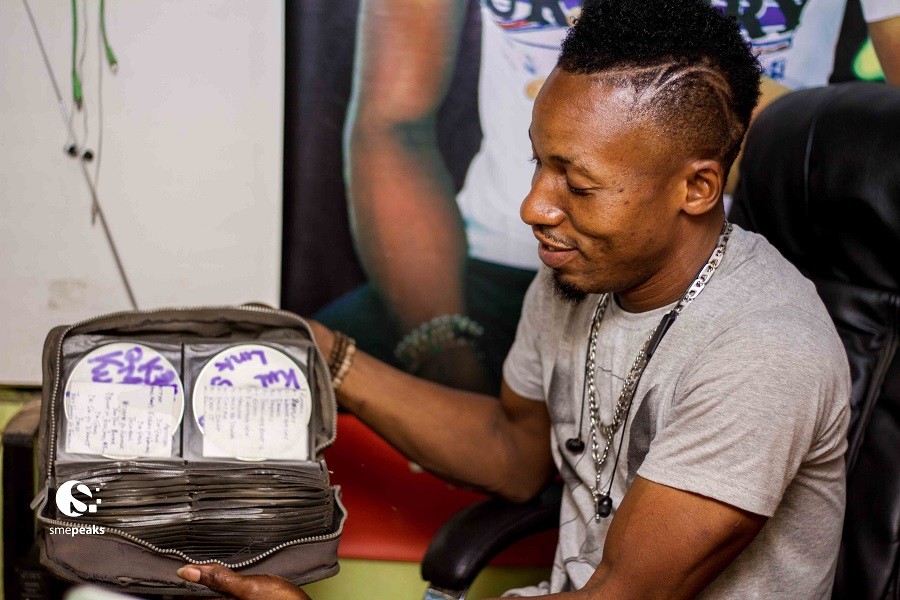 Also, the equipment tends to be more delicate than they seemed.
"I have had to battle with two busted speakers and burnt engines once at a show" recalled DJ Linkz. "There are also scenarios where a DJ might eventually not get paid fully. It's all the risk in the business"
Switching gears
Starting his musical path as a roadside music album seller, DJ Linkz was more familiar with the genre of Fuji music, characterised by high tempo. However, commencing work officially as a DJ, a switch was necessary for him to suit his business type and his audience' demand — a new sensation of hip hop music characterised by low tempo he had to embrace.
"You have to conform with the transition in the music genre.  At a point in time, people shifted from demanding Fuji music to Africana and foreign hip hop. Grasping it was quite a bit challenging at first, but then, I had no choice but to move on, at least, to stay relevant in my profession"
What makes a good DJ?
In the word of DJ Linkz, "a good DJ gets his audience to flow with his music and at the same time doesn't get carried away to avoid losing track".
At the point of changing from one track to the other, you must be able to link your tracks preferable to scratching, you should be able to mixtapes with different kinds of beats, even to the extent of recreating your own unique beat.
Detailing his adventure, ranges of emotions radiating from the animated DJ were highly noticeable. This is totally expected from someone who has had to try so many impossible moves to get to his current phase.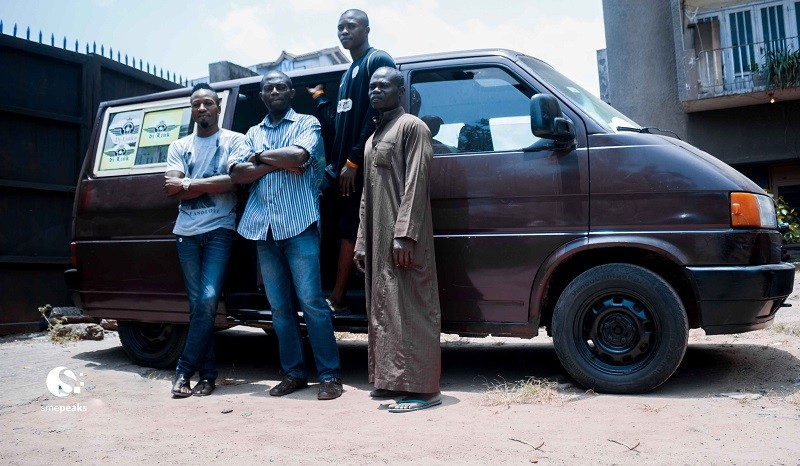 "An adventurous journey" he calls it, before delivering the final words of encouragement to his fellow and upcoming 'adventurists'.
"Keep on striking the nail on the head until you deliver the final blow that drives it hidden".
---
Never miss an important story during the week. Subscribe to smepeaks weekly newsletter now.