COVID-19: Some businesses are still making waves as 54gene, Nigerian biotech startup raises $15M in Series A funding
In the last four months, the world has been waging war against the coronavirus (COVID-19) that has stormed almost every continent. In many countries, governments have implemented directives to reduce movements, encourage social distancing and also advise citizens to take necessary precautions as instructed by the World Health Organisation (WHO).
As the pandemic continues to spread like wildfire, most life activities have been turned upside down; families are being forced to stay indoors, football leagues have been discontinued, intra/inter-country borders are being closed, concerts are being deferred, the world economy is having a free fall and businesses are fighting hard to stay afloat. 
Considering that these happenings around the world are ravaging thousands of small and big businesses, some other businesses are unscathed. For instance, Microsoft disclosed that the number of users on its Microsoft Teams had increased by 37% in a week to more than 44 million daily users. It also stated that there have been at least 900 million meetings and call minutes on Teams every day. 
Asides Microsoft, Zoom — a video communication enterprise — has moved from a web conferencing app to the coronavirus outbreak social network, reporting 200 million daily users as against 10 million in December 2019 according to Bloomberg.  
Businesses in other essential industries such as food/groceries stores, delivery companies, etc.  have recorded skyrocketing demands of services globally. 
In the same light, a Nigerian biotech startup — 54gene — has recently secured a $15 million Series A funding led by Adjuvant Capital, a New York-based venture capital firm which centres on funding companies working on drug development and health research. 
This development is coming barely seven months after it secured a $4.5 million seed funding to scale its genome data bank operations and research collaboration efforts in Africa. The combined funding volume brings the total venture capital raised by 54gene to $19.5 million — not bad for an African startup founded in 2019 and having to pull through a global pandemic and economic uncertainty in barely 15 months of inception. 
Participants in 54Gene's Series A round include Raba Capital, V8 Capital, and Ingressive Capital. Adjuvant Capital follow-up investors are Y Combinator, Better Ventures, Fifty Years, KdT Ventures, Aera VC and Pioneer Fund.
With offices in Lagos and Washington DC, 54gene was created to tackle the diversity problem and proffer medical researchers with a rich database of DNA information from people of African descent.
To stay true to its course, the genomics startup helps Africans get familiar with information about their health by offering genetic testing and molecular diagnostics services.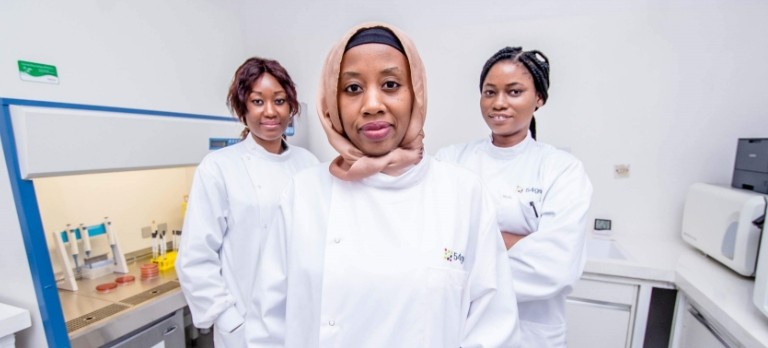 According to the company, the new funding will be invested in more research on human genetics, bioinformatics, preclinical, clinical and commercial programs. 
"This new partnership marks a significant evolution in the growth of our company. In the coming months, we will be focusing on building a genomic resource that we hope will add significantly to global health, while also translating to the health benefits of patients in Africa. We will also be expanding our collaborations in Africa with both public and private stakeholders and investing in setting up a state-of-the-art research lab with high-throughput genetic processing and BSL 3 capabilities in Nigeria, and ensuring that we build some of our innovative pipelines on the African continent," Abasi Ene-Obong, founder and CEO said in an official statement shared with smepeaks.
While 54gene's Series A may have been recorded a feat amid global chaos, the startup isn't disclosing its partners or the primary health issues it will solve just yet as the focus is on improving lab and biobank capabilities.
It is, however, noteworthy that in March, 54gene made a call for a COVID-19 workforce trained in using Polymerase chain reaction (PCR) instruments and other molecular diagnostics methods to help test for the virus in Nigeria's public health facilities.
According to a report, the company opened funds with a donation of $150,000 and also received a donation of $130, 000 from Union Bank to recruit medical researchers, provide coronavirus screening in its Lagos lab and also distribute funds to acquire testing equipment. 
While remarkable, 54gene's series A raise may not be all surprising. The startup plays in an essential industry and global leaders have reckoned that players in the health sector need all the help they can get to pull through as they are at the forefront of the fight to contain the coronavirus pandemic. 
---
Got a story worth telling? Shoot us an email with SUBJECT — "Story Worth Telling" — to [email protected].