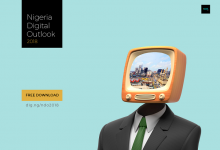 ADE Digital Launches Nigeria Digital Outlook 2018 [FREE DOWNLOAD]
Acquiring Digital Estates (ADE), a performance-driven digital marketing agency in Nigeria recently released Nigeria's Digital Outlook for 2018. The Nigeria Digital Outlook 2018 by ADE Digital gathers predominant market knowledge and makes meaning of it; providing insights and relevant understanding of the digital landscape as well as the opportunities that abound.
Founded in 2016, ADE positions itself as the hybrid of data-led digital marketing and product development in its space. From launching its flagship social initiative 'Free Digital', in 2017, to constantly seeking ways of democratising the use of digital technology tools and resources to improve human development outcomes across Africa, ADE appears to be living up to its name in more than one way.
According to ADE, the Nigeria Digital Outlook 2018 additionally examines the pointers within the market with the capacity to trigger economic growth.
In Nigeria, the last decade has seen significant growth in technology adoption. This pointer for progress is also stimulating numerous opportunities across industry sectors. From a growing social commerce industry to a disruptive fintech space, we are experiencing big shifts in consumer behaviour, shopping patterns, and media consumption habits. Technology is fueling these shifts and this is only the beginning!
The insightful new study delivers new thinking and perspectives on Nigeria's evolving digital landscape, trends to watch, projections, market opportunities they present and the future of Digital in Nigeria. If you are a digital enthusiast, you'll definitely find the 2018 Nigeria Digital Outlook highly enlightening. Proceed to download immediately.