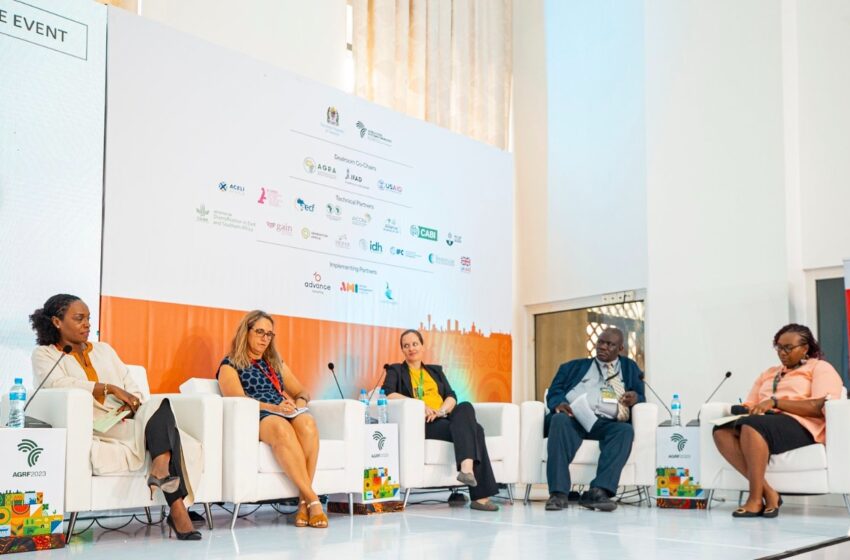 Sanne Steemers, President, Rest of Africa, AFEX_ and other stakeholders during the Real Cost of Food Security Side Session at AGRF
AFEX advocates streamlined trade and enhanced food security at AGRF 2023
Commodities player, AFEX has highlighted the urgent need for streamlined trade processes, standardized regulations, and robust infrastructural support in African agriculture to fortify food security across the continent. 
This impactful message by AFEX, which focused on secured food trade and other priorities, echoed through a high-profile session titled "The Real Cost of Food Security" at the African Food System Forum (AGRF) 2023, an event co-hosted by the Alliance for a Green Revolution in Africa (AGRA) and the Tanzanian government, where global agriculture stakeholders converged for enlightening panel discussions and presentations spanning from October 4th to 8th.
Intra-African trade currently constitutes a mere 14.4% of total African exports. Projections from the United Nations Conference on Trade and Development (UNCTAD) illuminate the potential of the African Continental Free Trade Area (AfCFTA) to elevate intra-African trade by approximately 33%, concurrently reducing the continent's trade deficit by a substantial 51%.
During the session, Sanne Steemers, President of Rest of Africa at AFEX, stressed the critical point, stating, "Africa grapples with a fundamental lack of vital infrastructure essential for cross-continental trade, posing a significant hurdle in the pursuit of robust food security continent-wide.

Establishing efficient agreements with African communities can facilitate sub-regional production networks, foster collaborative initiatives, and advocate for sound agricultural practices throughout the continent."
AFEX recently forged a strategic alliance with the Ghana Commodities Exchange, rooted in the firm belief in catalyzing transformative change.
This innovative partnership has been meticulously designed to facilitate seamless cross-border knowledge exchange, propel joint research endeavors, and enable the smooth cross-listing of commodities. This collaboration ushers in a new era of progress and prosperity for Africa's agricultural landscape.
Dedicated to enhancing intra-African trade, AFEX harnesses its unique exchange model to venture into unexplored African markets. Following successful expansions into Kenya and Uganda in 2021 and 2022 respectively, AFEX remains determined in its ambitious Pan-African expansion goal: establishing a robust presence in ten African countries within the next decade.
This initiative aims to streamline commodity trading in Africa, perfectly aligning with AFCFTA's mission of enhancing regional trade integration.
In a closing statement, Samirah Ade-Adebiyi, the Managing Director of AFEX Investment Limited, affirmed, "Our core objective is to significantly contribute to Africa's self-sufficiency in food production.

To realize this vision, we acknowledge the pivotal importance of addressing three fundamental challenges: financing, storage infrastructure, and facilitating market access.

Having successfully implemented solutions to tackle these challenges in Nigeria, Uganda, and Kenya, we eagerly anticipate our imminent expansion into Cote d'Ivoire later this year.

This marks a substantial stride toward materializing our vision of establishing a formidable presence in 10 African nations within the next five years, thereby fostering and amplifying regional trade."
AFEX's expansion endeavors serve as a cornerstone for transparent, inclusive agricultural commodity systems, simplifying trade processes and creating abundant opportunities for farmers.
In setting gold standards in grading, establishing equitable prices, and harnessing cutting-edge technology for seamless and efficient trading, AFEX remains steadfast in strengthening intra-African trade, meticulously aligning with the key goals of the AfCFTA.
---
Got an interesting scoop or news tip? Shoot an email with the subject "story worth telling" to [email protected]