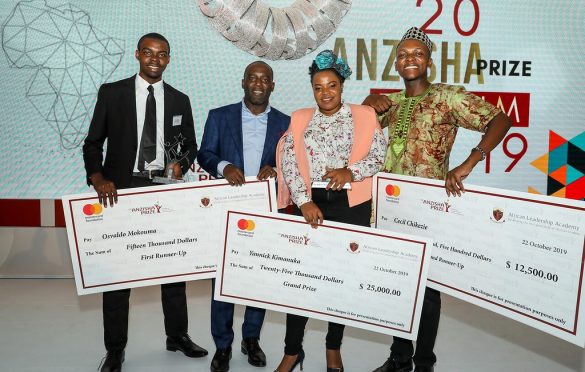 awards-Anzisha prize 2020
Anzisha Prize 2020 calls for young Africa entrepreneurs
The Anzisha Prize 2020 presents the opportunity to the young entrepreneurs who have developed and implemented innovative solutions to social threat as well started successful businesses in their various communities.
Twenty finalists will be picked across Africa countries for a fellowship to support their businesses as well as an all-expenses-paid trip to South Africa. Victors will together participate in a two-week-long entrepreneurship workshop and conference at the African Leadership Academy campus in Johannesburg. Afer which $100,000 will be shared among the grand prize winners, which will be selected from the 20 finalists.
Eligibility
Applicants must be between the age of 15 and 22. You should be born after November 1, 1998, or before October 31, 2004, to be considered
ID document or Passport is required as evidence
An applicant must be one of the founding members of a business
You must be an African with your business based in Africa for African customers/ beneficiaries
Your business must be in operation(up and running)
No field restriction. (Your business, invention or social project can be in any field or industry)
Criteria
Your venture must be led and managed by the founder
Your venture must have established, already conducted some business or projects?
Has the venture demonstrated some impact already?
Are there clearly defined beneficiaries that are impacted by the venture?
Your venture must show potential to grow
Your business must be viable to create high-quality jobs
Documents required
One copy of your ID (Identification Document)
Different Pictures of your venture/project in action
Company registration documents, if your venture is or registered you can still submit an application
A full personal picture
A logo for your venture/project
Information about your venture/project
BENEFIT
Monetary Award of a share of $100,000, shared by all of the Fellows, with the grand prize winner, winning $25 000
Access to a world-renowned Entrepreneurial Leadership syllabus and training with the potential for further investment depending on engagement and performance level. Worth $2 000
Consulting and mentorship services worth $2,500 rewards
$2,000 worth of rewards from Global speaking events or Experts in Residence support
$1,000 worth of rewards from entrepreneur networking opportunities with other entrepreneurs in the Anzisha Prize community
Timeline:
April 1, 2020 -Application portal closes
May 2020 -Phone interviews and due diligence visit with the semi-finalists, and final selection.
July 2020 -Announcement of the top 50 Finalists
August 2020 -Announcement of the top 20 2020 Finalists
October 2020 -Anzisha Business Accelerator and Anzisha Prize Awards Forum.
How to apply
If you check all criteria boxes, begin your application online before 2020 Anzisha Prize closes on Wednesday, April 1, 2020.