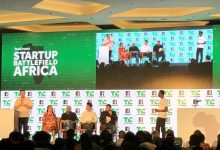 How You Can Apply for TechCrunch Startup Battlefield, Sub-Saharan Africa Edition
TechCrunch is set to storm Lagos to host its second Startup Battlefield Africa competition on Tuesday, December 11th.
The first Startup Battlefield Africa was held last year in Nairobi, Kenya, that saw startups from across the continent highlighting how technology is optimizing supply chains, increasing access to education, strengthening farmers' revenues amongst others.
TechCrunch will host the event in Lagos in front of a live audience and top judges, and the event will be covered on TechCrunch. The judges will choose a winner, "Sub-Saharan Africa's Most Promising Startup," whose founders will win $25,000 in no-equity cash plus a trip for two to compete in the Battlefield at TechCrunch's flagship event, Disrupt 2019.
TechCrunch is eager to take part in covering Africa's burgeoning tech sector more fully.
Selection process
Fifteen startups will be selected to join us onstage for the Battlefield Africa in Lagos.
Eligibility Criteria
Application is open to residents in the following countries: Angola, Benin, Botswana, Burkina Faso, Burundi, Cameroon, Cabo Verde, Central Africa Republic, Chad, Comoros, Republic of the Congo, Democratic Republic of the Congo, Cote d'Ivoire, Equatorial Guinea, Eritrea, Ethiopia, Gabon, Gambia, Ghana, Guinea, Guinea-Bissau, Kenya, Lesotho, Liberia, Madagascar, Malawi, Mali, Mauritania, Mauritius, Mozambique, Namibia, Niger, Nigeria, Rwanda, Sao Tome and Principe, Senegal, Seychelles, Sierra Leone, Somalia, South Africa, South Sudan, Swaziland, Tanzania, Togo, Uganda, Zambia and Zimbabwe.
Also, applicants must be
Be early-stage companies in "launch" stage
Be a resident of eligible countries
Have a fully working product/beta, reasonably close to or in production
Have received limited press or publicity to date
Have no known intellectual property conflicts
Benefits
An exposure that comes from pitching to the global TechCrunch audience as well as the live audience of distinguished technologists, entrepreneurs, and investors in Lagos.
The overall winner will receive $25,000 in no-equity cash
An all-expense paid trip for two to compete in Startup Battlefield at TechCrunch's flagship event, Disrupt 2019 (assuming the company still qualifies to compete at the time.
Screening process
The TechCrunch editors who run the TechCrunch Startup Battlefield competition will choose the finalists from the application pool.
TechCrunch will select four judges for each theme. They will be noted entrepreneurs, investors and technologists with experience relevant to the category.
A TechCrunch editor will moderate the judging and cast the tie-breaker ballot if needed.
Each company will have six minutes to present. The judges will have six minutes to ask questions.
The judges will pick the startup with the product or service most likely to go into full commercial production and have the biggest impact on human potential and/or the largest exit.
Method of Application
Interested applicants can apply here and finalist would be notified by Friday, October 19, 2018, at 5 pm PST. Application closes Monday, September 3, 2018, at 5 pm PST.
Note that TechCrunch's team will help prepare startups for the pitch-off with in-person training and rehearsal sessions will be required, as well as in-person rehearsal on Monday, December 10, 2018.