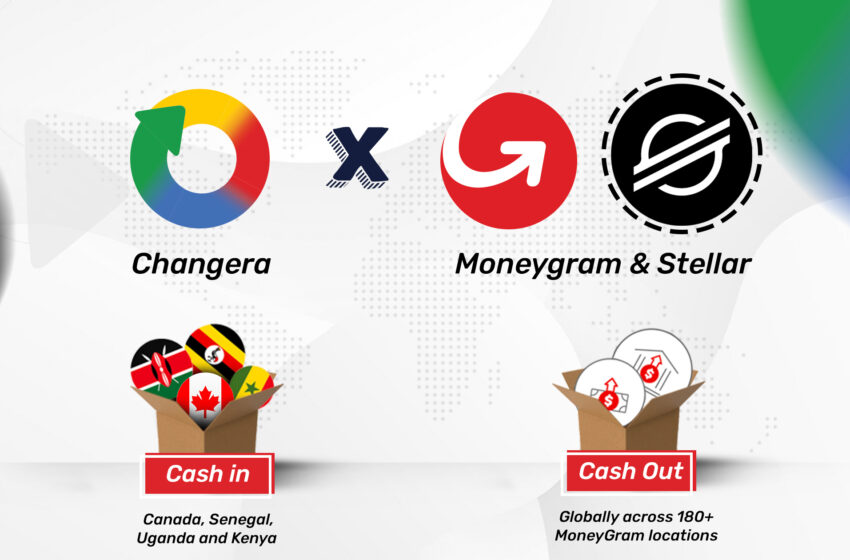 Changera partners MoneyGram and Stellar Network
Changera partners MoneyGram to enhance cross-border payments with integration on Stellar Network
Changera, the fast-rising cross-border payments startup, has partnered with global payment leader MoneyGram and the open-source Stellar network to facilitate cash-to-crypto transactions globally. 
This strategic integration signifies a substantial step towards Changera's mission to democratise cross-border payments, offering seamless and secure services to users and businesses across the globe.
Changera is expanding its services to include cash-in options in Canada, Senegal, Uganda, and Kenya, as well as enabling cash-out services using Circle's stablecoin, USDC, via the Stellar blockchain network.
These services will be available at participating MoneyGram locations across more than 180 countries.
This marks a significant achievement for Changera, positioning it as the first African-based custodial wallet to partner with MoneyGram, transcending the traditional banking system and enhancing financial accessibility for millions.
Ruth Iselema, CEO of Changera, expressed her enthusiasm, emphasizing the integration's timely nature.
She stated, "Our solution is coming very timely because 1.4 billion people currently don't have bank accounts globally. MoneyGram's extensive network of agents will allow easier deposit and cash transfers in these regions, providing unparalleled access to cash out funds conveniently."
Umar Adamu, Chief Technology Officer at Changera, shared his excitement, highlighting the collaboration's transformative potential.
"This collaboration marks a significant milestone for Changera as we expand our reach and enhance the user experience for our customers," he remarked.

"We are revolutionizing the way Africans engage with digital wallets, providing them with unparalleled convenience and accessibility as they transact over the Stellar network on our platform."
With this integration, the cross-border payment startup customers gain direct access to their funds without previous limitations, bolstering financial inclusion for underserved regions in Africa.
By leveraging MoneyGram's trusted services, Changera continues its commitment to providing convenient, reliable, and secure digital wallet payments and remittances, irrespective of geographic location. 
This achievement reinforces Changera's position as a forerunner in the African Fintech landscape, driving the continent towards a more inclusive and accessible financial future.
---
Got an interesting scoop or news tip? Shoot an email with the subject "story worth telling" to [email protected]