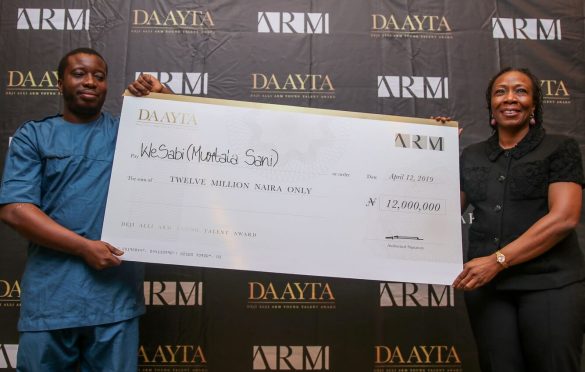 Need ₦12m funding to build your business? DAAYTA 2020 is offering
Inaugurated in 2015, the Deji Alli ARM Young Talent Award (DAAYTA 2020) is back again to give young Nigerians with an opportunity to develop start-up ventures that add meaningful value to the nation's economy.
The DAAYTA 2020 initiative is an ARM initiative in partnership with TechnoVision, seeking to support business ideas that intentionally create positive societal impact while generating a financial return.
Applicants to the DAAYTA 2020 program are required to propose practical solutions with a credible business plan for profit-making ventures that have the potential of generating significant, measurable and sustainable social impact while tackling the specific challenges identified.
After the deadline has passed and applications received assessed, shortlisted candidates will be contacted to pitch their business ideas to a closed group of business professionals, entrepreneurs and investors in Lagos, in February and March 2020.
The second stage of the programme will require 30 shortlisted applicants to submit a POEM framework business plan, a marketing/pitching video, detailed profiles of their board (directors & advisers), and team members, sharing their Education, Careers, Key Accomplishments and LinkedIn profiles.
2019 edition of the Deji Alli ARM Young Talent Award was won by Murtala Sani from among the 6 finalists with his business proposition WeSabi and received the award worth of ₦12,000,000 to fund and grow his business.
Focus areas for DAAYTA 2020
The initiative seeks great ideas that could be related but not limited to
Agriculture
Education
Healthcare
Housing
Transportation
It is important to note that all DAAYTA 2020 events will be held in Lagos, Nigeria. However, ideas are welcomed from applicants in any part of Nigeria.
Criteria
To be eligible for the award, you must:
be a citizen of Nigeria
be between 18 and 30 years of age
submit their application which must be their original work
have an MVP (minimum viable product) i.e. you have customers
be able to fund his/her/team travel expenses and other associated costs
be physically available (with co-founders/team where they exist) for the 2-day Pitch Workshop and Final Pitch Event scheduled for February and March 2020 in Lagos, Nigeria
understand the business of ARM, what we stand for; and
be ready to represent ARM as an Ambassador
Prizes
The winner of DAAYTA 2020 shall, subject to the terms & conditions, receive funding of ₦12,000,000 over a period of one year for the following purposes:
develop their business plan
complete an entrepreneurial education at the Pan Atlantic University's Enterprise Development Centre in Lagos, Nigeria
receive 5-month acceleration support for the development of their venture through by a reputable entrepreneurial hub in Lagos, Nigeria.
How to apply
If you're interested in the DAAYTA 2020 initiative, begin your application via the online portal. Deadline for submission is Sunday, November 17, 2019.
---
Featured image credit: ARM website
---
Never miss an important story during the week. Subscribe to smepeaks weekly newsletter now.
---
Got a story worth telling? Shoot us an email via [email protected]