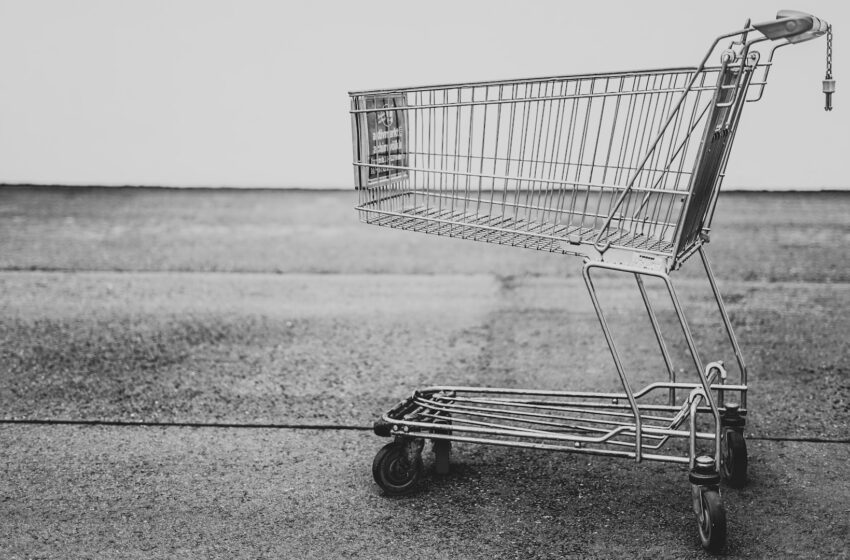 From likes to sales: social commerce is giving eCommerce a run for its money
When it comes to eCommerce vs. social commerce, a subtle shift in global internet shopping culture is taking us all unaware.
Key Highlights:
Nigerians are increasingly shifting from traditional e-commerce to social commerce.
Many vendors are utilizing social media platforms to promote their businesses, even running Facebook and Instagram ads instead of maintaining standalone online stores.
Social media ads allow businesses to showcase products on stories and feeds, with Facebook enabling the upload of product catalogues and pricing.
WhatsApp introduced "catalogs" and Facebook Pay, enhancing social commerce capabilities.
Local vendors leverage WhatsApp's group features and status updates for subtle yet effective product marketing.
Twitter has also become a platform for various businesses to market their products.
These shifts in marketing strategies are impacting Nigeria's traditional e-commerce industry.
In recent times, Nigerians are undergoing a gradual transition from traditional eCommerce to the emerging trend of social commerce. This shift has become increasingly prominent, with numerous vendors now utilizing social media platforms as their primary means of business promotion.
Many business owners are taking the route of running Facebook and Instagram advertisements to connect with a broader customer base instead of maintaining dedicated online shopping websites.
With these ads, vendors are able to push their products and services on social media stories and feeds. Facebook adds a bit of icing by allowing businesses to upload their product catalogue and set pricing where necessary before manually creating campaigns. Seeing that SMEs are using these apps for business transactions, social media builders are now making the platforms even more flexible for business adoption.
In 2019 Facebook-owned WhatsApp launched "catalogs" in its Business app. Though not rolled out to Africa yet: when available in the market, "catalogs" will enable business owners to showcase their products for prospective customers to browse photos, view prices and make a purchase.
In addition, it also introduced Facebook Pay: a feature that allows users to shop, and pay conveniently, across Facebook, Messenger, Instagram, and WhatsApp.
Considering that Africa is mobile-focused and WhatsApp is the most used social media platform in Nigeria as revealed by the 2019 Digital report, many local vendors are now leveraging the app's group feature and status updates to market their products.
If you check properly, there are at least five small, and medium business owners on your WhatsApp contact list who always post available products on their WhatsApp status. This social marketing is often so subtle that you almost wouldn't realise you're been marketed to. Yet, it proves effective in multiple cases.  Conversions are also a lot easier since it's a repeated campaign to already-known contacts. This not only eliminates the issue of trust but removes the consciousness of contacts being instigated to drop some cash — a scenario you mostly wouldn't obtain with a regular eCommerce platform.
Twitter, the microblogging platform isn't left out of the new cool. Many graphics designers, mural creators, photographers, food providers,  visual artists, clothes and bags vendors, and lots more, have taken to the app to market their products.
Make a quick visit to your timeline and you'd almost certainly come across a vendor asking for likes and retweets for their products. Here's one of such.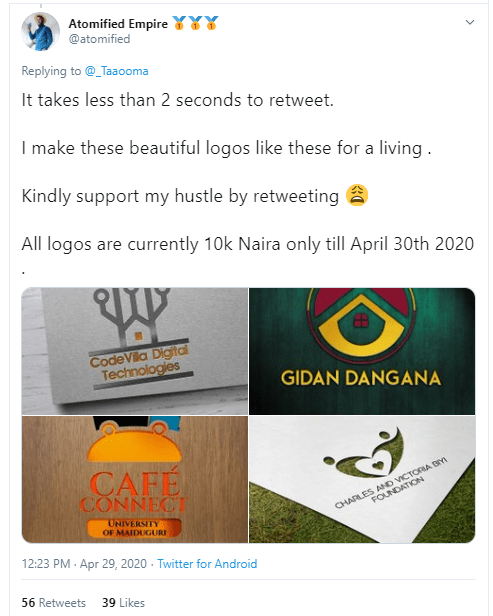 All of these, one way or the other have a direct impact on the performance of Nigeria's eCommerce industry.
However, following the 2003 Severe Acute Respiratory Syndrome (SARS) pandemic in China, a report disclosed that the outbreak was instrumental to the advancement of eCommerce in the country.
Going by the increasing shift in internet culture during this pandemic, consumer behaviour on eCommerce, and other established facts, it makes one wonder if this is really a good time for the new entrants into the Nigerian eCommerce setting.
Perhaps, there's something we aren't getting yet. While the players we've reached out to have only given us obvious answers so far, we'll be reaching out to more players in the next couple of days, hoping to connect the dots.
In the meantime, one mind-boggling question that begs to be answered is, will more Nigerians embrace online shopping despite rising pay cuts and layoffs? Still, the situation only grows, as we now know of it, social commerce is giving e-commerce a run for its money, from likes to sales.
---
Got a story worth telling? Shoot us an email with SUBJECT — "Story Worth Telling" — to [email protected].