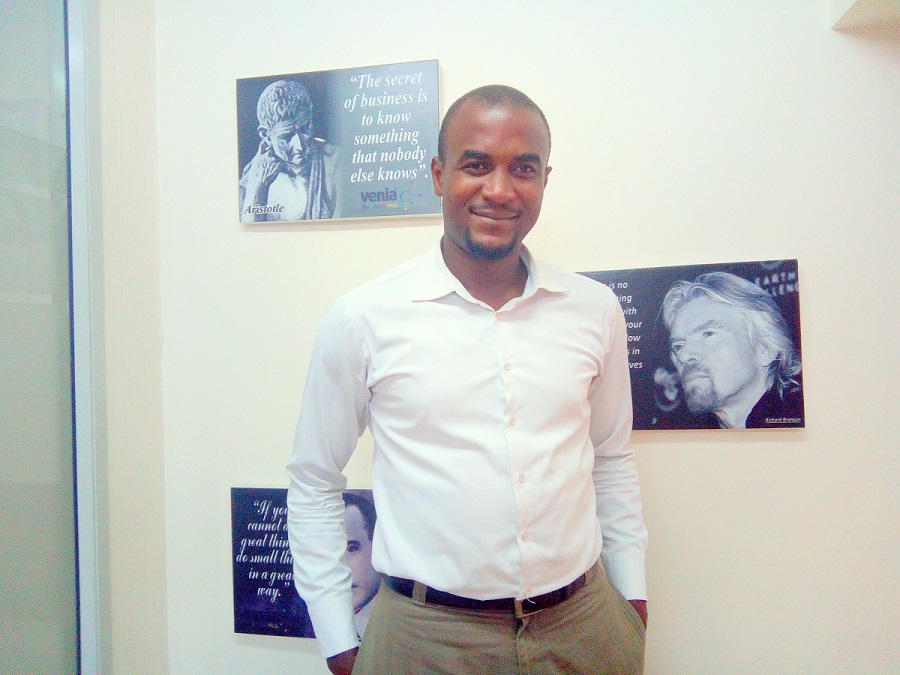 Pukena Might Soon Take Over an Industry Worth More Than $20 billion in Nigeria
Outsourcing certain home tasks to free up productive time isn't a new phenomenon in Nigeria. In time past, families are known to employ housemaids, cleaning assistants, in-house gardeners, etc., for specific house chores. However, there's been a recent transition. Some organisations are now stepping up to give this ancient work mode a more structured process, which basically entails connecting clients with vetted service providers. Pukena is one of such .
Founded by Emmanuel Udeagha, Pukena is a concierge service startup leveraging technology to build trust between artisans and clients. Pukena has a significant database of service providers in home maintenance, events, logistics, private tutorials, etc. Born in Abia State, Emmanuel says he embarked on his entrepreneurial journey at the age of 9. This isn't surprising, Abia State could be reckoned as the bedrock of entrepreneurship and one of the most enterprising zones in Nigeria. Besides that, losing his parent at that age was enough motivation for him to start getting his hands busy.
I saw myself through school. I have been entrepreneurial all my life," Emmanuel told Smepeaks.
Being the first son among 3 children, Emmanuel claims to have played his hands on several things. From being a water supplier to hostellers, running a laundry outfit, to doing some graphic works, you could almost regard him as 'Jack of all trade'. But he considers all of these a great edge in setting up Pukena.
Thank God I did all of those things, I was able to provide those services on Pukena personally. Especially the home-maintenance aspect. That was like my major forte. Moreover, the name 'Pukena' is a reflection of my hustles in life. These services are what I did to keep alive since I lost my parents at 9. The only difference now is, I leverage technology.
Pukena started on August 11, 2017, with a simple goal — to make life easy for busy people by ensuring they get the best professional and household services.
Our goal at Pukena is customer's satisfaction. Back then when we were young, we had the orientation that when you have your own business, you become your own boss. But, that's not true at all. Your customers are actually your bosses.
Why Concierge Services?
Instead of going through middlemen like Pukena before reaching service providers, it's easier for individuals to hire artisans or outsource freelancers directly. This even makes them spend less. But Emmanuel thinks not.
The relationship between employers and service providers in Nigeria is broken because a lot of people have been hurt by artisans in Nigeria. As a result there is no trust. Also there's been high level of callbacks. I have been victimised too. In my own case, I had to  abandon 2 generators I put up for service with an artisan.
With the level of trust being at the lowest ebb, Emmanuel believes fronting an established brand is enough for clients to give play along. According to him "If clients see a defined and established brand which they can hold accountable and responsible for any default, then, we are set to go. Especially because this time, the person is hiring the brand and not necessarily that plumber or service provider".
Also, quality is another essentiality that clients would prefer over cost. In his words "quality service is clients' top priority and as long as that is guaranteed, the price isn't a concern".
Turns out the clients agree with him.
Pukena handles all communication with clients and issues authentic quotes directly to them. Service providers only have to worry about delivering on their assigned tasks. Through that, Pukena is able to oversee the entire process, guarantee quality and truncate any chances of defrauding clients.
How big is the industry?
Pukena isn't the sole player in this space. Startups like Workclick, Wesabi, OgaErrand, ArtisanOga and even the local listing engine, VConnect, all jostle for the same market attention. And if these are anything to go by, there must be something really promising about the space.
Emmanuel isn't of a different opinion. He claims their research revealed the space is worth more than $20 billion. And in Lagos alone, 40% of the city's 20 million population fall under the middle class — Pukena's ideal market.
In addition, Pukena has a multi-market business model. It has distinct departments (digital services, events, home maintenance, legal, etc) under one brand. The founder considers this the perfect competitive edge.
The good thing about Pukena is each of these departments is what business have build companies on with investors. For instance, legal service is a full blown industry in itself worth millions of naira. Imagine, companies like PrepClass, Tuteria, doing tutorials as a full service and that's just a department under Pukena. Our approach is to make access to all of these services available on just one platform. So instead of having different apps for each and every one of these businesses, having just one app which is really light and fast, to access all of your needs at a go is our value proposition. We are projecting Pukena as a one-stop shop for all services."
Since inception, Pukena has successfully onboarded 200 vetted service providers on its platform. To achieve its set goals, the organisation plans on extending services beyond Surulere — Pukena's initial service area — to other regions in Lagos.
Our onboarding process is very rigorous. We'd rather have a few hundred verified service providers who we know wouldn't ruin our customer relations than begin listing thousands we aren't sure of"
On Pukena's recent big win
Pukena recently emerged as one of the winners of LSETF's Lagos Innovates Workspace Voucher Program. The team says it's being part of the program is more of a strategic positioning for them. And it has played our really well, especially because their allocate space, Vernia Business Hub is based in Lekki, an area Pukena already planned to extend its services.
Lekki is a choice because we had actually planned to extend our services to this region and being here is a strategic positioning for us.  And considering that a time will come when the demand will be so high in Lekki, we really need to have a base here.
Next Milestone?
Despite Pukena's recent workspace milestone, the team is confident that they would soon not need the voucher anymore. Thanks to the business model and yes, their clients.
If we do not have enough money to get our own space after a year, then we are not ready for the business at all. Four months is even enough for us to not need this voucher. The clients we serve are of a different cadre. Money isn't their challenge.
Revenue Model?
Like many similar platforms, Pukena operates the percentage-based revenue model. It takes a percentage of the proceeds from each completed tasks. In addition to that, it has integrated 'finders fee' for its home maintenance services department. This is to help prioritise and fast-track requests.
Prior to when we integrated that fee, we realised that when an order is made, we spend so much time and money processing it and many of them end up not flying. We observed that as an early stage company, we are spending quite much.
Despite that Pukena had its initial doubts about 'finders fee' surprisingly, clients were open to the change. This fee is beside the amount paid when service is completed. However, some departments like legal and digital services may require clients to pay upfront. Once the money comes in, Pukena takes its commission and pays the service providers.
Challenges
Pukena says its major challenge is getting service providers to play along with its term as and structuring.
"We are trying to bring in an escrow system where we hold the money for 24hrs should any complaints surface from the clients. But some of the service providers are yet to come to terms with these. Most of them are street guys who need their money immediately after services to cater doe their families.
However, Pukena intends to rebrand how the artisans perceive their works and themselves.
"But it's not been easy. We are even thinking about onsite onboarding process. We also have to go the extra mile sensitising them about what Pukena is, but we believe we will outgrow all of these with time" the CEO says.
More players vs Interest Clash?
According to the founder, the space is really large and anyone playing in it deserves a handshake. This is because Nigeria has more than 170 million people and half of the population isn't even served yet. "Even Lagos alone hasn't been fully served. I doubt interest clash will exist. One thing is that it's not about the persons, it's about the person," Emmanuel told Smepeaks.
I find joy in helping people get along and get their needed services. What is driving other brands is different from ours. I'm not running Pukena because others are doing similar services or the money. So, it's to begin with one client and grow from there. Call me old-fashioned, but that's what I believe. And I think it's definitely the right way.