Facebook to enable creators and small businesses make money with Facebook 'Live With' feature
Considering that the coronavirus pandemic continues and lockdown in many countries doesn't look like its ending anytime soon, Facebook is releasing more new features to serve its users: one of which is the Facebook  "Live With" feature.
The social media giant has revealed plans to allow creators to charge for live streams. In a statement published on its blog, it was disclosed that musicians and other creators will be getting paid for their performances and events on the app.
Similarly, it also intends to expand "Stars" to many other countries. Viewers can support a creator by sending 'Stars' on live gaming videos and on other types of live videos.
With every "Star" a creator or musician receives, it comes in form $0.01 USD and once the creator — who participates in Facebook Stars — total balance reaches 10,000 Stars, they can claim their money on a monthly basis.
The company said it will bring back its live video feature — Live With — a built-in co-broadcasting feature for Facebook Live that enables users to invite another person into their live broadcast and stream to an audience.
The feature can allow users to add another person into their live video, no matter where they are in the world. With the feature, users can bring in a guest, conduct interviews or perform live with a friend.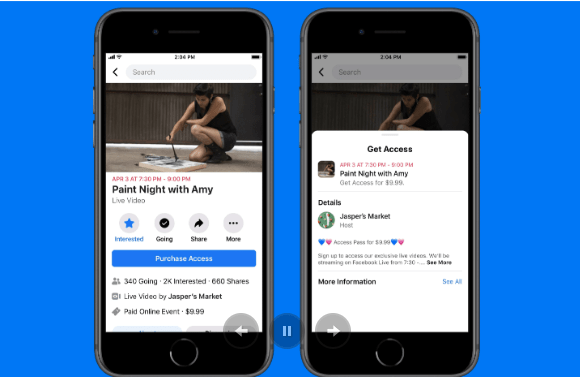 In the coming weeks, Facebook said the feature will be integrated with Facebook Live so the live stream can be broadcasted to people who joined the video.
In support of small businesses and creators, the social media giant also revealed plans to add the ability for Pages to enable creators charge users before granting them access for events through the Live Videos on Facebook.
Since people are turning to video conferencing or live video streaming to connect this period, small businesses and creators will be able to charge users ranging from "online performances to classes to professional conferences."
Last week, the feature was made available for its users in the US and plans to roll out globally in the coming days. This means that once it's available globally, Nigerians can also have access to the feature.
To go Live With a guest during a mobile live broadcast from your Page or profile, you would have to select a guest and this can be done in a few steps below.
Tap the 'Live' icon at the top of the News Feed of your profile or Page
Click on the 'Live With' icon at the bottom of the screen
Then select the person you want to invite from the list of viewers and tap 'Add'
Another Page cannot be added to the live stream when a Page goes live with a profile. During the live broadcast, the host can also decide to add or remove their guest from the live broadcast at any time: guests can also remove themselves.
It is noteworthy that the company has not specified the payment structure for users or if small businesses and creators will be charged from the money made off of the platform.
---
Got a story worth telling? Shoot us an email with SUBJECT — "Story Worth Telling" — to [email protected].