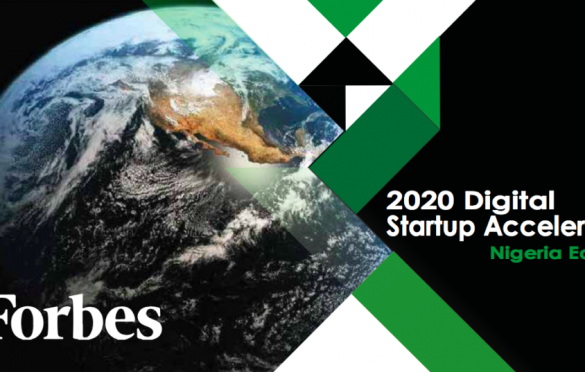 Forbes unveils 200 companies selected for its accelerator programme, prepares for Digital Summit 
Last month, Forbes8 hosted Nigeria's first digital startup accelerator programme. The free virtual programme which was powered by the Global Startup Ecosystem was opened to small businesses, startups, and freelancers.
It aims to support business resilience during this COVID-19 pandemic. The Forbes8 accelerator programme planned to welcome 100 top companies from Nigeria.
Within 2 weeks of opening up its application process, the programme reportedly received over 5000+ applications. Out of these, Forbes8 — launched in 2019 by its parent company, Forbes Magazine — has selected the successful companies for the 2020 edition.
As against its initial plan, 200 companies were chosen to be offered a 4-week free virtual training from 50 global speakers and access to $100k in free credits and perks from AWS, Google Cloud, IBM Cloud and Sendgrid.
These companies include; 
Alabian Solutions Ltd, Touchcore Technology Limited, Neohaul Technologies, Riltouche and Sparkles Ltd, reQuid Technologies Ltd, Bamboo, Gricd, Diimtech, Pillarcraft, Cyhermes Limited, Palment Business Solutions, CynbaNews, Wealth Tech, Farmers' Corner, Vinsighte, Traindemy, Arnergy, FarmKonnect Agribusiness Nigeria Limited, The Eat Drink Media Company, PalmPay, Firstlincoln Technologies, Gradely, Chaka, Betensured Group, Citizens Gavel, ePoultry.NG, CodeLn, Arewa Kasuwa & Logistics, Africave, Inc, Scrapays Technologies Ltd, Publiseer, Naija Startups, ParkWellWell, Agrilet Limited, ForaDux, First Medtrade Africa, Workload.ng, Skooleeo Technology,

Quba Exchange, kolopay, HostNowNow Limited, TrepAfrica Innovation Space, Revocube Technologies Limited, ShapShap, Despatch NG,
Vesicash Innovative Technologies, ProximateAGRO Solutions, Mobilecooks, InstiQ, Safehouse Innovative Solutions Limited, Greenera Technologies, Schucks Media Ltd, Ikonik, Uduaa, Experis Immersive, HouseAfric, Staffbus Integrated Technologies, Innovantics LTD, Penny lender limited, Filta.NG, Curacel, Fresible Music, Edves, Wellvis, Mazzuma, ResearchRound, OneHealth, Virtouscore limited, Minestake Technologies, Retailar, Viostec, Cashbudy Nigeria, Farmsby Limited, Biko.ng, Corpreneur, GoPaxy, Vasiti.com, Liveizy ltd, Button, Yuli Interior, Fuerte Technology Solutions, TechBridge Consulting Limited, Roqqu, Cash Your Passion, Africa Olamax Exchange, TrueSaver Limited, VMEDKIT, Damisa Gurus Ltd, Cloufrica International Limited, Paperbags by Ebees, Prioclen Ltd, Manna, Bookers International Schools, Hygeen & Integrated Services, Solar Sister Entrepreneurs Nigeria Ltd/Gtee
Energy4All Ventures Limited, NexusMesh, Seams, Biostar Green Solutions, Greenspace Recycling Services Limited, CutStruct Technology Limited, HomeClass Nigeria, Farmers Gate Trading Nigeria Ltd, Smiley Socks Company, Palette Business Solutions / Techland, E-ESTATES, The Silver Castle, Preskriber Health Tech, Farmz2U, Medics2You, Agrinotech.co, Farmspeak Technology, Analytics Intelligence, Kalibotics, Gotlodge, Chekkit Technologies, Jimbo Jobs, Solarflares Energy Limited, Go Ads, Brainy Educare, Flat Freight Global Logistics Limited, Privi Test, FastPace Logistics Limited, Simbi Interactives, Esopos, Finaclusion, Eatonhill Investment Ltd, Payu Limited, Finance Life Technologies Limited (trading as Riby), Thinkshifts, Foleys Perfumery, Things4rent Ltd, Powerstove Offgrid Electricity Limited [POEL], Live SmartCity Technology Development, 3LOGY, Pickmeup services, Kasuwa online
Spendify Technologies, Farmeasy Nigeria Ltd, Indigo Feeds Company Nig Ltd, The Paper Packaging Company, Afrozo, Wikiwriters Nigeria, Cartehub Africa, Ligo smart city Ltd, Lumi Pro Tech, Nigenius, Okike Media, Crediometer, Wificombat Academy, NUDC, Digital Adplanet, HoBeei, Etradefair expo, Elcutiee Services Limited, Efarmagro enterprise Nigeria limited, Glams Concepts Limited, Sacelprecious Farms Limited, Bodylikemilk, Infibranches Technologies Limited, Hubryde Limited, Sewexpress, Triangle Educational Foundation, CardCentre Nigeria Limited, TinX studio's, Onibata mall, Konar App Innovations
Next Professionals Mentoring Initiative of Nigeria, OncrackTV, Nuban Beauty Ltd, Vybe, Chamsswitch Ltd, Clique, Steripro Nigeria Limited, Vows and Vendors, ICreate Evolution Africa, Payattitude, DriversNG, Terawork.com Limited, Josla, Akiddie, FarmFunded, farmer first tech agro ltd, InvestNaira (Ark Builders Compound Enterprise Limited), Housemates Technologies Ltd, WATU Financial Technologies Ltd, Scuudu Labs, Mytrip Nigeria limited, HighTable Africa, Alerzo, Anyhelp Concierge and Logistics Services, Farm Fresh Grocery, Treeple Cloud Digital Agency, Cinematix, Teens Can Blog, PENG, Projaro Digital Services Limited, Agrolush NG, ahraha.com, and ForeLearner Concept Limited.
On the other hand, the company will be hosting the first Forbes Nigeria Summit on June 25, 2020, from 12-3 pm Eastern Time Zone (EST). The summit will feature the top companies from the cohort.
All 100+ ecosystem partners and 50+ speakers from the program will be present and highlighted at this 3-hour long programme. The live event will welcome hundreds of digital delegates from across Nigeria and around the world to discuss insights on tech, entrepreneurship, and innovative ways to accelerate the future of Nigeria.
Interested participants can register for free.
---
We've partnered with Sidebrief, a Legal compliance company to help as many as possible businesses access and get the necessary document for the FG ₦50bn Covid-19 credit facility. Interested? Get started for free. 
---
Got a story worth telling? Shoot us an email with SUBJECT — "Story Worth Telling" — to [email protected].