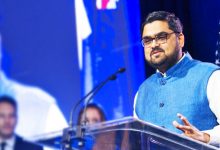 Apply for GSG Millennial Honors Award for Impact Entrepreneur, New Delhi (Fully funded)
The Aspen Network of Developing Entrepreneurs (ANDE) in partnership with the Global Steering Group for Impact Investment (GSG) invites entrepreneurs to apply for the second annual GSG Millennial Honors Award.
GSG is an independent global organisation catalyzing impact investment and entrepreneurship seeking to honor three impact entrepreneurs under 30 years of age for their works to benefit people and the planet.
The GSG Millennial Honors awards will be presented at the GSG Impact Summit 2018 in New Delhi, India, October 8-9, 2018
Benefits
The awards will be presented at the GSG Impact Summit 2018 in New Delhi, October 8-9, 2018 and honorees must be able to attend in person
Winner's flight costs and hotel accommodations to attend the Summit in New Delhi will be covered by the Ford Foundation and Michael & Susan Dell Foundation
Eligibility
The honorees must be no more than 30 years of age on Monday, October 8, 2018. For co-founders, one of the co-founders must meet this age criterion
The honorees must have founded and incorporated a social or environmental impact venture, either as a for-profit (i.e., profit with purpose) company, non-profits, co-operative or as other legal forms no later than Saturday, October 8, 2016
Impact ventures qualified to apply must be at least two years old, have experienced significant revenue and/or earned fees, and must demonstrate measurable impact, scalability, and sustainability
Criteria for participation
Nominees must provide all information requested to get considered
Nomination write-ups must be no more than 2 pages
Applicants that require international travel to attend the Summit in New Delhi are expected to apply for a Visa to travel to India immediately following their notification of acceptance.
For additional questions regarding the application process for GSG Millennial Honors, please contact [email protected].
How to apply
Are you a millennial entrepreneur under the age of 30 leading an organisation driving change in your community? Apply for the GSG Millennial Honors award through the website. Applications end Wednesday, August 15, 2018.
---
Featured image: athenainfonomics