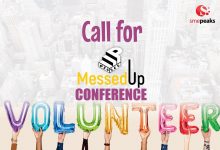 MessedUp! Conference; Call For Volunteers
Recall that Smepeaks, in partnership with Fastlaunch Africa Incubator, Tech Wheel, The Hook, and a host of others will be hosting  MessedUp! — Africa's very first revolutionary gathering to share and learn from failure stories of entrepreneurs in Africa! The goal is for all to leverage past pains to build future gains.
MessedUp conference has a mission to deliver the best knowledge and experience from founders' failure to business owners. The event will feature upcoming and already made entrepreneurs, who have failed at one point or the other in their journey to entrepreneurial bliss, and are ready to share their stories for others to learn.
But great as this sounds, we can't do achieve it alone. That's why Smepeaks is looking for outstanding volunteers to join us in hosting the maiden edition of our event — MessedUp!, holding on Saturday, September 8, 2018, at Fastlaunch Incubator, 9b, Dina Adedotun Crescent, Maryland, Lagos.
Volunteers for the maiden edition will be the first and primary contact for many of the attendees. Their critical roles will centre around welcoming participants, fostering a spirit of helpfulness and hospitality, among others.
Areas of volunteering include:
Preparation of conference materials
Greeter/host for the conference venue
Greeter/host for scientific sessions
Session room monitor
Registration desk representatives
Exhibit hall and poster session representatives
You are required to:
Commit to 4 hours of volunteering
Agree to wear black shoes, pants/skirt, oh, and a smile.
Interested in joining the team to pioneer one of Africa's greatest events? Apply now.