At the NOGTECH DEMO DAY, 5 startups showcased their innovation in Oil & Gas
On Thursday, December 10, 2020, the Nigerian Oil and Gas Technology Hackathon by the NCDMB hosted 100 attendees at the DEMO DAY held in Southern Sun, Lagos. The three-hour-long event was created for five startups to showcase innovations they've been working on since winning $10,000 each from NCDMB earlier in September 2020. 
NOGTECH DEMO DAY is a culmination of a 5-month long series of programmes including hackathons, boot-camps, incubation, mentorship and product development.  The startups that showcased were AirsynQ, Fuel Intellisense, Gricd, Homefort and Kiakia Gas 360. 
While AirsynQ focuses on tackling pipeline vandalism; HomeFort makes cooking gas available to low-income households on a pay-as-you-go model; Gricd improves realtime storage conditions of temperature-sensitive medications both stationary and transient; KiaKia Gas 360 updates users on the safety status of cylinders, and Fuel Intellisense automates vehicle identification and fuel management systems.
The DEMO DAY was graced by the Executive Secretary of NCDMB, Engr. Simbi Wabote; the General Manager, Research And Statistics, as well as other high-ranking NCDMB executives. From the private section, appearances were made by stakeholders in the Nigerian technology ecosystem, notable investors, and top industry professionals.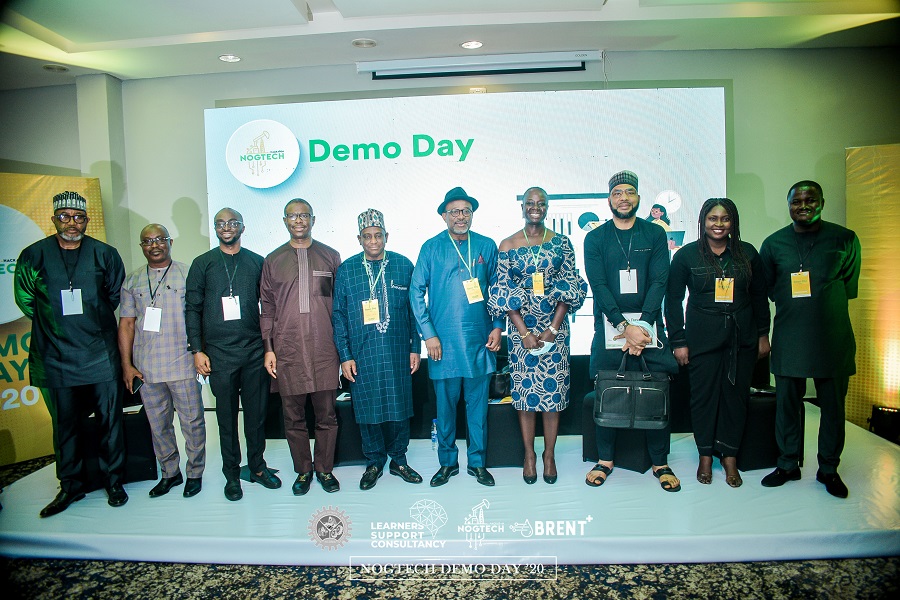 During his speech, Executive Secretary Wabote noted that "The Nigerian Oil and Gas Industry is today witnessing its maiden Technology Incubation Exhibition which is aimed at showcasing local innovations in the Nigerian Oil and Gas Industry. The NOGTECH is part of the Board's innovation initiative that is aimed at addressing the challenges faced by the Nigerian Oil and Gas industry and its linkage sectors by ideating, developing, prototyping and commercialization of digital technology solutions that solves pertinent problems in the society as large"
One of DEMO DAY highlights was a 35-minute panel discussion centred around "Localising Innovation in the Nigerian Oil and Gas Industry". Panellists included Fatumata Soukouna Coker, Founder, YGroup Holdings, Inc; Abdulrahman Minjiyaw, an Oil & Gas Industry Professional; Francisca Kanayo Chiedu, NOGTECH Programmes Director; Mr Abdulmalik Halilu – GM, Research And Statistics, NCDMB; and Odiong Akpan, Learning and Development Consultant. 
As said by Francisca Kanayo Chiedu, the Programmes Director "It's interesting to see what began as an idea six months ago become a reality, despite the challenges that we've been through this year. Leveraging the unrestricted resources of the NCDMB, these startups were able to fully focus on developing their novel solutions, which they happily showcased on the DEMO DAY. Indeed, we've created a launchpad for innovation and we believe the industry is right for the right disruptions and thanks to NO these startups could be some of the pioneers in that space. " 
Damilare Ogunleye, the Associate Programmes Director, while highlighting the impact of the event, stated that  "It was impressive to see the attendance and participation of high-level industry professionals alongside technology investors. This is a testament to the fact that NOGTECH is an initiative that has been long-awaited by the Oil & Gas industry in Nigeria. Seeing the level of enthusiasm on display here, I personally look forward to helping the startups close the investment and partnership opportunities that have emerged here." 
Oo Nwoye, the Incubation Direction expressed his optimism about what's to come. He said: "NOGTECH DEMO Day was designed to be an outright showcase of innovation. And it didn't fall short of that. We're excited about the full participation of the NCDMB executives, that  beyond financial empowerment,  the government is willing to supporting these startups in scaling their innovations across the country" 
NOGTECH 2020 is fully sponsored by the Nigerian Content Development and Monitoring Board, and supported by Learners Support Consultancy, TechCircle and BrentHub. 
Organisations represented at the NOGTECH DEMO DAY include Stampar3D, TLcom Capital, NNPC, CcHub, Dangote Oil Refining Company, smepeaks, Ingressive Capital, EchoVC, Westwood Asset Management Ltd, Petroleum Equalisation Fund,  Fintech Associates Ltd, Univelcity, Ventures Platform, Rosetti Pivot Limited, Humanitarian Innovation Hub and many other reputable establishments. 
About NOGTECH
NOGTECH is Nigeria's first Digital Technology Innovation supporting solutions that address problems in the Nigeran Oil and Gas Industry. The first edition saw 5 startups win $10,000 each to scale their innovation to daunting challenges in the Oil and Gas sector.
The Nigerian Oil and Gas Technology Hackathon aims to enable local partnership in the technology revolution ongoing in the oil and gas industry and birth new sub-segment activities that create employment opportunities. NOGTECH will offer seed funding, business mentorship and incubation to selected ideas, and provide an opportunity to create world-class solutions for operators and service organizations within the industry, and other linkage sectors.
About NCDMB
The Nigerian Content Development and Monitoring Board (NCDMB) was established in 2010 by the Nigerian Oil and Gas Industry Content Development (NOGICD) Act. NCDMB is vested with the mandate to make procedures that will guide, monitor, coordinate and implement the provisions of the NOGICD Act signed into law on April 22, 2010. 
---
Got a story worth telling? Shoot us an email with SUBJECT — "Story Worth Telling" — to [email protected].