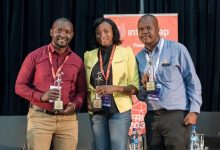 Social Entrepreneurs Looking to Raise $100K – $1million Can Apply for Sankalp Awards
The Sankalp awards is a prestigious ceremony held annually that seeks to showcase innovative and successful companies within East Africa.
The winners are not only recognised but also get a chance to pitch before a delegation of more than 1000 stakeholders who include Investors, Development Finance Institutions (DFIs), multilaterals, cooperates and development practitioners.
The Sankalp Award Finalists selection is facilitated by the Intellecap Impact Investment Network (I3N), an initiative of Intellecap, is an angel investor network bringing together individual investors and early-stage funds seek to invest between $100, 000 – $1,000,000 into curated companies that I3N prepares and showcases before the network.
Sankalp Finalists are drawn from a pool of enterprises selected to receive Investment Readiness Support from I3N before showcasing them to the investors. I3N is looking for companies that operate within East Africa that seek to participate in this program which will culminate into the Sankalp awards.
Eligibility
The Sankalp awards is looking for enterprises that:
Have a clear for-profit business model with high potential for scale
Are in the sectors of Agriculture, Financial Services, Healthcare, Clean Energy, and livelihoods (Education, Water, and Sanitation)
Have already conducted some proof of concept or have beta versions of their products running on the ground, and are preferably generating revenues
The solution should be clearly catering to rural, low-income, disadvantaged communities or people living at the Bottom of the Pyramid (BoP)
Have an experienced and dedicated promoter team.
Are looking for funding in the range of $100K – $1 million
Benefits
One-on-one Investment readiness preparation
Pitching in front of seasonal investors and the I3N network members(investors)
Matchmaking to potential investors
Networking  with pioneers and transformers in the business field in East Africa
Networking with other entrepreneurs
Hand-holding through the fundraising process
Two free tickets to Sankalp
Timeline
– Sankalp registration
Investor Pitching: I3N showcase- closed-door event (Morning of 20th February 2019): Interested investors express interest to invest in your business- feedback is collated and send to entrepreneurs
Sankalp Awards Pitching: Sankalp finalist grand Jury (Afternoon of 20th February 2019): Selection to be a Sankalp winner and announcement is done the next day
Sankalp Awards – Top 5 are selected to have a one-on-one quick chat with Jeff Koinange on the main stage during the main plenary session on 21st February 2019
Sankalp Awards- The top 3 are given the Sankalp prestigious awards on 21st February 2019
Post Sankalp Investment Facilitation*:
– Working on feedback and I3N investment facilitation continues with the interested investors
– Upon successful deal closure, I3N takes a success fee  as a percentage of the amount facilitated
How to apply
If you operate in East Africa and are looking to raise between $100,000 – $1 million, proceed to apply before the deadline on Friday, December 7, 2018.