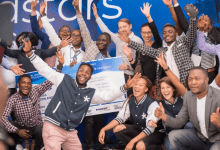 Schoolap Emerges Best Startup in DRC During Seedstars' Kinshasa Award
On Friday, September 21 of September, during Seedstars Kinshasa, Schoolap won the DRC round of Seedstars World and will subsequently represent the country at the Seedstars Summit in Switzerland to compete for up to $ 1 million in equity investment and other prizes.
Seedstars World is the largest seed-stage startup competition for emerging markets and fast-growing startup. And this time it brought its Democratic Republic of Congo's round to a successful close during Seedstars Kinshasa.
The event which took place on Friday 21 September, at the Headquarters of Ingenious City,  saw  11 selected startups pitching their companies in front of the local jury panel.
The winner, Labes Key – schoolap, have created schoolap.com in a bid to improve the quality of teaching via the internet by providing access to digital lessons, was also named "Best Startup in DRC for its innovative and sustainable solution.
"We did not expect this victory, and we would like to say a big thank you to Seedstars for the impact it is making every time on the entrepreneurial ecosystem in DRC", says Pascal Kanik, Co-founder at Schoolap.
As a part of the prize, Labes Key – schoolap will be participating at the Seedstars Summit, which is coming up in Switzerland, by April 2019.
Seedstar Summit is going to be a weeklong training program, with the opportunity to meet over 65+ winners from other fast-growing economies, as well as investors and mentors from around the world.
The final day of the Summit would be dedicated to pitching in front of an audience of more than 1000 attendees, with the possibility of winning up to $1 million in equity investment and other prizes.
The 11 startups that pitched in front of the prestigious jury, includes Henri Plessers, Country Representative at FSDAFRICA, Jean Paul Odent ,  Head of Commercial Banking at RAWBANK, Bob David Nzoimbengene,  Managing Partner at Deloitte RDC, Bas Zuidberg,  Lead Consultant at Elan RDC, Steve TCHOUMBA, Business Development Manager at ActivSpaces and Fanny Dauchez, Senior manager of West Africa region for Seedstars World.
The local Ambassador of Seedstars World, Ingenious City, organized the event with Seedstars World's local partner Elan RDC. Further support was provided by RAWBANK, Canal +, Swiss Embassy of DRC, Rainbow, GBS, BCDC and Vodacom and media partners. The event attracted interest from over 84 startups, and around 150 attendees.
The other startups invited to pitch were
After this stop at DRC, Tia Ivan Paul Emmanuel, Associate for West Africa Region at Seedstars, says
"we are very happy to see the progress of the Congolese ecosystem. While efforts are still to be made with the support of the state and incubators, but the process is ongoing".
Continuing on its world tour of fast-growing startup scenes in emerging markets, Seedstars World's next stop is Bissau at CEIBA HOTEL, to select the best startup in Guinea Bissau.
It is imperative to state that Seedstars World is looking for smart startups that solve regional issues and/or develop profitable products for the global market.