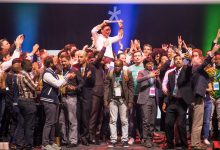 Seedstars World To Hold Maiden Edition of Startups Competition in Libya
As part of its goal to extend reach to the whole of Africa, Seedstars World is making its next stop at Libya for the first time ever!
In this maiden edition of the competition, Seedstars World intends to explore the Libyan entrepreneurial ecosystem and uncover some of the most promising seed-stage startups present in the North African country.
At SeedStars, we believe talent and good ideas are everywhere. We see ourselves as a platform connecting investors to the next generation of startup entrepreneurs in places where people wouldn't normally think the startup ecosystem has any form of traction, growth or buzz. We are very excited to be in Libya for the first time, and we are here to witness the reality," Omar Barakat, Seedstars Regional Associate for the Middle East and North Africa (MENA), remarks.
The criteria for Startups featuring in Seedstars Tripoli include the following requirements — which follow Seedstars' preference for products having regional and global-scalability;
Prospective seed-stage startups are expected to be no more than a year-old
Have raised less than $500,000 in funding and own a minimum viable product that ideally has the potential to gain some traction.
During the Seedstar event, 10 selected startups will each get an apportioned time of five minutes to deliver pitches in the English Language to a presiding jury. They then pick the final startup after all selection criteria must have been satisfied.
The winning startup gets the opportunity to participate in the Seedstars Global summit, scheduled to take place in Switzerland next year.
At the grand finale, the winning startup from Libya will challenge fellow counterparts from more than sixty emerging markets for the grand prize of $1 Million in equity investment.
Seedstars pitch competition for seed-stage startups will debut in Libya on August, Monday 6, 2018 at the Radisson Blu Hotel, Tripoli.
---
Featured image: epfl-innovationpark.ch