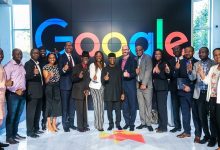 Why VP Osinbajo's Visit to Google HQ and the Silicon Valley is Significant
On Tuesday, 10 July, 2018, the  Vice President, Professor Yemi Osinbajo paid a working visit to the Google Headquarters in Silicon Valley where he met with the CEO of Google, Sundar Pichai, and other Google executives.
The visit was an opportunity for the Vice President to promote Nigerian tech companies to US technology companies and attract foreign investors into Nigeria's rapidly growing tech space. One of the major highlights of the Vice President's visit to Silicon Valley was his interaction with Nigerians who worked with Google.
Apparently, the Federal Government intends partnering with Google to ensure that content is cheaper and more accessible to Nigerians since Nigeria is one of the major countries that have the latest generation of internet users.
This intention of the Federal Government keys into the Google's Next Billion users plan which has a goal to ensure digital access around the world and stimulate greater innovation as more people will have access to the internet. This Google initiative focuses on developing products that target emerging markets.
While on the tour to Silicon Valley, Prof Osinbajo also discussed other partnership ideas including establishing Google intelligence centers in Higher institutions of learning in Nigeria and the establishment of a Youtube Creator Space to aid Nigeria's digital content producers make money while leveraging Youtube and other Google tools.
All these are in line with Nigeria's economy, recovery and growth plan (ERGP) and its pursuit to become a digital-driven economy.
Google signified interest in Nigeria's policy environment and formulation to encourage partnership and investments in companies in Nigeria's tech space. The vice president's visit to Silicon Valley is aimed at showing the world the feats and progress in the country's tech, innovation, and creative spaces.
Worthy of note is, the present government is paying more attention to Nigeria's emerging and dynamic tech scene. The Vice President has demonstrated this by visiting several tech startups and hubs around the country and this shows that this administration recognizes the role of tech in the country's future.
On Tuesday, April 17, 2018, Prof Osinbajo visited Lagos and was at The Co-Creation Hub, Venia Hub and the offices of Flutterwave, Paystack in what was tagged #VPTourOfTech.
He launched the North East Humanitarian Innovation Hub in Yola, Adamawa on Tuesday, June 5, 2018 where he reiterated the Federal Government's plan to set up six technology and innovation hubs in the country to drive technological solutions.
On Friday, June 22, 2018, he attended the launch of Vibranium Valley Innovation Hub in Lagos. This government's focus on innovation and technology is commendable as it is clearly doing much to ensure technology is developed and properly harnessed.
Time will tell if the Prof. Osinbajo's visit to Silicon Valley made any significant impact or not.
---
Featured image: Bellanaija