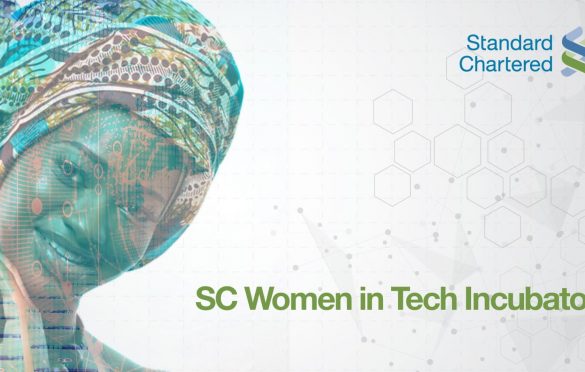 Standard Chartered calls on Nigerian female entrepreneurs to apply for its WITI Programme
Having invested in women entrepreneurs focusing on technology in New York (2014) and Kenya (2017), Standard Chartered, is, for the first time extending applications to Nigerian female entrepreneurs for its Women in Tech Incubator Programme (WITI). 
The Standard Chartered WITI Programme is an initiative of the bank to support female entrepreneurship thus aligning with the call for more diversity in tech and more opportunities for women to develop entrepreneurial and leadership expertise. 
According to Standard Chartered, the purpose of the Women in Tech Incubator in Nigeria is to provide incubation support designed to target early-to-mid stage professionals from technology and business sectors – females who are most likely to have the requisite domain knowledge, experience, and perseverance to deliver results. 
The ultimate goal is to proffer opportunities to women in Nigeria by stepping up to achieve gender balance and speed up cultural dynamics in the male-dominated tech industry.
Benefits
Network access 

Business and leadership skill acquisition

Sponsorship deals 

More entrepreneurial opportunities  and business collaboration with Standard Chartered 
Eligibility Criteria 
 WITI is seeking to recruit women-led start-up businesses that leverage technology as a key driver of innovation. The business: 
Must be woman-led start-up businesses that leverage the technology needs of the county 

Must be based in Nigeria, and should be aligned with the needs of the country 

Must sustainable and scalable 

It must be properly aligned with the UN's sustainable development goals. 

Should have been in operation for a minimum of 12 months 

Should be seeking support for proof of concept, customer, product and business model development 

Should have evidence of pre-revenue traction (users). Although post revenue is preferable. 

The principal founder must be a Nigerian woman between the ages of 18 and 35 

Should be able to provide all company registration documents including Certificate of Corporation, to confirm the authenticity of the business 
 The application is also open to women entrepreneurs at the idea phase. However, the following must be ensured: 
An innovative idea that leverages web or mobile technology to solve a problem/issue 

The idea must improve on an existing process/solution or be completely new i.e. hasn't been done locally

Adequately researched problem with a clear picture of the target segment it affects 

The team should have skills to build the solution (or have access to technical skills) 

Full-time commitment for 6 months spent building the solution and conduct market validation to understand your potential users.
How to Apply
All interested female entrepreneurs from across the country are invited to begin their application process for Standard Chartered WITI Programme via the online registration portal.
---
Never miss an important story during the week. Subscribe to smepeaks weekly newsletter now.
---
Got a story worth telling? Shoot us an email via [email protected]