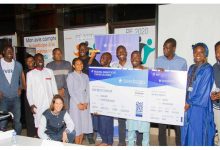 Senegalese Payment Startup, Sudpay Wins Seedstars Dakar Pitch Competition
Sudpay, a payment startup in Senegal has won the  2018 Seedstars Daker Pitch competition. Seedstars World, a leading startup competition for emerging markets, announced that nine Senegalese startups will pitch at the Seedstars Dakar pitch event which held earlier this month.
The Dakar-based startup came out top for its solution Townpay — which enables municipalities to collect more revenue by digitising local taxes collection.
Tourism enterprise Dakar Lives and on-demand delivery startup Paps came in second and third positions, respectively at the event which was held last week Friday, September 7.
A jury panel comprised of Brightmore Capital managing partner Ndeye Thiaw, Byfilling CEO Diallo Mohamed, Jumia Travel Senegal CEO Mamadou Marème Diop, Kinaya Lab founder Laïssa Mouen, and Seedstars East Africa associate Fany Dauchez saw Sudpay emerging as the winner.
Sudpay will next year represent Senegal at the global Seedstars Summit in Switzerland where it stands to win up to $1-million in equity investments.
Sudpay was founded in 2014 and claims operations in eight Francophone countries of Gabon, Ivory Coast, Guinea, Burkina Faso, the Democratic Republic of the Congo (DRC), the Congo and Cameroon.
The startup's team includes co-founders Samba Sow, project manager Moustapha Fall, marketing director Meissa Diop and customer service manager Bamba Khouma. Some of Sudpay's products include digital ticketing solutions for events, merchant payment solutions and automated payment systems for the transport industry.
It is also imperative to mention that Seedstars World's next African pitch events, Seedstars Nairobi and Seedstars Kinshasa, are both set to take place on 21 September.