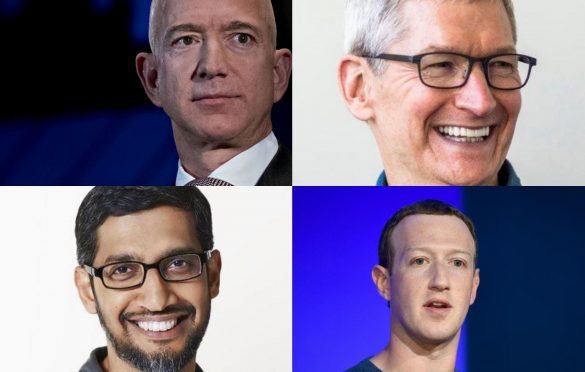 Tech Crawl: Big tech guys appear before the House Antitrust Subcommittee, competition heightens between Instagram and TikTok, more 
#TGIF: It's the last week of July and it appears as though a million things have happened within a few weeks. First on our list is the big guns in tech. Since the advent of COVID-19 pandemic, most tech companies have had massive cashouts. But could the latest developments around their activities spell trouble in paradise as the tech CEOs appear before congress for a hearing? 
CEOs of Apple, Google, Amazon, and Facebook defend their companies before the U.S lawmakers
On July 29, the CEOs of the big tech giants, Mark Zuckerberg, Jeff Bezos, Tim Cook, and Sundar Pichai appeared before the House Antitrust Subcommittee in the U.S to respond to different questions cutting across accusations of favouritism in policy-making, technical difficulties, data-conservation issues among others.
The hearing, which started with a situational briefing by the Congress Chairman, Mr David Cicillin, lasted for hours. During those times, the CEOs were asked a total of 217 combined questions by both the Democrats and Republicans. 
The four tech giants all have share the common issue of either exploiting the public and private information they have access to, examining other companies and their business activities, using the data of third-party sellers on its platform and promotion of its own products etc.
Competition between Instagram and TikTok gets more intense
In the last few months, the competition between Instagram and TikTok has been brewing and it's getting more interesting by the day. 
Recently, Instagram announced the launch of Reels, TikTok rival app in India. Similar to TikTok, Reels enables users to create and post a 15-second video. The app has also been designed to be a feature within Instagram itself. 
This time, Instagram is reportedly trying to persuade TikTok creators to the new platform by offering them incentives. The Facebook-owned company will pay creators on the app to exclusively launch their content on Reels first.
In a similar move, TikTok may also be considering covering production costs for videos on Reels.
You will soon be able to mute those 'annoying' WhatsApp groups forever 
When added to a WhatsApp group, the first thing you probably want to do is tap your settings button to mute the group for as long as a  year — that's if you're kind enough not to evict yourself immediately. For most people, the mute option is the easiest way to stop receiving notifications from chats you don't really have interests in.  
The WABetaInfo, a platform not affiliated with WhatsApp Inc. seems to be testing an "Always Muted" option for chats. With this, you'll be able to mute chats on the app and this will also replace the "1-year" option that's currently on WhatsApp. 
The feature is currently under development. Though this seems like a nice-to-have feature, a key update that will really be satisfactory will be the ability to delete messages in a chat without notifying the receiver. 
Facebook launches campaign to spot fake news in some sub-Saharan Africa countries 
In recent times, Facebook has been combating misinformation especially concerning COVID-19. The campaign tagged "Three Questions to Help Stamp out False News", was created in consultation with a number of its third-party fact-checking partners and it aims to educate users about how to detect potential false news. 
"Users will see a series of creative and educative adverts, featuring a link to a dedicated website (https://stampoutfalsenews.com/) which asks users to challenge the information they see on posts by asking themselves the following: Where's it from? If there's no source, search for one; what's missing? Get the whole story, not just the headline; how does it make you feel? People who make false news try to manipulate feelings.
"This campaign comes on the heels of last month's context notification update which lets people know when the news articles they are about to share are older than 90 days, providing greater visibility and context to help make informed decisions about what to share," Facebook said. 
This isn't the first time the social media giant will be curbing the spread of fake news. In January 2019, Facebook disclosed that it will be investing $300 million in local news globally to help the fight against the dissemination of fake news. 
The future of remote work: Google to let employees continue working remotely till 2021
Due to the coronavirus pandemic that has continually raged many countries, Google has said that it will reopen its offices for some of its employees that need to come to the office to do their jobs starting July 6.
---
Read also: Remote Work: Has the future of work met us unprepared? 
---
Right now, in an email sent to staff according to TechCrunch, the CEO, Sundar Pichai has said that employees will continue to work from home through the end of June 2021.
"To give employees the ability to plan ahead, we are extending our global voluntary work from home option through June 30, 2021, for roles that don't need to be in the office," he said. 
It appears that many of the big tech companies will continue to work remotely seeing that the pandemic isn't going away anytime soon. 
---
Got a story worth telling? Shoot us an email with SUBJECT — "Story Worth Telling" — to [email protected].