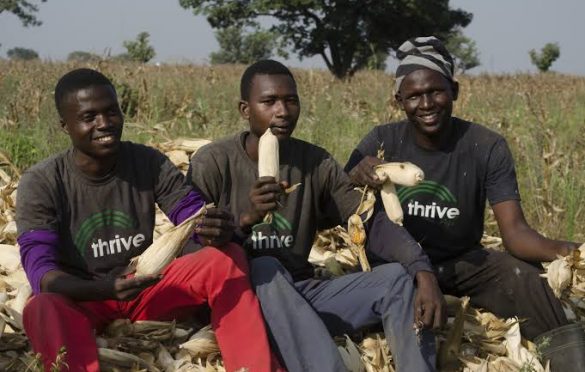 Tech Crawl: Thrive Agric defaults on payment, Easy Solar raises $5m, MTN and Airtel Uganda suspends mobile money, more
#TGIF: It's the end of another week in October! Catch up on some of the interesting stories you might have missed in the tech industry locally and globally during the course of the week. Surprisingly, Thrive Agric really made the news this week considering its defaults on payment and other interesting news. 
Thrive Agric defaults on payment to investors, blames COVID-19
Last week, a Twitter user identified as @theprincleyX who is an investor took to his Twitter page to call out Thrive Agric, an agritech company founded by Uka Eje and Ayodeji Arikawe in 2017, and also its insurers. He claims that Thrive Agric owes him almost a million naira and the company has told him to wait till 2021 to get his investment that was due in September 2020. 
THRIVE AGRIC: ANOTHER PONZI SCHEME OR BAD BUSINESS?

Notes
1 Thrive Agric is owing me almost a million naira
2 They are owing other investors millions
3 Thrive Agric is telling me to wait till 2021 to get my investment that was due in Sept 2020

My situation:#ThriveAgricPayUp
1/ pic.twitter.com/BpsYLXt5iq

— Akinyemi, M.A (@theprincelyx) October 2, 2020
Thrive Agric provides smallholder farmers with access to high quality farm inputs, finance, data driven advisory and premium markets for their produce. 
In a tweet to salvage the situation, Thrive Agric stated that the delay in payment is as a result of the COVID-19 pandemic which caused a restrain on physical access to the farm. 
Dear Thrive Agric subscribers and partners:

By now, you may be aware that payouts for some farm subscriptions are delayed. This is an unfortunate outcome of the COVID-19 pandemic and its consequent restrictions on physical access to farms and farming markets.

— Thrive Agric (@thriveagric) October 2, 2020
Bearing in mind that the investor also called out the company's insurer, Leadway Assurance, the insurance company responded in a tweet that it is not responsible for individual investors but the farm assets of the insured agric platform. 
To whom it may concern pic.twitter.com/X9po7I1LsL

— Tunji Andrews (@TunjiAndrews) October 6, 2020
However, while the company is still finding its feet in paying customer's their return, Thrive Agric released FAQs to address the key issues around the payout delays.
In addition, Thrive Agric CEO, Uka Eje announced on Thursday, October 8 via his Twitter account that he has stepped down from his role as CEO
---
while Adia Sowho will take on the position as the company's interim CEO.
Easy Solar raises $5m Series A round to scale operations in West Africa
Easy Solar, an energy startup in West African has raised a US$5 million Series A debt and equity funding. The round includes US$3 million in equity from global impact investor Acumen and FMO, the Dutch entrepreneurial development bank, and a US$2 million debt facility from an investment platform, TRINE.
The company which offers energy solutions and products including solar lanterns, home lighting systems, appliances and cookstoves on affordable financing plans wants to further scale services and also launch a product in Sierra Leone and Liberia. 
Speaking on the investment, the CEO of Easy Solar, Alexandre Tourre said:
"While further expansion in West Africa is on the horizon with this funding, we remain committed to our vision of going deep into the markets we operate in. We will continue to improve the reach of our brand and distribution network in Liberia and Sierra Leone – where we operate the country's largest direct retail network – and leverage it to offer additional products and services to our customers, directly or through strategic partnerships." 
MTN Uganda and Airtel Uganda suspends mobile money services temporarily 
In a blog post published on MTN's website, Stanbic Bank, MTN and Airtel Uganda have temporarily suspended all bank to mobile money services as a result of a breach in the security of its third-party service provider.
The system of the third-party service provider, Pegasus Technologies' which links the mobile money operating system of telecom companies with banks was breached by hackers. Report has it that hackers stole billions of shillings from MTN, Airtel and Stanbic Bank Uganda. However, the blog post stated that the "system incident has had no impact on any balances on both Bank and Mobile Money accounts."
.@stanbicug, #MTN Uganda and Airtel Uganda inform the public and their customers that on Saturday 3 October 2020, a third-party service provider experienced a system incident which impacted Bank to Mobile Money transactions. Details here; https://t.co/f4qadoendU pic.twitter.com/kM3VdCHXXO

— MTN Uganda (@mtnug) October 5, 2020
In a recent post, MTN explained that "a limited number of other services aggregated through the third-party provider were suspended as a precautionary safety measure although the incident did not affect any customer money mobile balances."
Nonetheless, the telecommunication didn't reveal when it will restore the mobile money services.
Instagram to expand its Instagram Shopping service across IGTV
Recently, Instagram announced that it will be expanding its Instagram Shopping service across IGTV. It will enable users to watch a video and also enable creators and influencers a way to monetise their user-base on Instagram. The product also gives brands a way to sell merchandise to their followers. 
With IGTV, Instagram Live and Stories, Instagram users can view products and make purchases.
Additionally, Instagram mentioned that it will begin "testing shopping within its newer feature and TikTok rival, Reels."
In a statement, Instagram's COO Justin Osofsky said "Digital creators and brands help bring emerging culture to Instagram, and people come to Instagram to get inspired by them. By bringing shopping to IGTV and Reels, we're making it easy to shop directly from videos. And in turn, helping sellers share their story, reach customers, and make a living." 
WhatsApp to allow users permanently mute WhatsApp messages
The beta WhatsApp has revealed that the online instant messaging app is testing a feature that will enable users to disallow message without any time limit. The new feature when updated for every user will replace the "1 year" when muting a chat.
Previously, the mute feature notification allows users to mute message notifications from groups and individual contacts for a specified period of time, now it will allow "Always Mute".
---
Got a story worth telling? Shoot us an email with SUBJECT — "Story Worth Telling" — to [email protected].