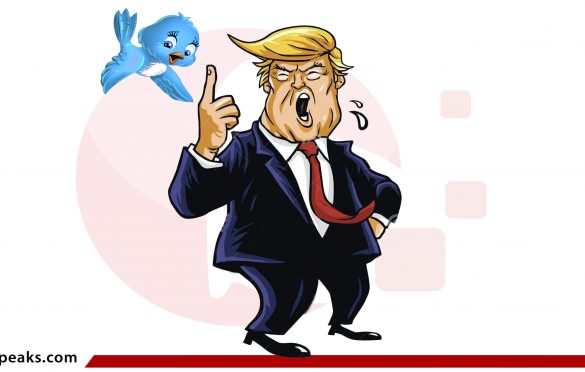 The Scoop: Trump's social media comeback is a shocker
What is "The Scoop"? It's a non-traditional style of presenting top stories to you. Our editorial team has taken this conversational approach over the stereotypical way of breaking news to eliminate newsroom fatigue and save you from boredom. Simply put, The Scoop is our way of making news make sense. 
---
Yesterday evening, I was watching a documentary about ex-US President, Donald Trump on Netflix. 😎 I realised that right from time and his early business days in Manhattan, New York, he's had a fervid personality. And in addition, a very interesting way of making a comeback from setbacks. 💪
When Trump got banned from social media, he vowed, like every other time, to make a comeback by unveiling his own social media platform.
And, he's stayed true to his words. Trump is back with his own "media" platform! I can't tell what the "social" angle is though, because… It's a BLOG! Really, a blog. 👀
Trump's social media comeback is a shocker!
The Guardian calls it " a glorified blog". While "Politico" thinks his new blog could lead to more social account takedowns. See this OpEd.
On his new blog, Trump is promoting freedom of expression and encourages others to embrace the same. More surprise! The blog has content dating back to March 24, despite its recent launch. Perhaps Trump has been preparing the grounds for what's to come?
In any case, you can enter Trump's social media Blog.
Straight outta Kenya – Lami gets $1.8m investment
A Kenyan insurtech startup Lami has raised $1.8m to scale its product across Africa.
While this is good news, I'm curious to understand Lami's customer base considering that the insurance market in Africa is low, with <3% penetration.
And as the CEO of Lami, Jihan Abass concurs to TechCrunch, "…97% of Africans don't buy insurance…".
However, she's quite optimistic that Lami could be a gamechanger. Here's the story on TechCrunch:
Kenya's Lami raises $1.8M to scale API insurance platform across Africa
Toss a bitCOIN to your witcher 🎷🎼
Did you see "The Witcher" series on Netflix? I wouldn't give it a 100% rating, but it's one of the theme songs for me.
🎶 "Toss a coin (let's pretend it's bitcoin) to your witcher, oh valley of plenty…" 🎶
Full song here:
While that's an interesting song, this isn't about the movie. Rather, it's a quick scoop around the world of cryptocurrency. I came across a peculiar story on 'India Today', it says the "Dogecoin creator sold all his coins in 2015 to buy Honda Civic, DOGE is now bigger than Honda".
It's an interesting one. Full scoop here. Meanwhile, DOGE briefly exceeded 69cents recently. As it stands, crypto enthusiasts can't wait for it to hit the $1 mark.
Quick question, are you a crypto investor? I'll love to hear about your experience trading crypto.
Moving on, to happenings in Nigeria.
First Bank debacle: Was the CBN's action correct?
Remember my newsletter on the action Nigeria's Central bank took by firing all board members of First bank, the country's oldest bank?
Yesterday, Nairametrics took a balanced approach to weigh the actions of CBN vis-à-vis its consequences on the bank and ripple effects on Nigeria's financial landscape. Here's the scoop:
Also, the article explores how a bank makes profit and the loopholes for losses. In case you plan to own a bank, you may find this really helpful.
Otherwise, don't own a bank, get a space rocket instead. You may thank me later. 🙂
Opportunity – US $1.5 million from Jack Ma
Are you an African entrepreneur? Apply for Jack Ma Foundation's African Business Heroes Competition via link:
Jack Ma Foundation Africa's Business Heroes (ABH) Prize Competition 2021 (Win a share of $1.5 million)
The deadline is June 7. Don't slack on this.
And that's all for today, thanks for reading and have a good one.
~ Grace Akinosun
---
NOTE: This is a late version of Daily News Roundup by Grace Akinosun, which goes out to 10,000+ people, every morning. Thanks for being a part of it and be sure to share with others.