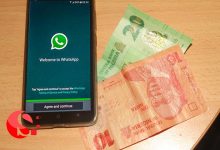 WhatsApp Will Now Charge Businesses ₦30 Per Message to Use the Platform
In January 2018, the texting tech organisation, Whatsapp, launched Whatsapp Business application, in a bid to enable small and medium scale businesses associate their clients continuously and in real-time.
As indicated by the organisation, the reason for the new product is to make it less demanding for organisations to create an effective online presence for small businesses over the globe.
WhatsApp Business application currently has more than three million dynamic and active users.
Recall that Facebook had paid $19 billion to buy WhatsApp in 2014 and has been exploring ways they can make money from the popular messaging platform with over 1.5 billion users. WhatsApp recently declared it will begin charging organisations on its Business platform for sending marketing and client service messages in a bid to generate income.
The instant messaging tech company in a statement released Wednesday, July 1, 2018, said messages from WhatsApp Business will be charged at a fixed rate between 0.5 cents to 9 cents per message which will also depend largely on the company.
From our calculation, the range in Nigeria is about  ₦30 to ₦35, although the platform is yet to determine its exact rate for other regions in local currency terms.
WhatsApp says large businesses will be charged for sending non-promotional content, such as shipping confirmations, appointment reminders or event tickets.
Users can also send messages to the business to ask questions, and responding to these messages will be free, for the first 24 hours but will come at a premium thereafter, compared to SMS rates.
Businesses will still only be able to message people who contacted them first, but the application programming interface (API) will help them programmatically send shipping confirmations, appointment reminders or event tickets. Clients also can use it to manually respond to customer service inquiries. And small businesses that are one of the 3 million users of the WhatsApp For Business app can still use it to send late replies one-by-one for free.
Many are of the opinion that the new fee on WhatsApp Business is an attempt by its owners to cash boost the social network platform by exploiting users after paying for data. What's your take on this?