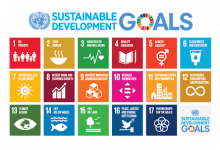 Apply for Youth for Africa and SDGs Ecosytem Challenge 2018 ($10,000 in Grant)
Applications for YAS! (Youth for Africa and SDGs) Ecosystem is now open for its 2018 Challenge.
YAS! Ecosystem was launched at the Responsible Business Forum in Johannesburg, South Africa sometime in June 2018.
The platform is an online portal developed by UNDP in partnership with Accenture South Africa. It aims to address the four main pillars of the entrepreneurship ecosystem: Information, Mentorship, Funding, and Network.
The United Nations Development Programme (UNDP), is reaching out for Youth for Africa and Sustainable Development Goals (SDGs) Ecosystem Challenge solutions facing good numbers of youth in Africa.
The main purpose of Ecosystem Challenge is to seed youth entrepreneurship focused activities in the locality that has a weak or nascent youth entrepreneurship ecosystem.
Benefit
A grant funding of $10,000
Entrepreneurship boot camps
Local networking event addressing specific themes and topics,
Financial modeling
Branding and Marketing
Business speed dating
A panel discussion, example barriers in establishing, sustaining and growing business
Business plan competitions
Mentoring sections
Different types of workshops: e.g. business planning, idea to market, insight into buyer, access to finance, open innovation, social entrepreneurship, doing business in Africa.
Eligibility
Have at least two years of relevant experience in entrepreneurship and business development
Have an innovative, replicable, scalable, idea that could transform your community, country or even Africa
Have an interest in making a contribution towards SDGs and therein especially gender-related target and indicator of SDG 1 (poverty), SDG 5 (gender equality and empowerment of women and girls), SDG 8 (decent employment) and SDG 9(industrial innovation and infrastructure)
Having the passion to assist Africans progress- but struggling with the support you need to turn your idea into reality
Criteria
The criteria for the selection of winning proposal will focus on the explanation of the challenge and proposed a solution to it
Factors considered in the review are whether the proposed solution:
Is inclusive and has great potential for impact (e.g. reduces poverty for the most disadvantaged especially women and girls)
Is sustainable (e.g. provides a long-term solutions gender balance and sensitive, is environmental and financially sustainable, climate-smart etc.)
Is transformative, innovative and can be scaled up easily
Is replicable in other environment and can be replicated across more African countries than that of the applicant
Is broadly accepted and widely accessible to all targeted beneficiaries and/or potential users especially women and girls
Is available for sharing
Can create a greater catalytic impact by reaching out to a larger number of youth entrepreneurs(especially women entrepreneurs) by financing local ecosystem building activities.
Build on technologies or methodologies that are adaptable to various context for the benefit of all population including women and girls
How to Apply
Fill and submit the application form available via YAS! Portal. Application deadline is Saturday, October 13, 2018