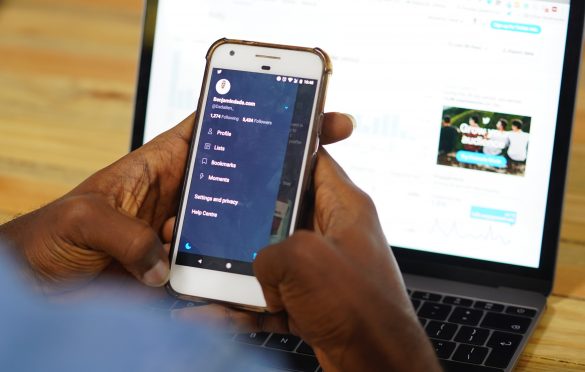 15 commandments you should keep when joining Nigerian conversations on Twitter
Naturally, human beings are socially-inclined and as such, they've adopted technology to connect them. Every year, the number of people signing up or using social media platforms keeps growing. 
In 2019, there were about 3.5 billion people making use of social media which equates to 45% of the world's current population. Considering that smartphones and internet connectivity are becoming cheaper and more accessible respectively in many areas, the number is expected to shoot higher by 2021. 
Whilst there are many social networking sites to choose from, some of the most popular ones are Facebook, Twitter, WhatsApp, Snapchat and Instagram. 
On Twitter, users frequently post and interact with short messages known as "tweets", they can also 'like' and 'retweet' Tweets. Over time, the bird app has gained popularity in usage for rants, scandals, social activism, libels and humanitarian movements that stem from it. 
If you're considering installing the Twitter app on your device or perhaps you have it installed but never used it, here are some of the unspoken rules you should be aware of before joining conversations on the microblogging platform in Nigeria. 
Nigerian twitter 🤝🏿violence

— NRI NDI OGA🍹⚡️💥🌹✨ (@Anambra_girl) September 2, 2020
Don't take everything on the app seriously
I literally speak my thoughts on TL tbh. It is my diary bro. I'm not expecting anyone to engage with me, but if you do; how's your day going babe?

— 👑Queen D 👑 (@DunbarinSowee) September 9, 2020
For the most part, many people just want to tweet whatever comes to mind with the 280 characters Twitter allows except they want to make a thread which allows for more users provide additional context, an update, or an extended point by connecting multiple Tweets. You don't want to take to heart everything that's discussed there, it can affect your mental health. 
Don't bring your personal life to Twitter
Whatever happens in your life stays in your life, don't bring it to the bird app save you want to trend for a wrong reason or it's a good cause you're intentionally promoting: a case in point is if you're trying to seek justice or solve a problem. 
Don't look for Twitter as a place to settle scores
The good old twitter days ! 😂
How many of you can still remember..#5kbae #keepthechangebae pic.twitter.com/YRs0OQw3Rr

— Dynamic V 🔥 (@IamDynamicV) April 6, 2020
If you look to settle scores on Twitter, some brands might just use your name to fly their ads. Remember the #Keepthechangebae trend that happened in 2017? You definitely don't want to be the next "bae"
Be ready for a lot of controversies
Conversations on Nigerian Twitter are usually filled with controversies, brace yourself for it. You may or may not fall on the advantageous side of controversial issues; all the same, so brace! 
Know where you belong

 
PhD/Intellectual Twitter
Suit & tie Twitter
Politics Twitter
Football Twitter
Aspire to perspire Twitter
Relationship/Sex Twitter
Feminist Twitter
Religion Twitter
Atheist Twitter
Comedy Twitter
Influencer Twitter
SME Twitter
LOL Twitter
BBNaija Twitter

Where do you belong?

— Dr. Dípò Awójídé (@OgbeniDipo) August 30, 2020
There are different sections on Twitter, from relationships to football, religion, politics, professional, educational, academia and so on. Know where you belong, you don't want to be on every side or shoot from every angle.  
Get ready to defend Nigerian Jollof rice 
Ghanaian jollof is so much better than Nigerian jollof it is embarrassing at this point

— #DISUNOMICS (@_NOMICS) September 28, 2020
It's a known fact that Ghanaians and Nigerians fight over which country has the best jollof rice every other day, so don't be surprised, just be ready to defend your country. Meanwhile, do you think Nigeria has the best Jollof rice? 
A place to have your big break 
This is awesome! We would love to have you guys at the #Extraction 2 premiere…DM us and we'll get you there! https://t.co/6eufmJMgT7

— Russo Brothers (@Russo_Brothers) June 24, 2020
I did a campaign shoot for @MercedesBenz in Nigeria. Enjoy this thread of images. Please retweet in hopes that they see it🙏🏿❤️ pic.twitter.com/5921ZGqGXQ

— Kash (@thekashope) July 4, 2019
Nigerian conversations on Twitter aren't all bad after all. If you're creative, you can easily have your big break at any time. Don't stop putting your content out there. A typical example of this is the Ikorodu Bois who got recognised by many celebrities like Will Smith, Taraji P. Henson, Roddy Ricchy, DJ Cuppy among others for posting music videos and Hollywood movie trailers they recreated shot by shot.
Avoid getting suspended by Twitter 
Your account can literally be suspended over any 'controversial' tweet or be reported by people who hold grudges or get offended about how you post on Twitter, take note. Avoid being suspended as much as you can.  
Don't be a troll

 
It's no longer news that cyberbullying people isn't a good thing. Don't be a troll, it usually bites back because people don't forget how you make them feel. And trust Nigerians, they will dig up that raunchy tweet you made some 15 years ago whenever you begin contesting for Gubernatorial primaries, or you get on the BBNaija spotlight. You don't want to know how sour this could get. 
Don't create a parody account 
https://twitter.com/jayyth3dope/status/1295825405748875271?s=19
If you don't want to get into trouble, don't create a parody account especially of a well-known person. A typical case was one a Nigerian Twitter user created a parody account of a former president and reportedly got detained for 90 days.   
Do you want to become an influencer?
Don't jump right away into the "influencer industry", watch and learn from the already established ones. And most importantly, build a large following before delving into the "influencing world".  
Trends are fickle

 
Many Nigerians on Twitter make matters trend but only for a moment. It's not that serious. Don't take it deeply; in two weeks or less, that particular matter tends to fade. 
Learn how to deal with brand's marketing strategies
You don't owe me a Retweet, but just this one will go a long way

I have Glow in the dark 3D Wall Stickers for sale

They come in 100pcs, 50pcs, 35pcs, 25pcs, 12pcs or 6pcs in a Pack for N1,000

Depending on the design.

Location is Lagos.

Pls Help me connect with customers.🙏 pic.twitter.com/QOlfRZaMPv

— Madam Adejoke (@mizadejoke) September 2, 2020
You'll have to deal with lots of people marketing their products under your viral tweets. 
Don't measure success by your follower's count 
Like every other social media platform, a handful of people are focused on the number of followers they have and as such using that metric as a way to measure their success. Avoid falling into that trap. Fake followers exist. And dummy accounts have given Twitter a lot of trouble to crack down on, in the past. But even Twitter isn't relenting to rid itself of "ghosts". 
Tweet responsibly 
— Zlatan's burner🇳🇬 (@manlikefola_) June 3, 2020
Don't tweet what you don't want to come and bite you in the future. A similar case was when a Nigeria artiste tweeted "I am a rapist" eight years ago. Recently, the tweet was dug out and it generated lots of controversies. Though he claimed that that wasn't his intention in a new Tweet, Nigerians on Twitter made a deal of it because it fit into cases of women being raped.
You don't have to respond to all tweets

 
If you don't want to reply to tweets especially the ones you think are not healthy for your mental health, you can choose not to. Twitter even made it easier to block or limit the response to a tweet. 
Interestingly, some of these are not peculiar to Nigeria and most importantly, it's not about the app but the people driving conversations on the platform. In all, stay safe and relevant on the streets of Twitter. And, it's advised that you don't meddle in things that could spill out of your control. 
---
Got a story worth telling? Shoot us an email with SUBJECT — "Story Worth Telling" — to [email protected].