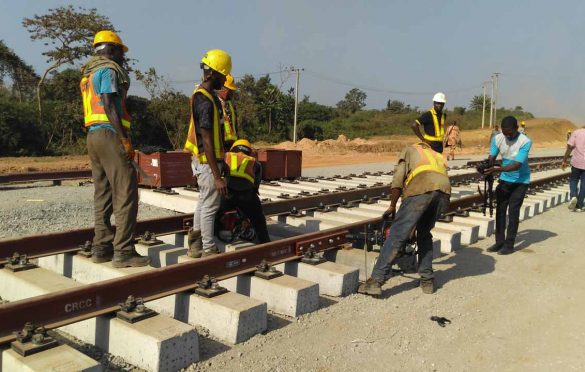 Extension of railway construction from Nigeria into Niger Republic: pros and cons
It is no longer news that the Nigerian government is extending the Lagos-Kano-Katsina railway lines to the border town of Marradi in Niger Republic. The goal is to take economic advantage of foreign trades amongst landlocked Sub-Saharan nations: Niger Republic, Chad and Burkina Faso lacking access to the sea.
Although this has come under criticism by a couple of the Nigerian citizenry, the federal government insists that the $1.959 billion project is for the good of the country, improving its economic and financial strength, and fortifying the ties between Nigeria and Niger Republic.
Would this really be the case? Taking a look at Niger Republic as a country, the pros and cons of this project, let's explore the various options on the table.  
One of Africa's largest countries, Niger Republic, spans an area of about 490,000 square miles, in which the Sahara desert covers more than 80% of its land area. Despite the country's large surface area, its population stands at 21 million, with a GDP of less than $11 billion, and a per capita income, 20% lesser than Nigeria's ($2,250).
The country's natural resources include; arable land for agriculture and livestock, oil, minerals such as uranium, gold, and coal among others. Amongst others, the country faces challenges of unemployment, high poverty rate, and poor education. Its high level of illiteracy has led to the poor exploration and management of its natural resources.
It may be said that exploration of the country's natural resources would boost Nigeria's economy and businesses, but the production rate of both countries shows that Nigeria, having the majority of resources in Niger Republic, produces over two million barrels of oil a day, while Niger Republic produces 9,000 barrels a day. 
A study into the Nigerian seaports reveals there are six ports, including Lagos' Tin Can Island Port being the busiest; followed by the second, Lagos Port Complex. There is the Calabar Port which is the oldest in Nigeria; Rivers Port Complex, not operated by the Nigerian Port Authorities (NPA) but Ports and  Terminal operators and BUA Ports and Terminals; Delta Port and Onne Port also located in Rivers state.
Take note that there are no seaports located at the Northern part of Nigeria, and most of Nigeria's seaport activities are directed at the Lagos ports. According to research, traders usually encounter problems at other seaports, including the clearing process and other civil issues.
"It is usually very difficult to clear goods at other seaports, I was formerly at Portharcourt, but after so much trouble I faced at the port, I decided to transfer to the Lagos port. There was a time I lost ₦7 million worth of goods for a reason I still can't explain," Boma* highlighted.
"Last year, I couldn't successfully clear my imported goods at the Lagos seaport for over 5 months, because I needed to produce certain documents, I went through hell," Bunmi* stated.  
This buttresses the fact that there is an increased dependence on the Lagos seaport, leading to enhanced problems, loss of goods and finances, increased bandit attacks, loss of goods and finances, increased debt profile of the Nigerian economy among others.
The inefficiency of ports within the country has led to high shipping costs, approximately $5,000 and $7,400 for household goods from New York to Apapa in 20ft and 40ft containers. Compared to $2,600 and $3,800 from New York  to Cape Town, South Africa, this is expensive. Can the people of Niger Republic afford this?
Also, results of the research have shown that the northern part of Nigeria is extremely porous, bordering countries gain entry with goods almost freely, the level of security is relatively low compared to other regions of the nation.
According to a research report by the Institute for Security Studies (ISS), "Nigeria's borders with Benin and Chad are fairly short – 773km and 87km long respectively. In comparison, Nigeria's borders with Niger and Cameroon span 1,497km and 1,690km respectively. The porous nature of these borders heightens the potential spread of terrorist activities into neighbouring countries… " .
Apparently, this implies there's a high tendency for  bandit attacks coupled with the experiences shared by some of these traders.
"On my way home from clearing my goods one day, I experienced bandit attacks. That was my first experience though since I've been hearing about such. I lost some goods but thank God I survived," Hassan* a trader, revealed.
Loss of goods and lives are inevitable when it comes to trading in relation to seaports and transportation, thereby leading to forfeited finances as these goods cost lots of money.
We can't leave out the fact that there would be an increased debt profile of the Nigerian economy. According to Vanguard business news, Nigeria's debt profile rose to ₦31 trillion on Wednesday, September 9, 2020, and the current project would lead to a further increase by $1.959 billion.
Railways being a form of cheap transportation service for a country, would not generate even a quarter of Nigeria's debt, added to the fact that travelling to the northern part is extremely far, would the people really take this risk?
Some of the benefits which could arise from the new development are highlighted below;
Ease of movement to bordering nations including; Chad and Burkina Faso.
Increased job opportunities will be available at the rail station and at the Nigerian seaports as more hands would be needed in various job sectors across the security sector, service sector, import and export industry sectors among others.
Again, the development fits into ECOWAS plan to integrate neighbouring countries together, for commercial and economic benefits, among others.
After the successful recovery of Nigeria from its recession and current economic downturns, tourism is one space that would benefit the economy through foreign exchange earnings, as social development would be fully active.
A question that remains in the heart of many is: would this new development really make or mar the Nigerian economy? The saying goes; seeing is believing, we wait and watch.
Asterisk (*): Not real names. 
---
Got a story worth telling? Shoot us an email with SUBJECT — "Story Worth Telling" — to [email protected].